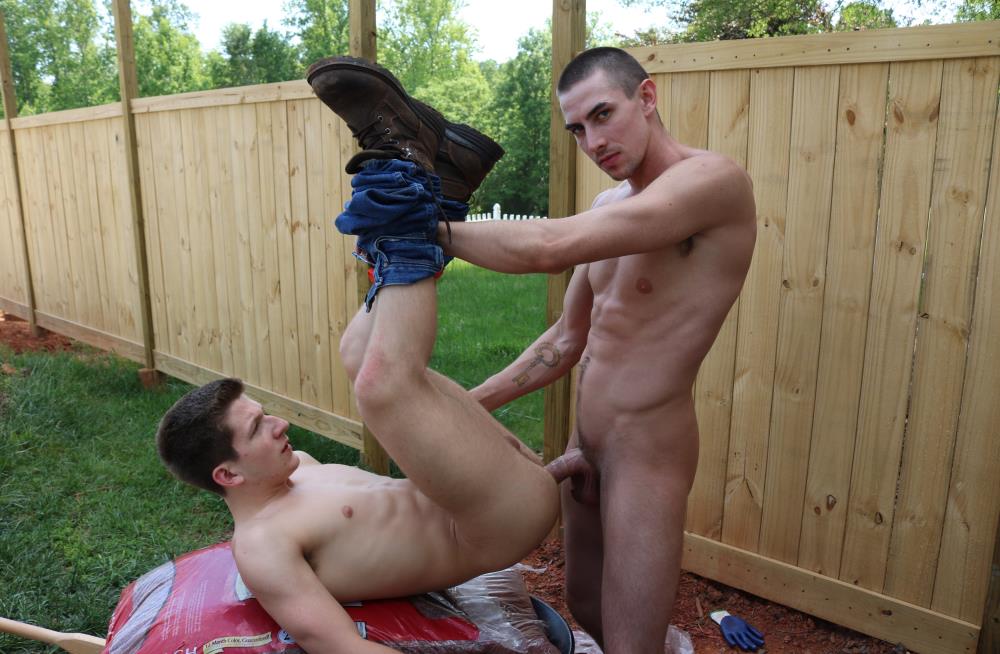 Description
Oliver Saxon and Jack Hunter are the sexy local handymen and have been hired for a new landscaping job. An afternoon of mulch loading has the sweaty muscled guys eyeing each other's bulges and craving some one on one action while the homeowners are away. Jack convinces Hunter that the owners are away long enough for them to have some fun. Jack unzips his nine inches of hard cock and has Oliver working hard to swallow it all. Sitting back against the bags of mulch they still need to work, Oliver is instead busy working Jack's thick hard cock. Jack is enjoying the feel of that warm mouth slide up on down his hard shaft but wants to feel it go deeper. He grabs the back of Oliver's head, pushing him down farther onto his cock. Oliver has a sexy body and Jack enjoys eating his ass against the fence. Having tongued his tight hole, Jack is eager to bend Oliver over the mulch and see how deep he can drive that monster cock in his ass. Oliver bends over against the bags of mulch and Jack slides his lubed cock into his tight hole. Moaning and grunting as he pushes his dick inside in long strokes, he has complete control over his ass. Oliver rolls over, and Jack holds his legs in the air while he continues to thrust deep inside of his ass. Oliver can no longer control himself and strokes out a huge load of warm cum while getting fucked. Jack isn't finished with that ass yet and the fucking moves to the pool where he has his cock back inside of Oliver. Jack continues plowing him hard and long against the side of the pool. Oliver does such a good job taking that man meat that Jack shows his appreciation by leaving a huge load of cum all over his ass. This ColbyKnox adult gay porn video is sure to be an instant fan favorite.
Reviews
Wow, watching Jack fuck Oliver on a pile of mulch bags was probably the best usage of mulch bags ever! Moving the end of the scene to the swimming pool was worked as well as we had a great view of Jack's big cock plunging in and out of Oliver's hot very fuckable college boy butt.
America's best college student bottom, Oliver Saxon, is working at his Summer landscaping job under the supervision of his big dicked boss, Jack Hunter, who puts all of Oliver's ass(ets) to very good use. Think of this scene the next time you see hot young college student landscapers at work on your block. As these scene shows, they are very good bottoms. I have fond memories of fucking two of them a few years back.
Join Colby Knox
Get unlimited access to Colby and Mickey's hottest scenes. New videos every week!
Sign In