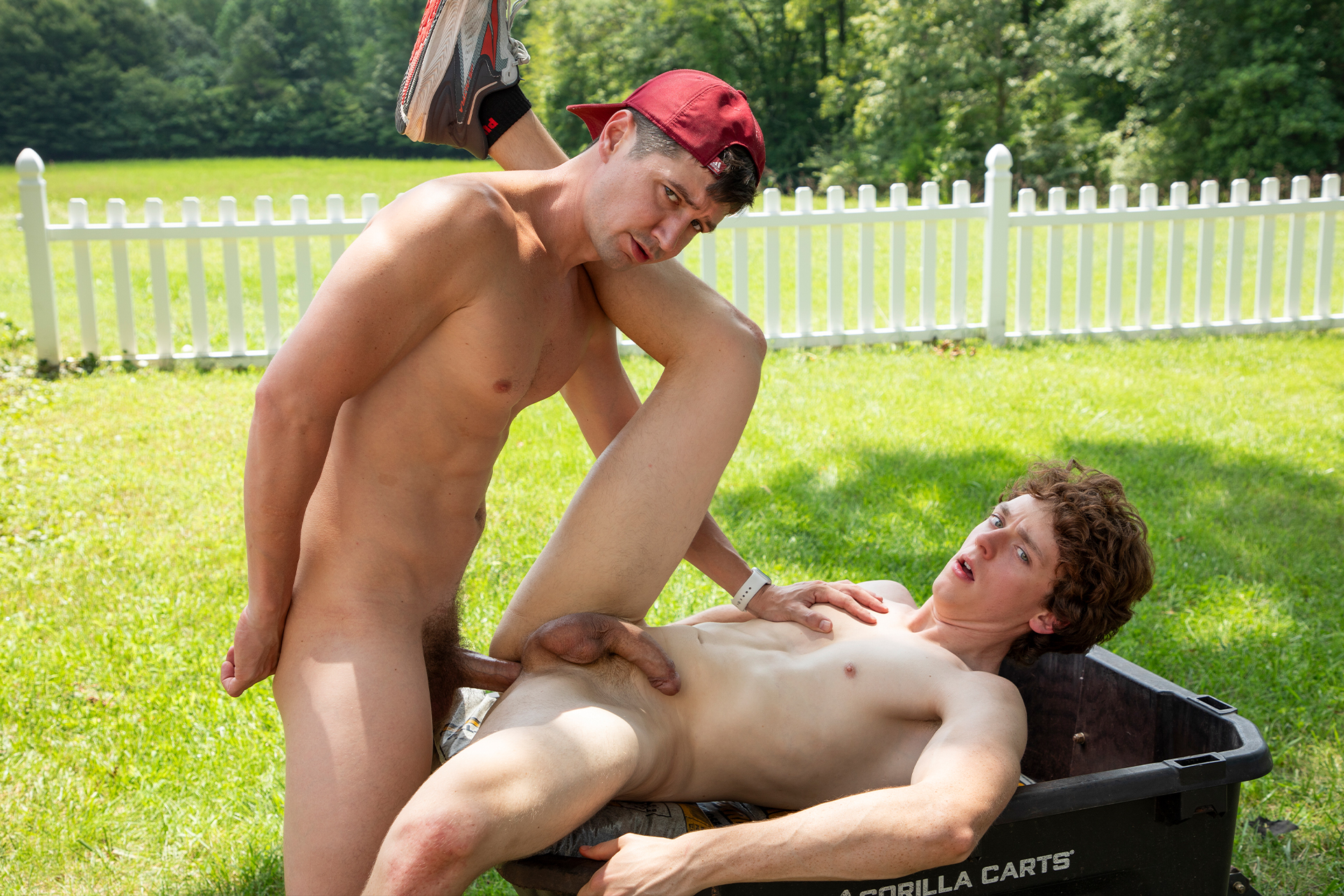 Description
Shapey Shaperson is back at ColbyKnox! He's with Colby Chambers in this update. In this video Colby is a supervisor who doesn't believe in getting his hands dirty. Shapey is on his hands and knees doing yard work. "Are you going to help me do your job," Shapey wonders. His boss is too busy looking at Grindr. "I'm supervising. Networking," Colby replies as he holds up his smart phone. He pauses from Grindr to take a photo of Shapey's butt crack. "Using my pics on Grindr," Shapey asks. "Are you catfishing people?" "The conversation and the picture are unrelated," Colby says. Shapey wonders if Colby's time on the app leads to real life fucking. "Why would you think I don't," Colby replies with hurt pride. "I don't know," Shapey notes. "You don't seem like the type that…fucks." By this time Shapey is off the ground. Both hands on top of a shed. His partially covered ass points Colby's way. This is all the encouragement Colby needs. He puts the phone down and strides toward Shapey. They kiss. Colby pulls away, turning Shapey around. His pants are pulled down and Colby puts his face between the ass mounds. "I'll lick that sweat out of your ass," Colby promises. "I've been working hard," Shapey replies. As he tongues Shapey's tight hole, Colby massages his butt cheeks. Colby's cock is ready to show Shapey who the "boss" is. He stands up and slowly enters Shapey's hole with raw meat. "Fuck, yes," Colby whispers. "Give me that ass." Shapey arches his back. "Now you're working hard," he jokes. Colby fucks to the balls, remaking Shapey's insides. He needs to hold the shed so he's not fucked into the next yard. :-) "Give me that hole," Colby moans. "Fuck, yeah," Shapey replies. "You feel so good." They move away from the shed so Shapey can put one foot on a central air unit. Colby gets back inside that hole. "Fucking hammer those tight boy cheeks," Colby mutters. "Goddamn. I need this." "Fuck that hole," Shapey begs. "Whose ass is this," Colby wonders. "My ass," Shapey replies. :-) The studs move to a utility cart. Shapey gets on his back. His long legs spread out. Colby re-enters. "Fuck, yeah," he states. "Take that whole cock." Shapey starts to stroke his shaft. "Your sweat tastes so fucking good," Colby explains, leaning in to lick Shapey's chest. "Give me that sweet fucking ass all goddamn day," Colby declares. The pounding turns more vigorous, matching Shapey's moans. Colby straightens out one of Shapey's sexy legs. "Take that dick," Colby commands. "Take that fucking dick. I'm going to take it all out on you." Shapey knows when a man just needs to bust into a hole so he takes the forceful pounding. He gets up to lean over. Colby stays behind him, using his rod to jiggle those tasty butt cheeks. He gives Shapey a chance to work his ass up and down his johnson. "Ride back on it," Colby whispers. "I know you want it." "Feels so good" Shapey groans. "Fuck me slow and deep." His rod is large and ready to blow. He shoots a load on the bags in the cart. Some of his man milk even lands on his inner thigh. "Fill you up," Colby wonders. "Oh, yeah," Shapey replies. Colby is gentle at first but that booty is too irresistible not to be slammed into. "I'm going to drain my nuts in your ass," Colby exclaims. He's a man of his word. After Colby shoots his seed, the camera gives a close-up of Shapey's cum saturated hole. Some of the juice leaks down his balls. "Remember earlier when you asked if I could fuck," Colby teases. "Got your proof back here." "I think I found out," Shapey replies. Like a "typical" boss, Colby wants Shapey to get back to work. However, he promises to help. "You better," Shapey says. From the way their dicks look as the video ends, engorged and stiff, they probably made time for more fun after the job was finished. :-)
Reviews
I wish rim jobs would include a clear hole shot so we get a look at what's being eaten. Loved how Colby kneaded and massaged those twink buns, just wanted 'em spread wide. Shapey might have reached back himself to spread his butt. Liked how Shapey twerked back during the doggy. That wagon made a nice stage for the missionary. Shade/sun made lighting a distraction but it wasn't the end of the world. Shapey has a fun personality and I hope to see more of him, especially in sassy powerbottom combinations.
Well filmed. Nice close-ups. And Colby watching you through fucking a very cute young guy was very beautiful. Well done both.
Shapey objects to being the landscaper assistant who does all the work, while supervisor Colby does nothing except stay on his I-phone. Colby's response is to call Shapey feisty and then to fuck the hot ass of his assistant, whose only question was "do I get paid for this?" Colby fucked the cum out of Shapey and then shot his own load inside Shapey's hot ass, and we get to watch it slowly seep out! Ordered by Colby to resume landscaping, Colby does promise to help this time! Colby's biug cock and Shapey's hot ass were meant for each other!
Join Colby Knox
Get unlimited access to Colby and Mickey's hottest scenes. New videos every week!
Sign In