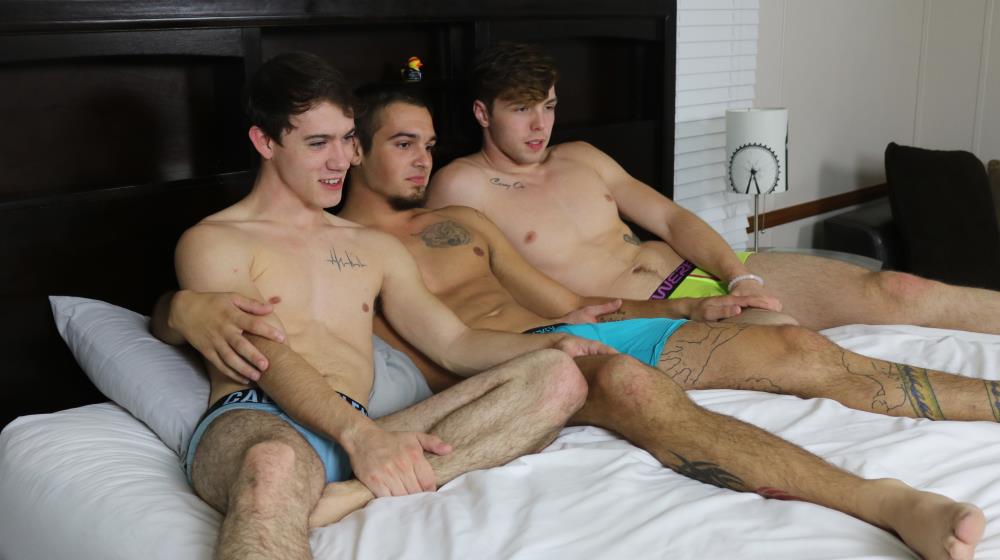 Description
In this Colby Knox house release, Christian Bay, Zach Taylor, and Mason Steele provide another hard core, live cam adult gay porn show. These three sexy visitors take over the house and webcam as Colby and Mickey watch from the next room. Starting in the middle of the bed, these studs are kissing, licking, and rubbing each other as they get more comfortable together. There is an enormous amount of chemistry between these guys and they are at immediate ease with each other. Christian gets more comfortable, lying back on the bed while Zach and Mason take turns licking his cock and balls. It's Mason's turn in the middle and he is worshipped by Christian and Zach as they lick his cock and make out with him. That quickly turns into some steamy 69 action as Mason and Zach taste each other's cock. The studs then reposition on the bed forming an ass eating train. Mason begins devouring Zach's ass while Christian uses his tongue to explore Mason's tight hole. Christian begins to finger Mason's ass, using lube to loosen it up before he begins to push his thick hard cock deep inside. Christian and Mason have big hard cocks and they are both in the mood to bury their dicks deep in tight man hole tonight. Mason works his way behind Christian and slides his thick shaft inside his smooth ass. He can feel just how tight that sweet ass is as he eases each inch inside. While taking this big cock, Christian is working his hard dick inside of Zach and all three men are moaning in unison. Christian tags out and Mason gets Zach for some one on one hard fucking. He moves between his legs and presses his cock against his tight ass pushing every inch of that throbbing shaft inside. He pounds long and hard and has the mattress squeaking with the rhythm of his power strokes. The guys have a good time getting balls deep in willing mouths and asses and sure use plenty of lube tonight. Colby must have felt left out of the action as he makes a special appearance at the end of the show to sample some of that tight ass.
Reviews
The way Zach deep throats is amazing!
Join Colby Knox
Get unlimited access to Colby and Mickey's hottest scenes. New videos every week!
Sign In