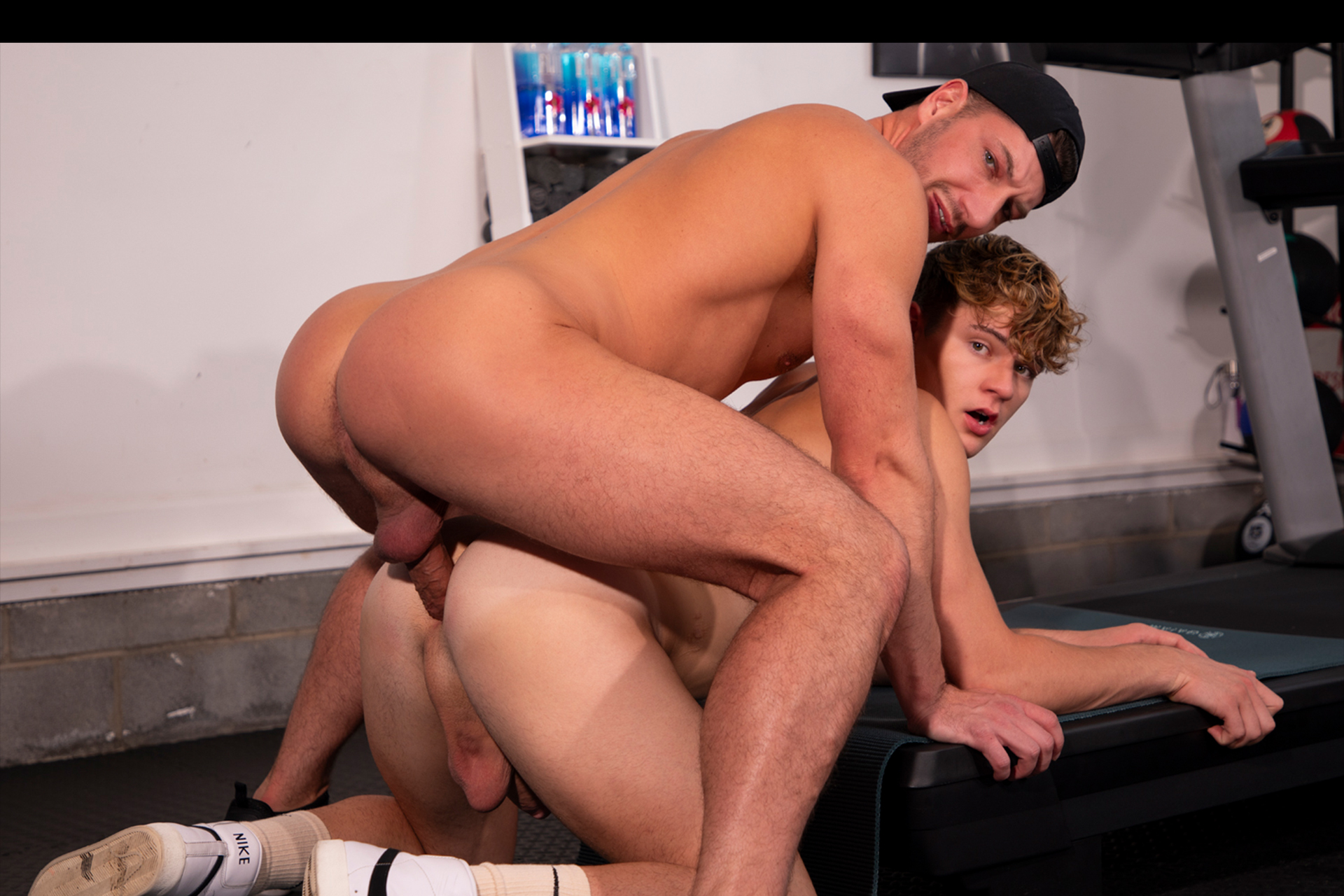 Description
Oliver Marks knows what he is doing. :-) The stud walks, naked, on a treadmill in the ColbyKnox studio's gym. His delicious butt cheeks jiggle in Jordan Starr's direction. Jordan is lifting weights. Or trying to. Oliver offers Jordan a sexy smile. That's all the encouragement he needs. He interrupts his workout to stroke his meat. He gives his large member a shake before walking over to Oliver. He places a hand on one tasty cheek. Oliver turns off the treadmill and the hotties kiss. After breaking the embrace, Jordan gets on his knees. Oliver turns around, sticking his prime rump out. Jordan takes a bite before licking Oliver's hole. "Such a good ass," Jordan mumbles. Oliver's moans echo in the gym. He pulls his cheeks apart so Jordan's tongue can have full access. "Fucking spread my cheeks," Oliver begs. "You like that," Jordan wonders. "Fuck, yeah," Oliver replies. As he lathers Oliver's hole with spit, Jordan shakes the mounds of booty. "I just love playing with it," he explains. Jordan stands up, leaving kisses on Oliver's back. He turns around and they smooch some more. Jordan takes off his tank top. Then Oliver hits his knees. Jordan's johnson stands at attention, ready for a warm mouth. Oliver works his magic the moment Jordan loses his shorts. "Choke on it," Jordan encourages. Considering his tool's size, Oliver can't help but gag. :-) He makes certain Jordan's cum heavy nuts get attention also. Spit lands on Jordan's shaft and Oliver's chest. "Fuck, yeah," Jordan says. "Get it nice and wet." Oliver looks up, gagging on all that meat. "You like choking on that cock," Jordan asks. "Yes, sir," Oliver whispers with a satisfied smile. "Fuck. You're so fucking big." After stroking Jordan a few times, Oliver murmurs what he's been waiting for. "I want you up my ass." He gets back on the treadmill, coating Jordan's dick with lube. Let's give Jordan credit. He's no brutal top. He takes his time working inside Oliver. And this is a good thing because Oliver's hole is stretched to the max. "Want to go for a little walk," he asks. He turns the machine on, slowly strolling with Jordan inside him. With each step, Oliver's dick gets bigger. "Fucking pound me," he hisses, turning the machine off. Jordan gladly takes control, grabbing Oliver's hips. Each stroke to the balls. "Oh, God," Oliver whimpers. "You're so deep." They decide to get on the floor. A mat is placed on the treadmill and Oliver gets on his hands and knees. Jordan reenters, making Oliver yowl. He cries out, taking each deep stroke. "Just like that," he begs. The camera gives a great view of Jordan's shaft going in and out of Oliver's hole. Precum and lube dribble out. "My hole is yours to fucking use," Oliver notes. "You're open now," Jordan replies. He pulls back, giving Oliver a chance to work his way back to Jordan's pubes. "I hit that second hole," Jordan observes when Oliver's eyes turn into saucers. He gets on his stomach and Jordan drills down. "Fuck me, Daddy," Oliver sobs. Jordan likes that request. "Fuck me harder," Oliver whispers. "I can take it." Jordan smiles. Soon the sounds of Oliver's groans and skin against skin bounce off the walls. He grabs the mat, letting Jordan pulverize his insides. "I want you to come in me," Oliver moans. "I want your fucking load so bad." Jordan wants Oliver's hole to never forget this session. He's close to busting a nut. "You want the fucking juice," Jordan asks. "I want it so bad," Oliver says between gritted teeth. Jordan comes, pulling out and dumping a stream on Oliver's back. He puts his tool back inside his bottom boy, leaving the rest of his man milk inside Oliver's hole. Oliver shoots next. He's on his back, jerking his dick. Jordan continues fucking him. Oliver spits on his rod as he's pummeled. The first stream of Oliver's load lands right between his tasty tiddies, trailing down his abs. Jordan leans down for a smooch. "It was a different kind of workout," he exclaims.
Reviews
Oliver Marks, the 20 year old, 5'11", 185 lbs. bottom boy of Southwest College Boys successfully seduces Jordan Starr by walking naked on a treadmill in the exercise room showing off his hot fuckable ass! Jordan most definitely likes what he sees, and walks up to, makes love to, and fucks the cum out of hot twink Oliver! Very hot scene! Would love to watch this hot 20 year old boy bottom come back to get fucked some more!
Fucking HOT ! Wow…. Love you guys at CK ! Sherry
Join Colby Knox
Get unlimited access to Colby and Mickey's hottest scenes. New videos every week!
Sign In