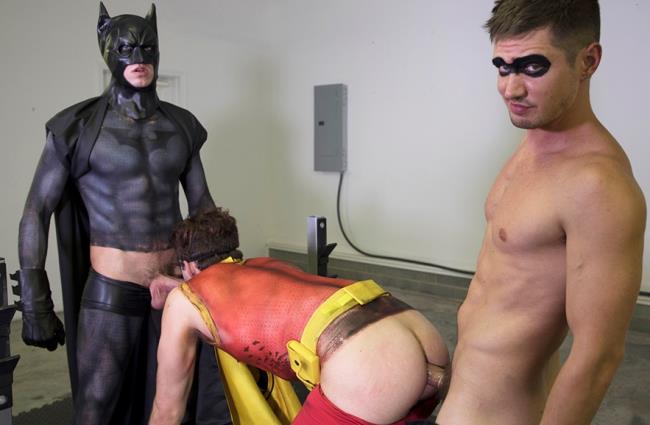 Description
After recalling his last encounter with Bruce, Robin, played by Christian Bay, is finally beginning to accept that he may have overestimated his own abilities. Being fucked and used by the big dicked goons, played by Colby Chambers and Mickey Knox, has taken a toll on our young hero's psyche. He wonders when Bruce will come, or if Bruce will ever come to rescue him. He begins to doubt everything he thought to be true. Then it happens, he comes lumbering through the door looking every bit the hero he is not only to Gotham but to Robin now more than ever. But Batman, played by Jack Hunter, seems to be a little off. To Robin's horror, he seems to be under the influence of the same gas that got the better of his own senses shortly after capture. Batman is seemingly in a trance and looks at Robin like a piece of meat as he moves toward his prey. Moving straight across the room to his bound prey, Batman drops his superhero briefs unveiling his long rock hard cock. Without a word, he moves into position behind Robin and plunges his thick shaft deep inside his tight sidekick's ass. Robin accepts the inevitable as he is once again used and fucked, this time by a twisted manipulated version of the man he loves most in this world. What could be more punishing for our hero? Perhaps Batman offering up both their asses to the heinous villain that put them both in their current predicament. Colby Chambers takes advantage of the opportunity and plunges his own big dick into both heroes' asses. Colby first ravages Robin's ass and there is little he can do because his moans are stifled by Batman's huge cock ramming down his throat. Batman wants another go at Robin's ass but that comes with a stiff penalty. Colby moves in behind Batman as he grinds deep, shoving his own cock deep into the superhero's ass. Robin is still at the mercy of his captors and now that of Batman. Still down for the count, he gets two huge facials from Colby and Batman. This Colby Knox new gay porn release shows now, more than ever that Robin needs a superhero rescue!
Reviews
I love you guys...not the least because Colby looks like my husband less 25 years and Mickey is my punk-ass friend from 30 years ago ;-) What boy didn't have fantasies of being with the original Batman and Robin (villian or otherwise). Call me if you need to cast Daddy Joker to cum and cause havoc on Wayne Manor (lol :) ) Great job guys and the body artwork..OMG...for these scenes just blew me away...a whole new level in super hero fantasy...you're the best. Hope you both enjoy the holidays and have a fantastic 2018!!! Wish I could catch you on CB...but since that's rare given my schedule...so glad you all have this site for the fly ins...All the best Brad1968
i watch it over and over. Would love to see a 5 some . continuing from batman and robin having a 5 some both getting tagged
This series was a great parody of the old Batman and Robin show, except instead of the villains always losing, here they get the ultimate win of Colby fucking both Batman and Robin. Robin morphs from Boy Wonder to Boy Bottom and does a great facial cum eating exhibition at the end of this scene. Christian's youth combined with his sexual talents make him the ideal Robin the Boy Wonder turned into Boy Bottom. Colby, Mickey and Jack were great in this series as well.
this is so epic and so romantic the best POV i have ever seen and awesome job by Colby, Mickey, Christian, and Jack. plus a big thanks to the amazing Taylor for the great body art too.
When the TV show was running, I always wanted to fuck the Boy Wonder
In the 3rd chapter we have hopes that Batman will finally come to the rescue. A twist of fate causes him to be doused with gaseous fumes. He appears to recover only to find that his Boy Wonder is in a precarious position, bound and available. The gaseous fumes lead Batman into an alternate universe. What ensues goes beyond all imagination and dives deep into sexual fantasy. The photography is stunning and we're locked in this sexual dream. The epic POVs from above with heart-stopping close-ups, details are so graphic that it creates a tactical experience. The maniacal laughter that Colby skillfully executed at the end sends chills. Then there's that signature moment at the very end that convinces us who really won . . . Jack Hunter is a fantasy come true and Christian Bay is stunning as Boy Wonder in distress. Colby Chambers as the diabolical thug is perfect as the mastermind of this capture. Ranking high on the fantasy scale it's already a classic.
You can't leave the Dynamic Duo in peril! Gasp*
This scene's fucking/sucking are suffused w/an intensified erotic force in the psychological manipulation by which Thug Colby exercises absolute control over Batman/Robin. Under the mysterious gas's influence, Batman betrays the ideals of justice/friendship, becoming complicit in Robin's subjugation/humiliation by fucking him while still captive. The situation is further exacerbated when Batman fervently cooperates with Thug Colby in making Robin an eager cumrag & even offers his own ass to the thug's cock. Thug Colby's clasping Batman's hands during the initial threesome & Batman's willing removal of his own mask, accentuate the humiliation/defeat of the heroes & Thug Colby's sexual supremacy. The antagonists may have won in this narrative, but the true victory is to be ascribed to the power of sexuality itself, which can transcend moral categories/prejudices. The final cumshots were hot; the angles were perfect; the body paint: superlative; the hot performance: well planned/executed!
This series is so awesome!!! Have watched and re-watched over and over!!! Colby's cackling laugh is the perfect end?
Join Colby Knox
Get unlimited access to Colby and Mickey's hottest scenes. New videos every week!
Sign In