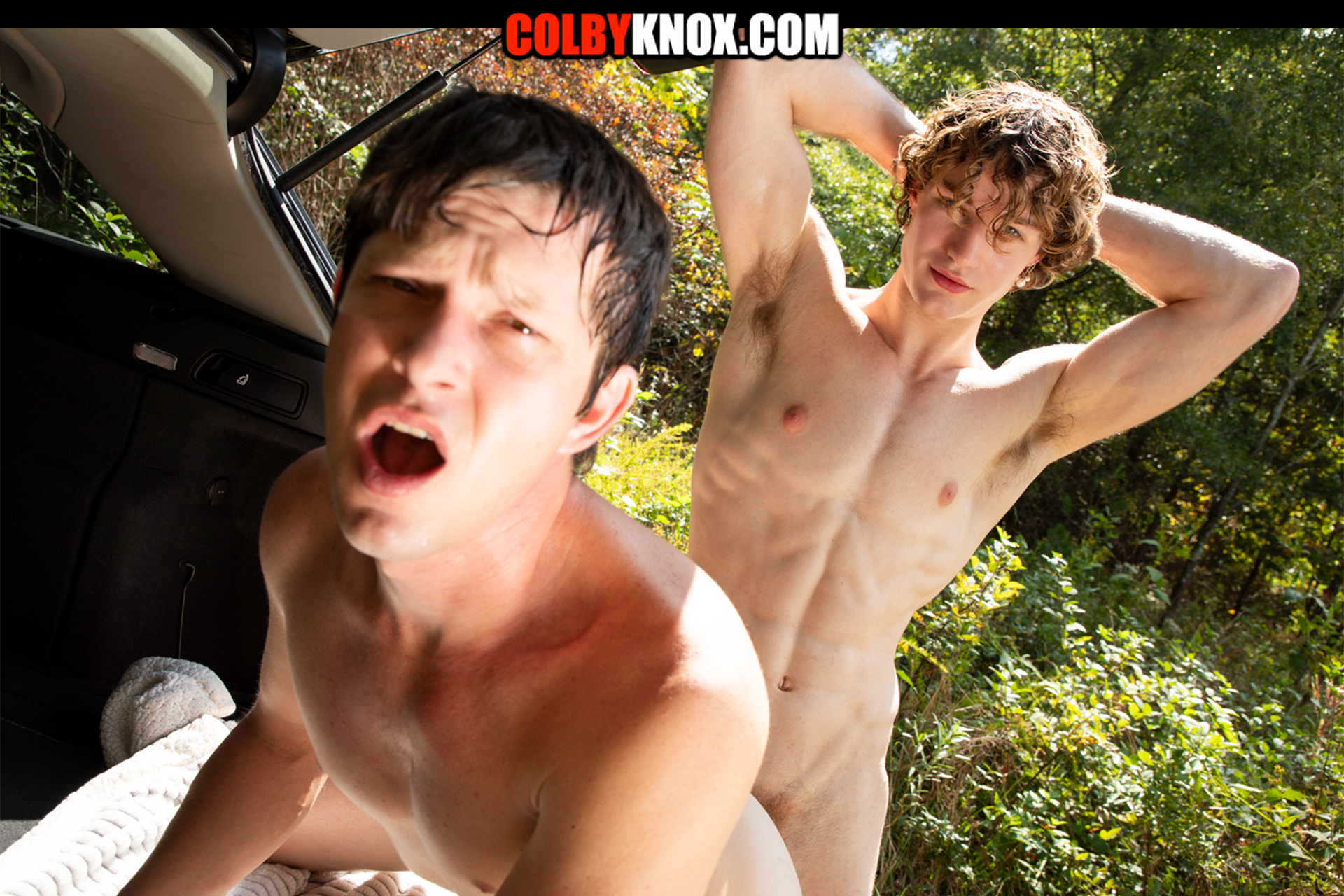 Description
Hazel Hoffman and Mickey Knox drive in the woods, searching for a place to do some "exploring." :-) Country boy Mickey is familiar with all the secluded spots. "This is just an old hunting path," he explains. "There ain't no one ever out here. So we should have some privacy." They find a spot and start to kiss. Hazel, dressed in a red T-shirt and black shorts, unbuttons his pants. "Fuck. You're so sexy," Mickey says. He places a hand on Hazel's crotch. "You're going to let me suck that cock," Mickey wonders. "Fuck, yeah," Hazel replies. Mickey quickly removes his blue "Gay AF" tee. He opens a car door to make more room, placing his head in Hazel's lap. Mickey's tongue works on the shaft and bloated head. "So perfect," he exclaims, coming up for air. Hazel reaches over to knead Mickey's butt. He then grabs the top of Mickey's head to guide that warm mouth. They move to the car's tailgate for more room. Mickey gets on his hands and knees. His shorts are pulled down and Hazel gets on his knees. He puts his head right between Mickey's cheeks. "It tastes so good," Hazel mutters. "Spit on it," Mickey begs. "You've made my dick so hard." "Fuck, yeah," Hazel replies. "Keep playing with that dick." Mickey needs his hole filled with Hazel's hog. He grabs the lube and puts some between his cheeks. The boys take off their clothes in preparation for the fucking. Hazel teases Mickey at first, using his thumb on Mickey's hole. Then he works his bare rod inside. Mickey's eyes widen. His moans turn louder. Hazel hammers to the balls. "Fuck me," Mickey pleads. Hazel grabs Mickey's hips for more leverage. The sounds of flesh against flesh, and satisfied moans, mingle with the typical noises heard in the woods. "Oh, my ass," Mickey groans. "Your ass is so fucking good," Hazel notes. Mickey leans down; his moans muffled by a blanket. "Fuck me right up in my ass," Mickey asks. "Fuck, yeah," Hazel answers. "Squeeze that hole on my dick." "Yes, sir," Mickey replies. Hazel's strokes smack against Mickey's backside. He reaches back, grabbing Hazel's rump. "Let me feel that ass," Mickey moans. "Fucking squeeze your ass as you fuck me." Hazel takes a seat so Mickey can "ride that dick." "Beg for it," Hazel demands. "You're going to take every inch?" Mickey reaches back, spreads his cheeks, and sits all the way to Hazel's bush. "There you go," Hazel says. "That's fucking nice," Mickey exclaims. "Ride that dick," Hazel whispers. Mickey goes up and down. "That fucking cock is so nice and thick," Mickey observes. "You're so fucking tight," Hazel adds. He takes control of the fucking. "That's the best sound of the world," Mickey remarks. "Clapping those cheeks," The boys take the blanket and spread it on the ground. Mickey wants to keep sitting on Hazel's staff. He gets on his back and Mickey straddles him. His stiff rod slides right where it belongs. Mickey is drenched in sweat. "Fuck, yeah," Hazel groans. "Take that dick." "I want to feel you come inside me so bad," Mickey declares. Hazel tells him to get on his back. Mickey pulls his legs to his chest and Hazel re-enters. "Take that dick," he commands. Mickey wants each inch. Even the ones that might go too deep. :-) Perspiration starts to appear on Hazel's broad shoulders. "Oh, my God," Mickey declares. "That feels amazing. Use my ass." Hazel nuts first, pulling out and dumping a load all over Mickey's johnson. "I'll use your cum as lube," he jokes. Mickey blows next. He beats his meat and man milk shoots out. The first stream lands in his damp hair. The boys close the scene by locking lips.
Reviews
I want to be like Mickey. That guy so fucking versatile. He can so multitask. He sucks; he fucks; he tops; he bottoms. What a man. Love the use my ass line. Hazel is hot as shit.
Hot scene! Mickey and Hazel off for a ride into he woods and stop at a secluded clearing for some play and a butt fuck! After great foreplay, Hazel fucked Mickey well and turned his hot butt into a boy pussy! Going into this scene, I'll bet that Mickey never thought that someone named Hazel would do this to him!
Thrilling, sweaty, great chemistry. Would've loved seeing Mickey rim the gorgeous Hazel. Loved the missionary finale. Needed Hazel's face and eyes in the frame more without losing his body [he's SO pretty]. Outdoor scenes can present lighting challenges, but this was nearly perfect.
We love some Hazel! So cute!
Wow Hazel is like the beautiful Roman warrior. So damn sexy chiseled man god. This scene was so hot.
Join Colby Knox
Get unlimited access to Colby and Mickey's hottest scenes. New videos every week!
Sign In