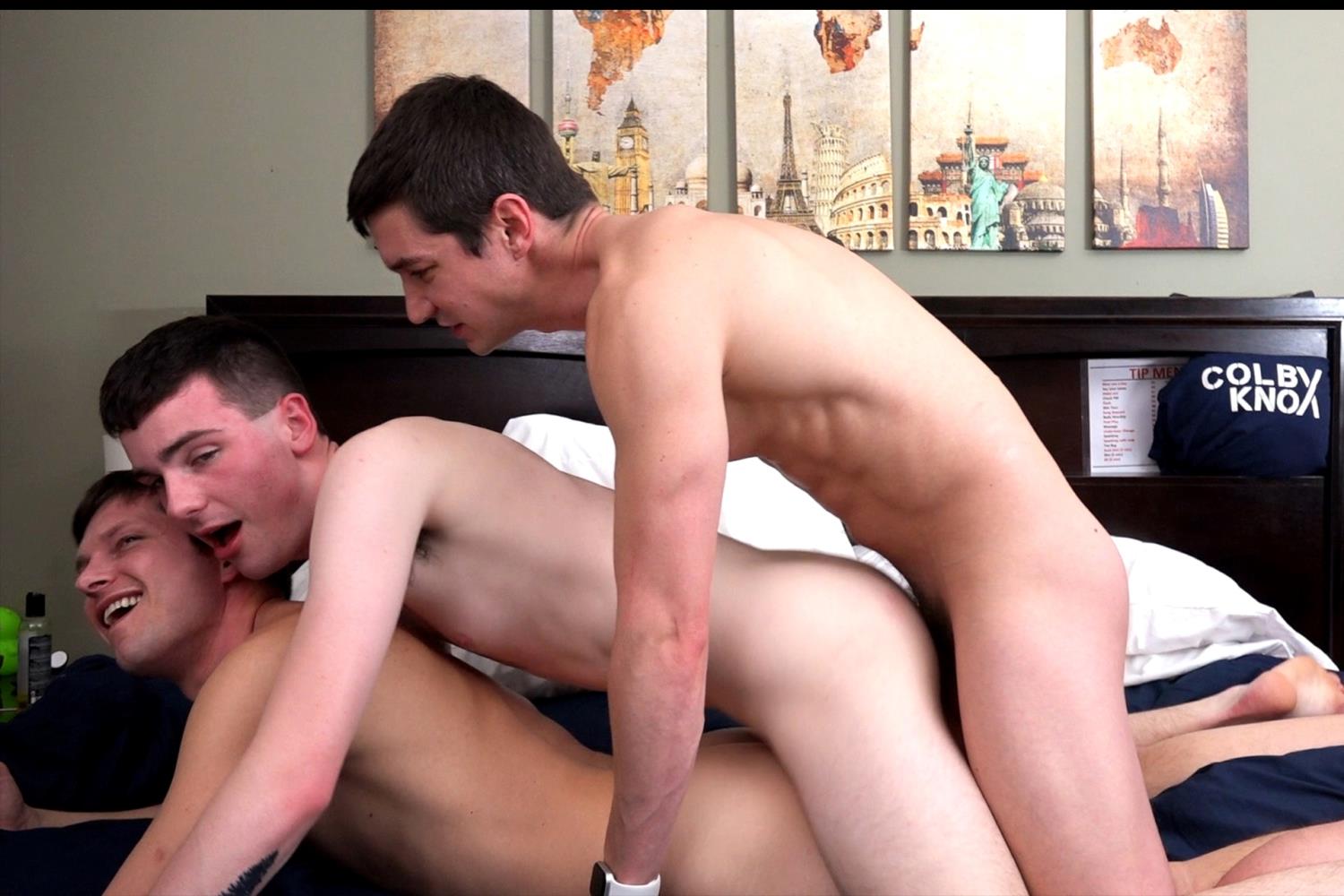 Description
It's impossible to get enough of Myott Hunter. In this a webcam video the twink, with the ever-ready rod, makes out with Calvin Chambers. His tool is also prepared for recreation time. However, Colby wants to offer, for now, something a bit more sensual. "Why don't you lay face down and we'll give you a massage," he suggests. Myott agrees. Mickey Knox, who is off camera, enthusiastically offers his assent. Colby takes the booty, offering Myott's shoulders and back to his husband. "Baby. You're so hard," Mickey notes looking down at Colby's cock. "I know," Colby replies. "It's going to be challenging giving him a massage." Myott turns his head and swallows Mickey's meat. "He came with his own lube," Colby says to the audience. "Like a doll," Myott teases. "I was about to say that," Colby replies. "It came with the packaging. Like a little action figure." The lube is put to good use. Colby slathers up his bare shaft and slowly enters Myott's ass. Mickey and Colby make out as Myott's two holes are used. Colby pounds to the balls, making the house guest loudly moan. Mickey takes control of the camera to get a close-up of Colby's tool going in and out. The house guest flips on his back and Colby re-enters. Mickey hasn't had a chance to take Myott out for a ride, so to speak. He straddles Mickey and slowly sits on Mickey's prick. He grinds on Mickey's pelvis. "Rock hard too," Mickey says. "I love it." Myott pins Mickey down, controlling the fucking. Colby returns to the bed, looking for a way to get back in on the action. "That felt great," Myott says. "I just came." He wipes some cum off his head (the smaller one...smile). "I didn't cum," he assures. "I almost did." Mickey gets on his stomach. Myott kisses his back and neck. Mickey moans as his cheeks are parted by Myott's raw johnson. Colby wants a Myott sandwich. He gets behind the tasty filling. As Myott pulls away, his tight little ass is packed with Colby's tool. "Fuck my husband with that fucking twink cock," Colby mutters. "It's so fucking deep," Mickey groans. Colby grabs Myott's cheeks. "Fuck my man with your dick," he commands. "Fuck. You're so hard," Mickey says to Myott. "This feels so good," he replies. How can it not!? He's giving and receiving. At the same time! Mickey gets a reprieve. But not Myott. As Colby keeps wrecking Myott's hole, Colby asks the audience a question. "Do you want to see Mickey fuck me as I creampie Myott?" Don't want to be reckless but did anyone NOT want too see that? Anyone? :-) Mickey gets behind his man, opening up Colby's tunnel. He grits his teeth, flooding Myott's booty with man juice. "Look at that cum dripping out," Mickey observes. His prick replaces Colby's. Myott returns to his back as Mickey pounds. "It's so good," Myott moans. He jerks his hard wood as Mickey gives deep strokes. Mickey doesn't want the session to end before he can get more of Myott's meat inside of him. He puts his legs in the air. As Myott fucks balls deep, Colby returns. His cock fills Mickey's mouth, muffling the moans. "Plow my ass," Mickey begs. Myott doesn't need much encouragement. He wants his hole to be refilled again so he sits on Mickey a second time. "Just use me," Mickey says. "Like a toy." Myott's meat points to the ceiling. "Fuck me," he cries. "You're so fucking hot." The studs eventually lay next to each other, stroking their ready to explode pricks. Mickey is first, shooting milky white cum on his stomach. "So fucking hot," Myott observes. It sure was, Myott. It sure was. Hope you enjoyed it too!
Reviews
At 18 years old, 5'11", 130 lbs., Myott has the perfect hot little twink butt for fucking and a big cock for fucking. The hot twink was fucked by Colby (highlighted by a cream pie up his ass) and Mickey, and Myott also fucked Mickey! Also a three way broke out! Very hot scene!
Join Colby Knox
Get unlimited access to Colby and Mickey's hottest scenes. New videos every week!
Sign In