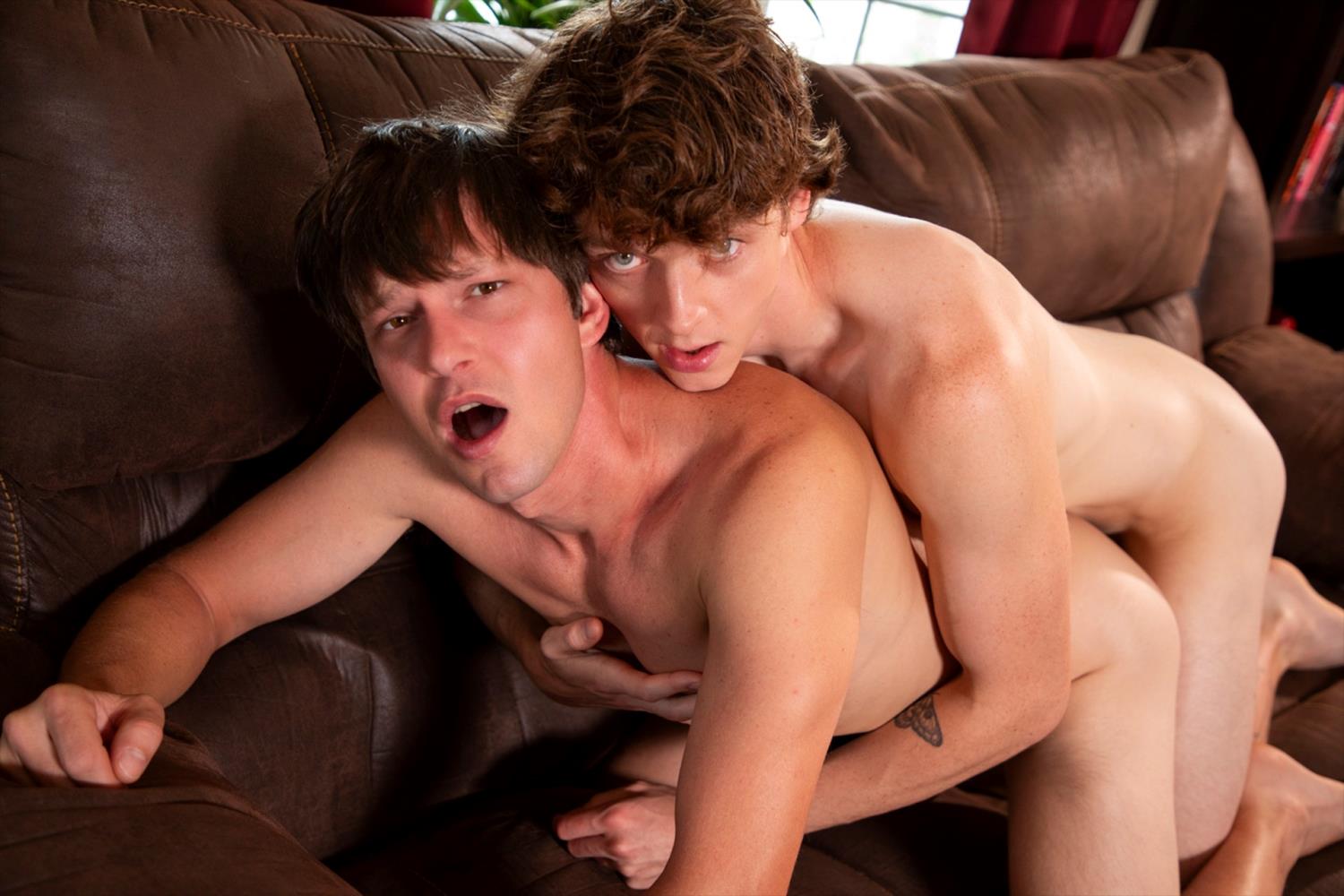 Description
Say hello to Shapey Shaperson. ColbyKnox is very happy to be releasing his first studio porn scene. He's paired with Mickey Knox, who is "super excited" about having some fun time with the newbie. Who can blame him? :-) Mickey and Shapey are sitting next to each other. On the sofa. They start with gentle kissing. Shapey removes his shirt. Mickey loses his shorts. He leans in to taste one of Shapey's nipples. The newbie gets naked. "Such a nice cock," Mickey whispers, stroking Shapey's tool. Mickey tosses away his clothes and the two get on their knees. Kissing down Shapey's torso, Mickey reaches his rod. He starts to suck, gently cupping the balls. "Suck that dick," Shapey moans, guiding Mickey's head to his shaft. He gags on Shapey's meat. "It's such a fucking beautiful cock," Mickey says with his trademark grin. "You suck that dick so good," Shapey exclaims. The studs 69, with Mickey on the bottom. He smacks Shapey's ass as his mouth is filled with Shapey's johnson. Shapey pays attention to the tip of Mickey's dick. He fucks Shapey's throat. "Fuck, yes," Mickey moans. "It feels so good. Suck on my cock." He has a question for Shapey. "You ready to fuck me," Mickey wonders. "Oh, yeah," Shapey replies. The two stand up with Mickey lubing Shapey's shaft. He sits on the couch and Mickey sits on that hard cock. "Fuck, yeah," Shapey says. "Ride that dick." Mickey goes up and down, spreading his cheeks so his hole can get stuffed. As he rides Shapey, Mickey pinches the "newcummer's" nipple. He slides off to get on his side. Shapey slowly re-enters, fucking to the balls. "Fuck me," Mickey pleads. Shapey leans in for a kiss as he gives Mickey what he wants. "It feels so good," Shapey says. The pace picks up. Mickey takes each stroke. Shapey gets back on his knees. Mickey remains on his side, grabbing the sofa as he's railed. "Get in there nice and deep," he says. "Take that dick," Shapey orders. "Make me take it," Mickey replies. The pair switch to another position. This time Mickey gets on his hands and knees, arching his back. Shapey returns to that tight, little hole. Up to this point, Shapey has been gentle. Now he fucks with more force. Mickey bites his hand to muffle the moans. "Ride that dick," Shapey demands. He leans down so they can make out. "Give it to me," Mickey whispers. "Keep fucking me." Shapey has an idea he knows will make Mickey real happy. "Let me come on that pretty face," he suggests. He sits on top of the couch, stroking his dick over Mickey's outstretched tongue. Shapey shoots cum on Mickey's cheek, forehead, and hair. "Fuck. That's so hot," Mickey says. Shapey feeds his dick to Mickey. "Come for me," Shapey orders. Mickey does. He shoots a load, hitting the sofa, his hair, eyes, and stomach. Don't go anywhere because Mickey interviews Shapey. He talks about how he came up with his name, his OnlyFans account, what he likes to do sexually, and hobbies (he's a musician). "Welcum" to ColbyKnox, Shapey!
Reviews
At 6'0", 158 lbs., hot handsome Shapey looks like an 18-22 year old college boy, even though he is a 26 year old musician/artist, who dabbled in OnlyFans and is making his gay porn debut with Colby/Knox. Shapey considers himself to be a vers top, and Mickey certainly experienced that side of Shapey, who, after a great 69ing, Shapey fucked him well! At the end of the interview Mickey mentioned that Shapey first filmed a yet to be released video with Colby, and I'm guessing that we will see the vers bottom side of Shapey in that one!
Two home runs in a row. This is shapering up to be a close out. Everybody wins.
Join Colby Knox
Get unlimited access to Colby and Mickey's hottest scenes. New videos every week!
Sign In