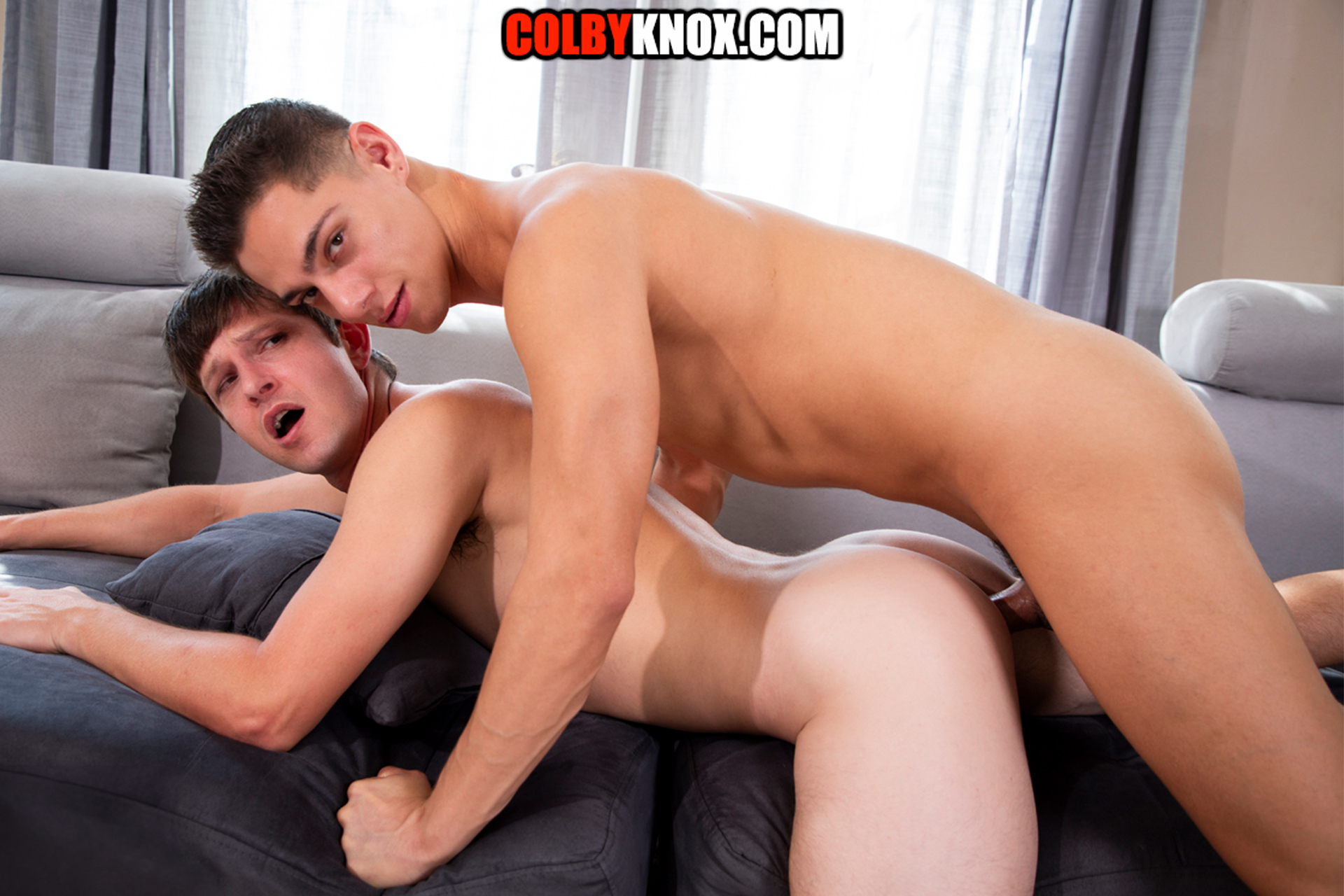 Description
Let's give a loud ColbyKnox hello to Benvi. This is his first time with us and Mickey is taking a "test ride." :-) Benvi exhibits country boy realness with his sleeveless plaid shirt, tank top, and jeans. He and Mickey, dressed only in shorts, start making out. "You're so fucking hot," Mickey says, placing his hand on Benvi's crotch. "So are you," the newbie replies. Benvi pulls down his jeans. He's wearing a red jockstrap, which Mickey approves of. He gets on his stomach, paying attention to Benvi's package. As he sucks, Benvi plays with his host's backside. "Such a great ass," Benvi observes. Mickey can only mumble thanks because of the thick slab of meat in his mouth. Benvi face fucks Mickey. He gladly chokes. "Slap it on your face," Benvi suggests. "You like that? God. It feels so good." Mickey can't get enough of Benvi's rod, slurping like it's ice cream. It's time for Mickey's hole to be eaten. The "newcummer" gets behind him, licking the rim. "Fuck," Mickey groans. "That feels so good." "Such a pretty hole," Benvi exclaims. He makes sure it drips with spit. When he fingers him, Mickey knows what's next. "You're getting me ready for that cock," he wonders. "Fuck, yeah," Benvi replies. He lubes his tool and takes off his shirt. Mickey spreads his legs apart, preparing himself for the onslaught. "It's tight," Benvi observes, working his bare cock inside. Mickey whimpers. But he must be having fun because his tool is hard as a diamond. Benvi begins to pump. Forceful thrusts. Each to the balls. "Fuck my ass," Mickey pleads. "That feels amazing." Benvi jerks Mickey as he fucks him, making him happier. "Fucking drill my ass," he whispers. The camera gives a flawless close-up of Benvi's sausage going in and out. "Such a sweet ass," he observes. "I'm precumming so much," Mickey says. Benvi scoops some of the man nectar for a taste. The studs change positions. Benvi sits on the sofa, facing the camera. Mickey straddles him in the same direction. "Come here," Benvi instructs. "Sit on this dick." Who can deny such a request? :-) Mickey sits down, groaning in satisfaction. "Right there," he whispers as his spot is rammed. "Right there." "Love watching that big dick swing as you ride me," Benvi declares. "So hot." He takes control of the fucking, ramming Mickey on his tool. "Feel that ass," Benvi remarks. "It's getting creamy for me already." Mickey reaches back, pulling a cheek so Benvi can have more access. "Clap those fucking cheeks for me," Mickey implores. He returns to his stomach. "Bend over for me," Benvi urges. "Got to get another taste of that." He resumes licking between Mickey's cheeks. When he re-enters Mickey, Benvi grabs Mickey's hips and hammers home. Mickey groans in the sofa cushion. "Fuck. You're hitting my prostate," he declares. "Holy shit." He repositions himself on his hands and knees. The deep dicking continues. Mickey's hair is plastered in sweat. "Fuck me," he begs. He busts first. Streams of cum speckle the couch. "Damn. Big load," Benvi states. "Fucking hot." He's still fucking Mickey, making sure he pummels every drop of juice out of him. He scoops some up to ingest and use as lube. "You going to breed me." Mickey wonders. Benvi doesn't answer. He keeps fucking, putting his hands on the top of Mickey's ass. Benvi pulls out and jerks his man milk on Mickey's hole. He reinserts his rod, making sure Mickey's insides are drenched in cum. He then bends down to eat Mickey out. The tired, but exhilarated, studs kiss. "Sexy man," Mickey whispers. Don't go anywhere because there's an interview. They talk about sexual preferences on, and off, screen. Benvi is starting to explore his bottom side. We like to hear that! :-) The Las Vegas resident started in the industry in the winter of 2022. "Welcum" to ColbyKnox, Benvi!
Reviews
I am smitten with Benvi. Boy next door, rockin' bod, and a shit-eatin' grin. Get him naked a little quicker. As soon as Mickey undressed and began blowing Benvi, Benvi started showing interest in Mickey's ass. It's fun when the main course gets teased in that way. Loved when Mickey went to his back, greased himself up, and waited eagerly to get fucked [Mickey might've rimmed Benvi a bit, too, to welcome him to the team]. Sorely missing was an intense missionary sequence, but there will be other opportunities.
26 year old, 6", 163 lbs. Benvi makes his ColbyKnox debut topping Mickey in a very hot scene clearly enjoyed by both! Benvi fucked the cum out of Mickey, ate some of that cum and then shot his own load inside of Mickey's hot ass! Very candid interview post scene as Benvi told how he worked his way into the industry as a production assistant off camera, did escorting and go go dancing, then OnlyFans and then started receiving studio filming offers, and now sounds like he is doing some of each! So credit to this hot young stud for his hot scene with Mickey plus his openness and candor during the post scene interview. Now that Benvi has topped Mickey, hope that Colby can put Benvi's bottoming skills into play in his next ColbyKnox video!
A star is born! This guy talks intelligibly and controls the situation. Exciting new find. Love his menacing look. More of him, please!
Models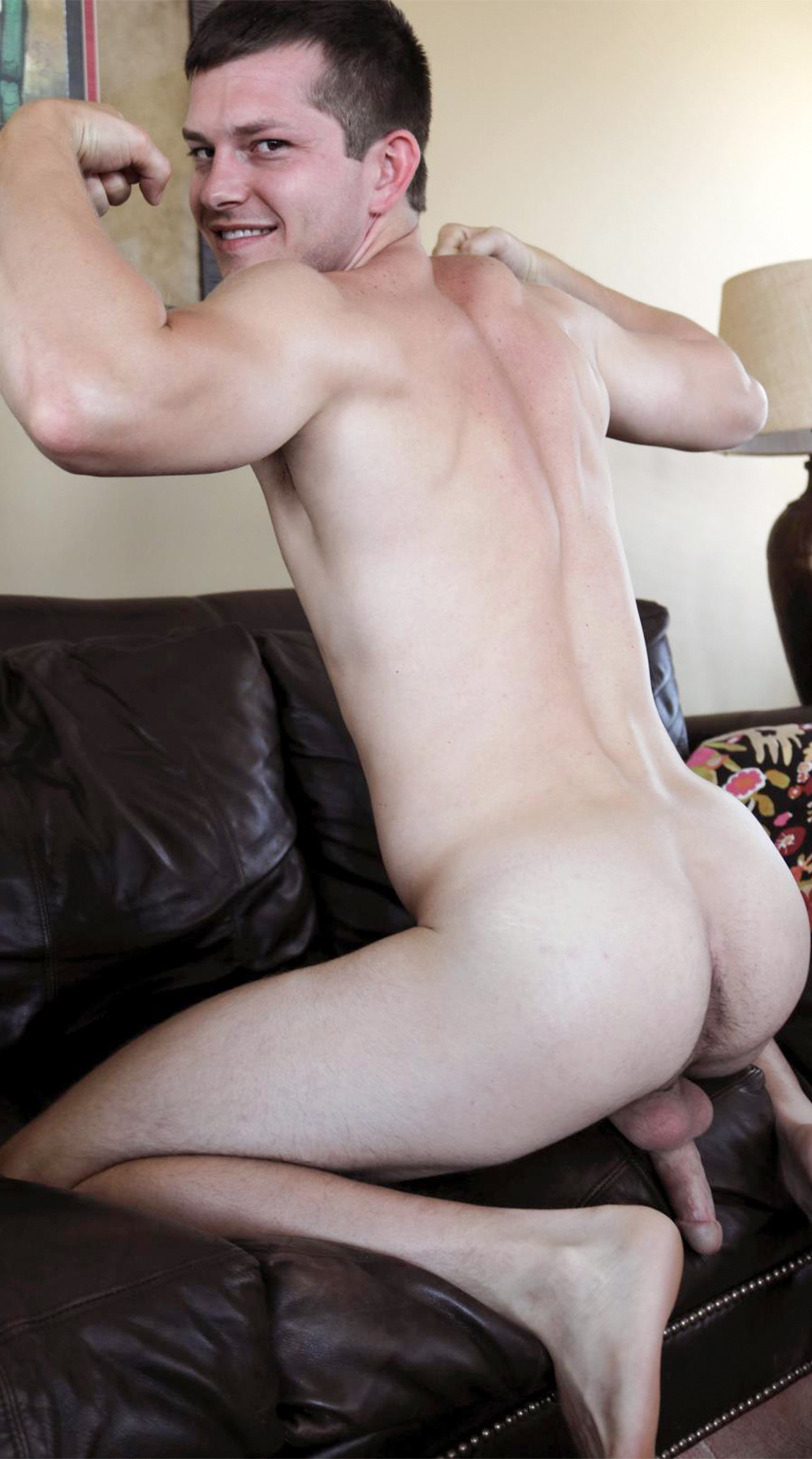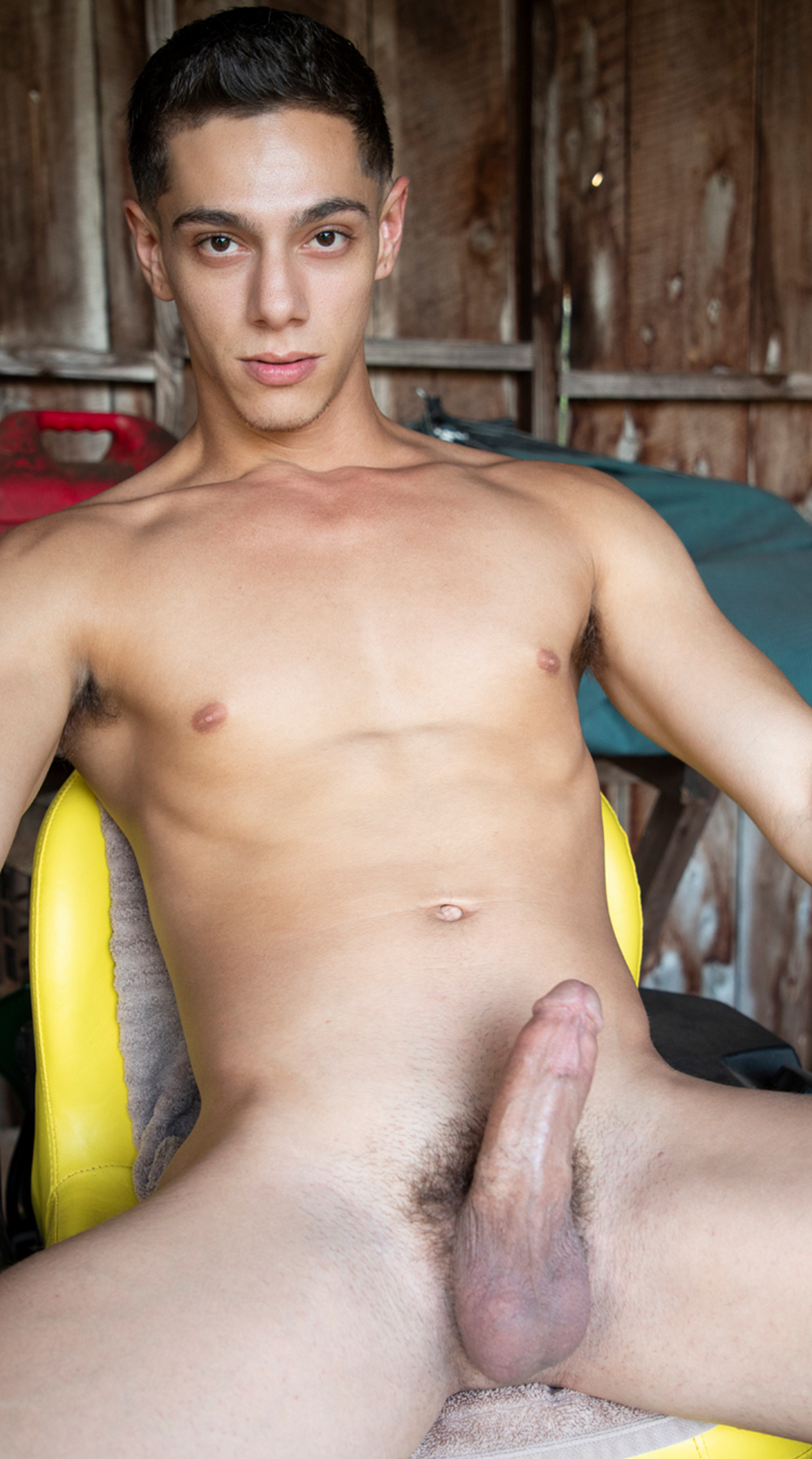 Join Colby Knox
Get unlimited access to Colby and Mickey's hottest scenes. New videos every week!
Sign In