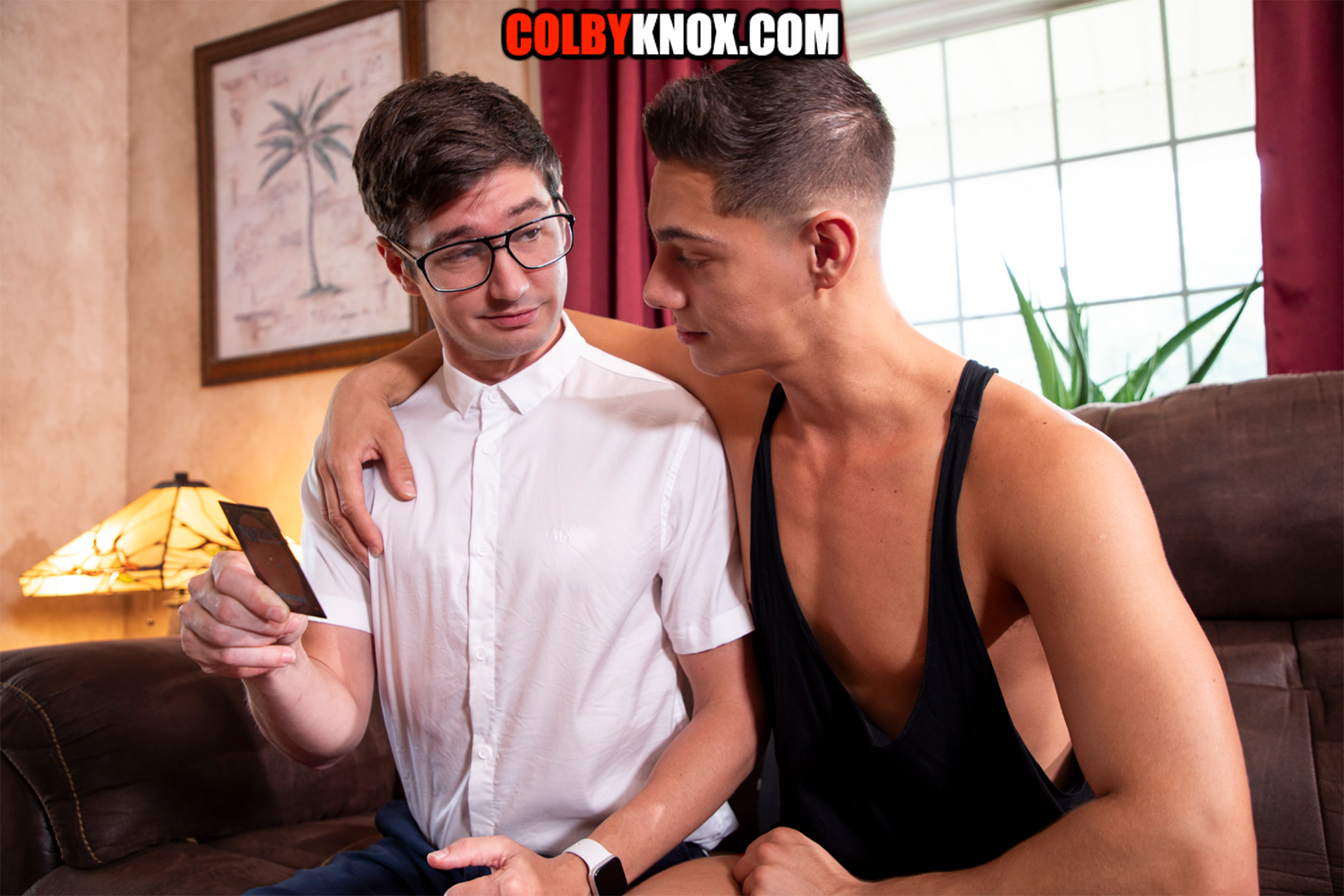 Description
The world is a better place with nerds, especially if they look like Colby Chambers. :-) In today's ColbyKnox update, Colby is a passionate card game player. He also looks sexy as hell with glasses, a white short-sleeved shirt, and blue khaki shorts. Across from him is Benvi. He doesn't know the game. However, he is equally tasty in red shorts and a tank top. "I'm going to play the bone flute," Colby says. Benvi laughs but "geeky" Colby doesn't get the joke. "Dude. Listen to yourself," Benvi declares. "You sound ridiculous." "You're not taking this seriously," Colby testily replies. He gets up for a bathroom break. When he returns, Benvi is on his hands and knees. His lovely butt framed by a blue jock. "Benvi! What are you doing," Colby exclaims. "Your pants are down. Is it too hot in here? Do you want me to turn the thermostat down?" Geeks are sweet and cute but can be clueless about certain things. :-) "Come on, dude," Benvi says. "You know this is what I really came here for. You just going to stand there? Or are you going to come get a taste?" Colby is nervous. However, he loses all inhibitions when Benvi pushes his head between those two pillowy cheeks. "Just like that," Benvi suggests. "You know what you're doing." Colby gives Benvi's rump some love whacks. "Does it feel good," Colby wonders. "Fuck, yeah," Benvi answers. "It feels amazing. Don't stop." Colby's tongue works its magic on Benvi's hole and cock. He wants to see what Colby's packing. The nerd pulls out his hard dick, standing in front of Benvi. "You don't think it's too small," Colby wonders. Some geeks aren't good at measurements. :-) "Not at all," Benvi replies. "What do you mean?" He grabs Colby's nuts and slowly works to the base. "Put my phallus in your mouth," Colby whispers. "Shut up, dude," Benvi answers. He gobbles Colby's meat. The nerd just can't get enough of Benvi's booty, smacking it as he's serviced. Benvi pushes a shirtless Colby on the couch, straddling his bare dick. Benvi slowly guides it into his hole, making Colby moan. After getting used to the intrusion, Benvi bounces up and down. "Fuck. It's so thick," he exclaims. "Does it feel good," Colby asks. Benvi answers with a passionate kiss. "Ride my fucking, hot, nerd cock," Colby demands. "It's always the nerdy guys like you with the biggest dicks," Benvi replies. Colby picks Benvi up and puts him on his back. Colby is now in control. He removes his shorts and drills down. Benvi's jock has been on the entire time. After Colby pulls it off, Benvi gets a chance to beat his meat. The studs alternate between tender smooching and powerful fucking. Benvi pushes Colby off. "Hit it from the back," he orders, getting on his hands and knees. "Give me that dick." Colby gets back inside, stretching Benvi's hole. The strokes are to the balls. "I love that fat nerd dick," Benvi declares. He bounces his booty against Colby's crotch. "Take it from me," Colby whispers. "You like my bone flute now?" "Fuck, yeah," Benvi retorts. "Give me that bone flute." The tempo picks up. Benvi returns to his back. "Slam my dick in you," Colby explains. "You're going to make me nut like that," Benvi responds. "Keep fucking that hole. Just like that." He grabs the couch, shooting a juicy load that splatters his chest and stomach. Colby slows down after Benvi stops cumming. "Can I cum inside you," Colby wonders. "Fucking breed me," Benvi counters. He hits his hands and knees. After Colby caresses Benvi's toned thighs, he hammers home. Colby coats Benvi's insides. After pulling out, Colby leaves man milk all over Benvi's ass. The camera gets a flawless view of Benvi's saturated hole. The scene ends with a card perfectly placed on Benvi's cum plastered backside.
Reviews
I love Benvi. An amusing setup having Colby as the clueless nerd. That might've been developed more with Benvi coaching and training Colby in the ways of gay sex, and eventually showing Clark Kent become Superman in the sack. I would've liked more hole display of Benvi. It seems like most of the time when Colby eats ass we don't get to see it. This scene is def a keeper, mainly due to slutty Benvi's energy, good looks, and shameless hunger for cock. If only Calvin Banks or Troy Accola could return to worship that hole and provide it with passionate, sensual fucking. [11.18.2023]
Benvi Concludes His Visit to Colby Knox! Like many a young stud who visited the ColbyKnox homestead, in his debut scene fucked Mickey and felt like a strutting rooster, but then was paired with Colby in his second video and walked bow legged to his transportation home!
Colby mate, you were born for that role. Bone flute indeed. Loved it
Join Colby Knox
Get unlimited access to Colby and Mickey's hottest scenes. New videos every week!
Sign In