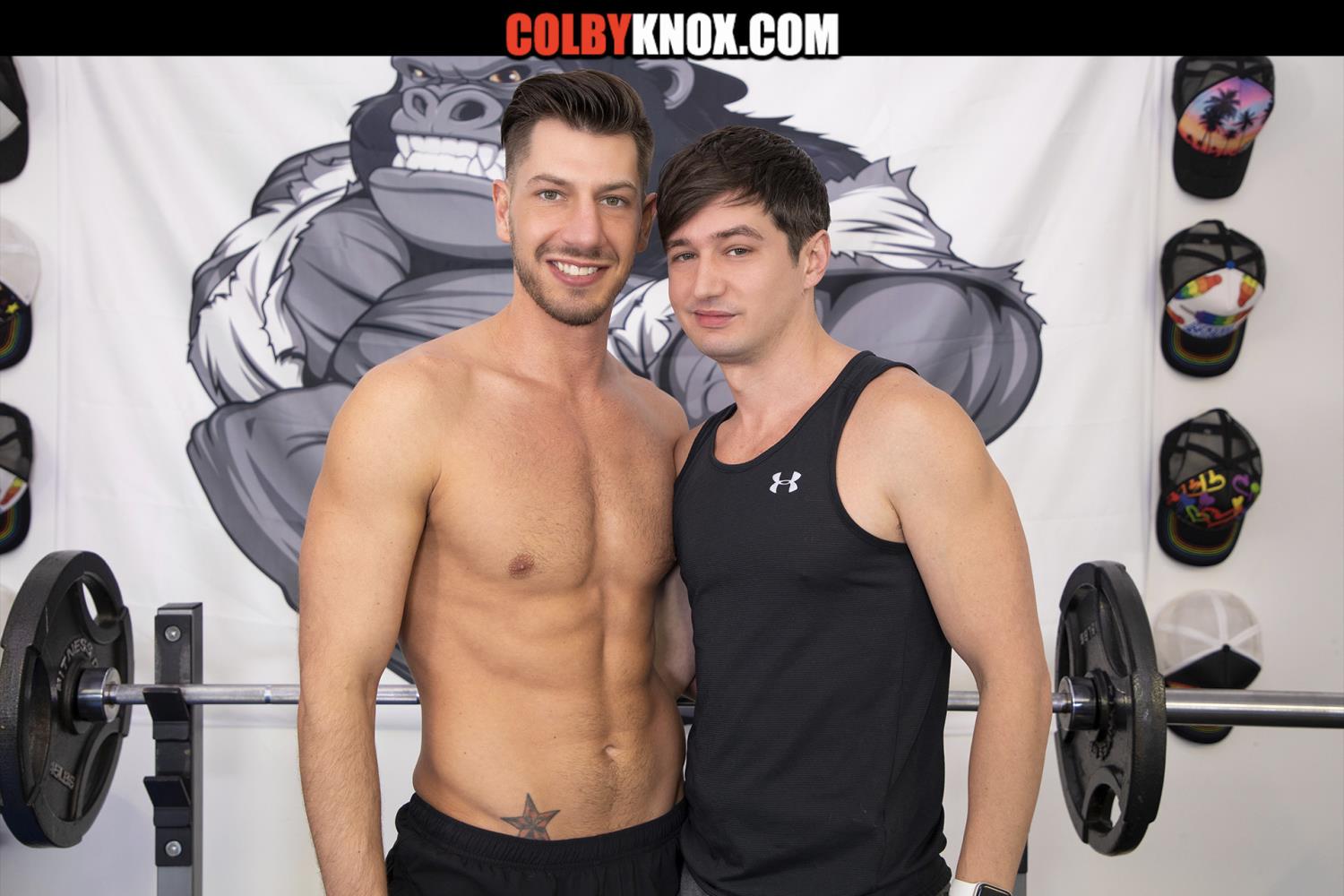 Description
Colby Chambers enjoys two things: 1) working out and 2) a man hole to fuck during, or after, time in the gym. In today's ColbyKnox update he's lifting weights with Jordan Starr, a site newbie. Jordan spots Colby. He also strokes his meat. Eventually, Jordan loses his shorts and his rod waves above Colby's face. That's the international sign an exercise session must be interrupted. Colby understands the signal and sucks Jordan's johnson. "You're good at that," Jordan says. His tool plumps due to the oral attention. Colby moves from the tip to the balls. "Want to get a better angle," Jordan wonders. Colby does so Jordan sits on the bench. He flexes a bicep and Colby nibbles on it. He moves to Jordan's tiddies before returning to Jordan's tool. "Just like that," Jordan begs. Colby comes up for air to make out with his gym buddy. He returns to the dick. Who can blame him? :-) It's time for Jordan to return the favor. Something he is happy to do. Colby pulls off his shorts and stands in front of his workout partner. His cock is ready to play and Jordan swallows like a champ. His technique is slow and methodical. "Put that cock down your throat," Colby commands. Jordan goes to the balls. "It's so big," he observes. Spit dribbles from his mouth. "Want to do something for me," Colby asks. "Want to sit that ass on my face?" Jordan thinks this is a good plan, so Colby gets back on the bench. "Your ass is so perfect," he comments as Jordan sits over him. The moment Colby's tongue licks Jordan's hole, Jordan is in heaven. "That feels so good," he whispers. As Colby makes a meal out of that tasty peach, Jordan sucks Colby's shaft. The studs change positions. This time Jordan puts his hands on the bench. "That feels real good," he says. "This will feel better," Colby replies, placing the tip of his prick near Jordan's backdoor. "You think so," Jordan wonders. "Not yet," Colby teases. He returns to eating Jordan out. "Put it in," Jordan pleads as Colby teases him. From Colby's perspective, Jordan isn't ready yet. So he keeps munching. "Such a tease," Jordan says. He gets on his back, putting his legs in the air. Colby works his way past Jordan's taint portal. Soon Colby is fucking to the balls. "Fuck. You're so tight," he exclaims. He alternates the tempo, from fast to slow. Each stroke, however, is to the balls. "Give it to me," Jordan moans. He spreads his legs. "Oh, my God. It's so deep," he whimpers. "Fuck me hard." The two change positions. Colby on his back as Jordan rides him. "Work that ass," Colby demands. Jordan grinds on the shaft as Colby makes those butt cheeks red. Jordan jerks his tool as he rides. The stimulation pushes him over the edge, causing him to shoot streams of cum on Colby's chest and stomach. "Can I keep fucking you," Colby wonders. "Fuck. Please," Jordan quickly replies. He gets on his stomach. Colby reenters. First he's gentle but the pounding picks up speed. "Give it to me," Jordan begs. "Fuck it feels so good." "Feel every inch," Colby replies. Jordan arches his back, demanding Colby give it to him. Colby grabs Jordan's hips, leaving a load inside him. When he pulls out, man milk leaks from Jordan's hole. Colby dumps the rest of his cum on Jordan's ass. Colby puts his dick back inside of Jordan. "Fuck that load back in," Colby explains. "Thanks for the load," Jordan answers. The scene closes with a kiss. Hope you enjoyed it! Go find Jordan and give him some love!
Reviews
Having been familiar (and a fan) of Jordan's other work, I was excited to see that he was doing a scene with Colby Knox. And with none other than then incomparable Colby. From the get go, the chemistry is off the charts. The bicep and pit worship in the beginning was a nice treat (would have liked more, from both parties, but I'll take what I can get!) and the way Colby really gives it to Jordan, who clearly enjoys every minute of his time with Colby, really kept me going til the very end.
WOW ! Jordan is HOT ! Colby you knew how to do him right ! WOW very hot ! ??-Sherry
Two fucking hot studs know how to give each other ultimate pleasure. Jordan is one hot beefcake and such a great bottom. Colby as always, shows us all how to fuck a guy...so hot! We want more!
Join Colby Knox
Get unlimited access to Colby and Mickey's hottest scenes. New videos every week!
Sign In