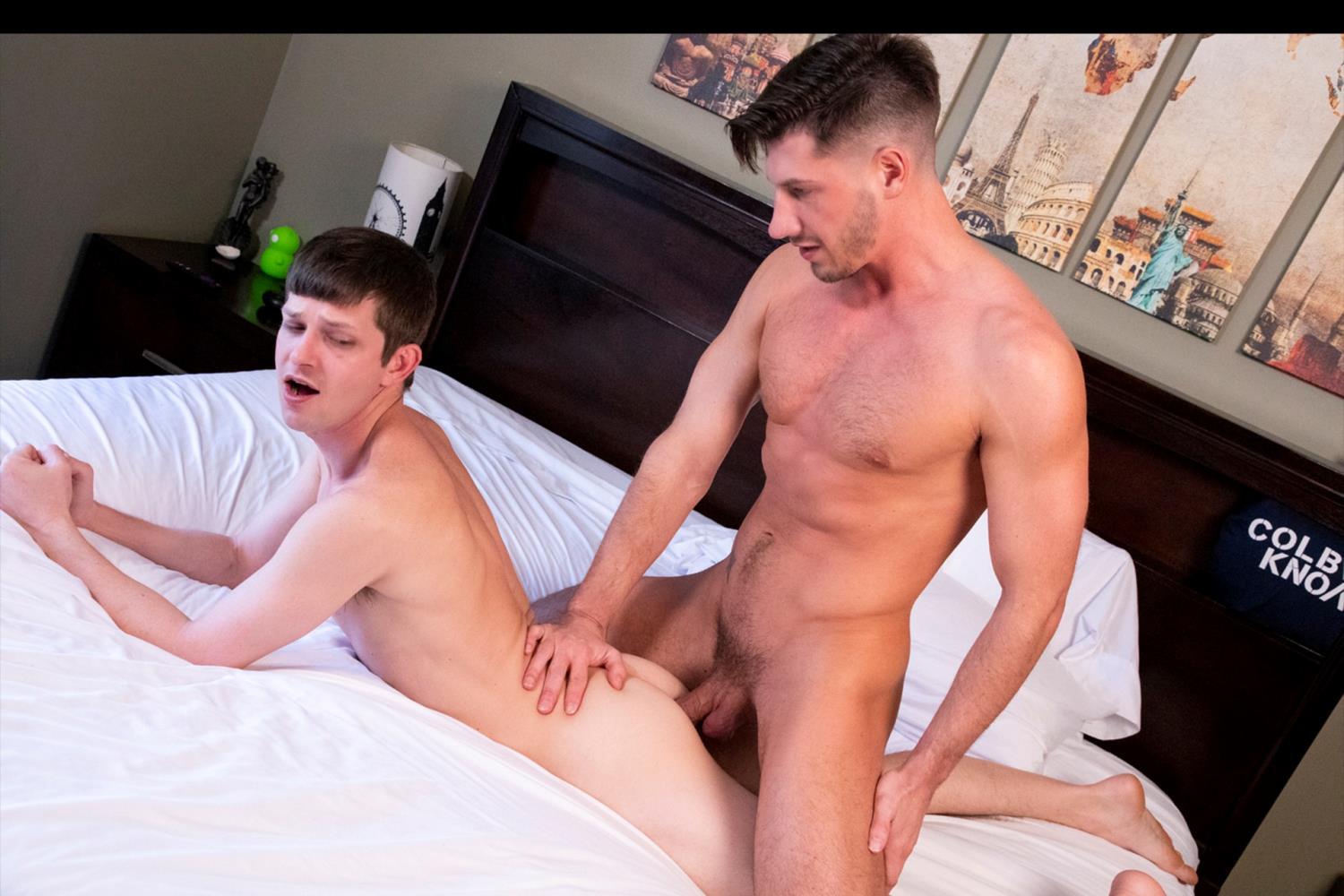 Description
It's extremely hot to hear sexy guys describe what they like to do in the bedroom. That's how this ColbyKnox video begins. Mickey Knox's head is on Jordan Starr's stomach, massaging the stud's meat. "I really like sucking on someone's cock and looking at their eyes," Mickey explains. "That's really so hot to me." "I like when they can really deep throat my dick," Jordan counters. "I'm kind of an ass man so I really like looking at that arch when they are laying on their stomach." Mickey pulls up, getting on his hands and knees. He wonders of his arch meets Jordan's standards. It does. :-) He pulls Mickey's underwear down and licks the man hole. "It feels so good," Mickey says. Jordan kisses on Mickey's back, planting a tender smooch on his lips. He returns his attention to Mickey's backside, making sure to lick Mickey's rod. Jordan swallows to the root. "I like that so much," Mickey exclaims. "Remember when you were talking about liking to give a good blow job," Jordan asks. Mickey certainly does. Jordan gets on his back. His tool ready for a warm mouth. The studs kiss first. Mickey works his way down to Jordan's johnson, opening wide. His mouth stretches to the limit. "I try to deep throat but it's so thick," Mickey notes. "You're doing pretty good," Jordan replies with encouragement. "You like that big dick?" Mickey's moans are good answers. Jordan face fucks, trying to fit the entire monster in Mickey's mouth. "Swallow it," Jordan commands. It's soon time to see if Mickey's other opening can fit what Jordan's offering. Mickey puts lube and spit on Jordan's raw meat. He straddles Jordan and carefully sits. "Holy shit," Mickey exclaims. He goes up and down. Jordan grabs Mickey's cheeks, pulling them apart. "Fucking take that dick," he orders. He takes control of the fucking, pounding up. "You like that dick, don't you," he asks. "Yeah, I do," Mickey answers. "Fuck. That is so deep inside of me." Jordan puts Mickey on his back so he can go deeper. "You like those long strokes," Jordan asks. "There is that second hole." Mickey just moans and whimpers. The camera gives a great angle from behind Jordan. Mickey grabs Jordan's ass as Mickey's ass is wrecked. "That feels so fucking good," Mickey says. "Know what feels better," Jordan counters. "Doggie." Mickey returns to his hands and knees. Jordan puts his hands on top of Mickey's butt cheeks, fucking to the balls. "Such a good hole," Jordan exclaims. "That feels so fucking good," Mickey returns. "I love it." "Open that hole for me," Jordan demands. Mickey's moans are muffled by the bed sheet. "Feel how deep that is," Jordan wonders. He alternates the fucking speed but each stroke is to the balls. Mickey gets on his stomach. "Keep that hole open," Jordan orders. Mickey bites his own hand. "You are so fucking huge," he says. Jordan needs to bust. He holds Mickey's hands, stuffing him with hard meat. "I'm getting close," Jordan says. He pulls out and shoots a creamy load all over Mickey's booty. He then reenters Mickey, making sure his insides get a fair portion of man juice. "Show me that cummy hole," Jordan says as the camera offers a view of Mickey's hole hairs soaked with cum. He needs to bust too so Mickey gets on his back. As he nibbles on Jordans' dick, Mickey strokes his cock. When he nuts the first stream splatters on his chest. Some even lands on Jordan's thigh. "Fuck. That was such a huge load," Jordan utters. Hope you enjoyed it like they did!
Reviews
Top Jordan fucks bottom Mickey in great pairing for a fuck scene! Well done boys!
10 - Jordan is HOT ! A good old hard fucking…. Everyone needs that sometimes… put me on Jordan's "to do list."! Lol Loved him.. come back .. Thanks CK Love Sherry
Jordan heats up the screen with every scene he's in, and here we have him with the delectable Mickey. And boy does he give his holes a good work out! Would love to see Jordan paired with Calvin and pound him good. Feels like a match made in heaven.
Join Colby Knox
Get unlimited access to Colby and Mickey's hottest scenes. New videos every week!
Sign In