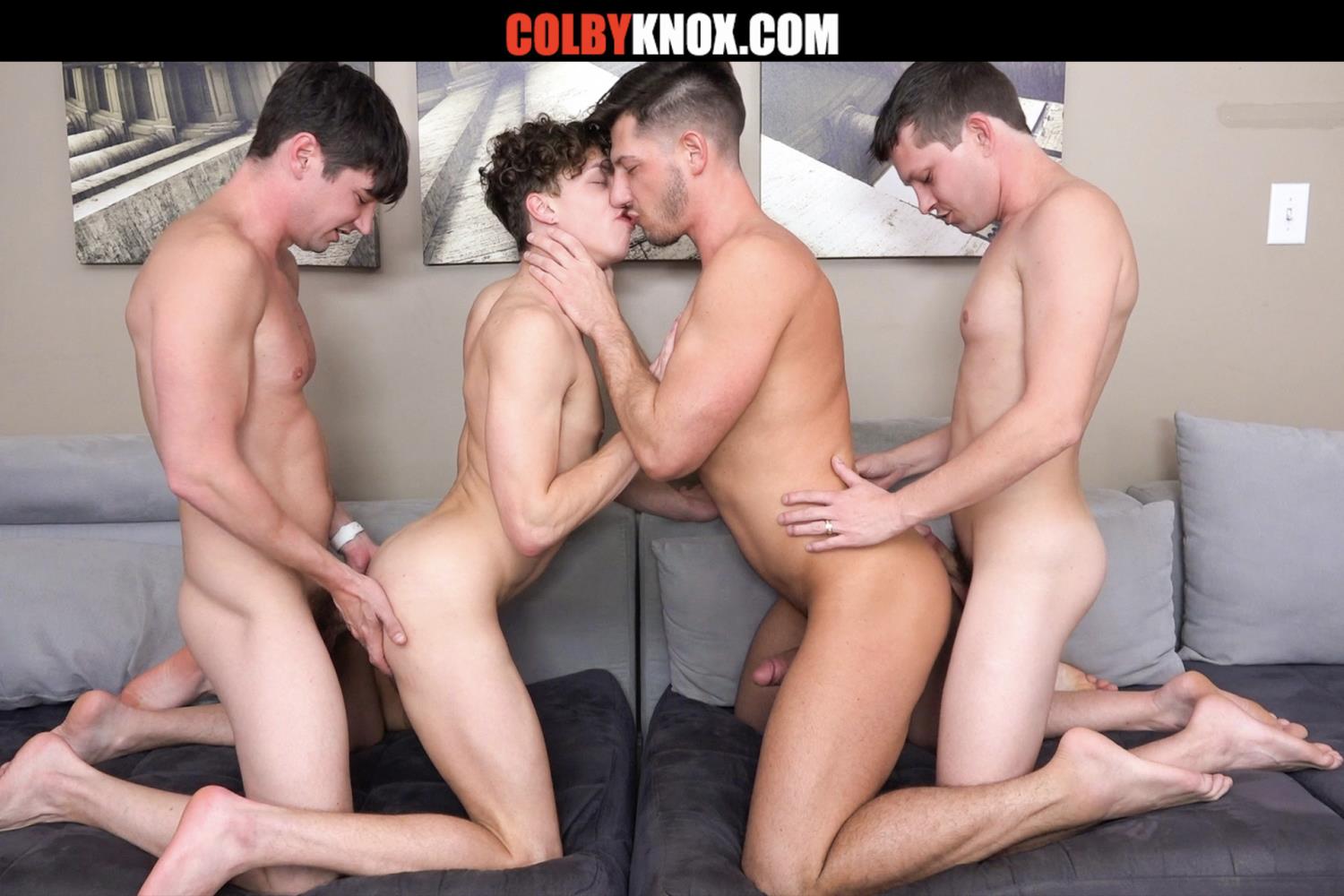 Description
This ColbyKnox webcam video starts with two questions: 1) How hard is Colby Chambers going to give it to Jack Valor and 2) What happened to Jack's hair? The cutie remains as hot as ever but the long locks are gone. These questions aren't really important to him, Colby, and Mickey Knox, whose rod is lovingly sucked by Jack. They are wondering how Colby's cock has plumped beyond its normal size. "Baby. You are thick tonight," Mickey notes. "I told him," Jack replies, pulling off Mickey's meat. "I don't use a cock pump or anything," Colby says. Could it be Jack's mounds of ass are working their magic? Colby works his thick tool inside of Jack, slapping one of those cheeks. "Turn it nice and red," Mickey instructs. Jack comes up for air and he and Mickey kiss. Jack is stuffed in the back and front. Colby leaves the studio sofa, giving his husband a chance to fill Jack's tight little ass. Mickey puts spit on his bare shaft. He slowly plunges. Once in, Mickey fucks to the balls. Jack wants it all. Colby returns to have his shaft sucked by Jack. Colby fucks Jack's face. Mickey fucks his butt. "Drive your dick in there," Colby suggests. As this is going on, Jordan Starr joins the trio. He gets on the studio couch to be serviced by Mickey and Jack. Apparently, Jordan and Mickey have not been able to frolic. Mickey stands on the sofa so he can get a chance to use Jordan's mouth. Colby reenters Jack, making sure Jack gets as much of Jordan's shaft in his mouth. Colby is giving it hard and fast to Jack. Colby turns Jack on his back so he can drill deeper. Jordan fills Jack's mouth with his shaft. Mickey eats Jordan out. Jack gets on his knees. As he and Jordan make out, both studs are pounded by Mickey and Colby. Mickey does Jordan. Colby remains with Jack. Jordan gets on his back, pointing his hole in Mickey's direction. Jack rides Colby. Jordan pulls his knees to his chest as Mickey fucks him. His husband is pounding up, making Jack moan to the gods. Mickey wants a taste of Jordan's meaty meat. Jordan and Mickey leave the sofa but Colby assures everyone both will return. Now it's just Jack and him. Jack gets on his back and Colby's shaft parts those sweet cheeks. Mickey comes back and gets behind his man. Jordan returns too, feeding Jack's dick. "That's what happens when I shove my dick down your throat," Jordan says as Jack gags. Colby gives Jordan a chance to plug Jack, something webcam viewers have been waiting for. Jack gets on his hands and knees. Jordan leaves spit on the puckered opening. He slides his johnson in and starts to pound. Jack ends up on his stomach and Colby saddles behind Jordan. "This is my favorite spot," Jordan explains. "Being between a top and a bottom." We have a "Jordan sandwich" and he's doing all the labor. Going deep into Jack. When he pulls out, his hole is stretched by Colby. "Fuck me into him," Jordan demands when Colby takes control. Jack gets on his back and Jordan pounds down. He picks Jack up and the boy is impaled on Jordan's dick like an ornament on a Christmas tree. Jordan takes a seat for Jack to ride. "Fuck, yeah," Jordan says. "Good boy." Watch Colby as he looks on. He so wants to DP Jack but that won't happen today. :-) Colby does get a chance to pound Jack some more and Jordan's shaft rests in Jack's warm mouth. "You all ready to see some guts get flooded," Colby asks the audience. "He's getting it at both ends," Jordan notes. "He's in a happy place." Colby's strokes get faster. "Give it to him," Jordan says. Cameraman Mickey gives a great shot of Jack blowing Jordan. "Swallow it," Jordan orders. "Good boy." Mickey gets a perfect view of his husband's prick wrecking Jack's hole. Colby is good to his word. His cum fills Jack to the brim. Colby even slathers man juice on Jack's hole and butt cheeks. "Don't move," Jordan says to Jack. "I'm going to use that for lube." He jumps behind Jack, pushing his thick tool inside the cum-filled boy. "Squeeze that ass for me," Jordan orders. His strokes pick up speed and intensity. "I'm getting close too," Jordan says, "You want that load?" "Give it to me, please," Jack moans. "I want it so bad." Jordan pulls out, depositing seed on Jack's ass. He gets back in, coating Jack's insides with two loads. Cameraman Mickey wants to see that "wrecked butt." He gets behind Jack, eating out that "cum dump" hole. "I love tasting cum," Mickey says to Jordan. Jack's tongue is getting Jordan hard again and Mickey fucks Jack balls deep. Jack's hole takes a licking and keeps on ticking. Once again, his holes are used. He gets on his back and receives Jordan's hefty johnson. Mickey sits next to them, jerking and loving the show. "Fuck. It's deep," Jack whispers. "We're going to make Mickey come," Jordan says to Jack. They do. Mickey busts a nut all over his chest. Jack is next. He covers his stomach with juicy goo. "Just glistening," Mickey says as he and Jack show the audience the cum and sweat, dripping from their smooth chests and stomachs.
Reviews
While not the only one to get fucked, Jack seemed go be constantly taking cock up his hot almost the entire hour one at a time from all three of his co stars! Truly this had to be Jack's finest hour!
The sexual chemistry with these guys is simply the best! Jordan Starr with his beautiful ass and big dick is a welcome new addition to the amazing Mickey and Colby! Jack looks so sexy with his new hair style and his love of getting fucked. Bring Jordan back for more!
Join Colby Knox
Get unlimited access to Colby and Mickey's hottest scenes. New videos every week!
Sign In