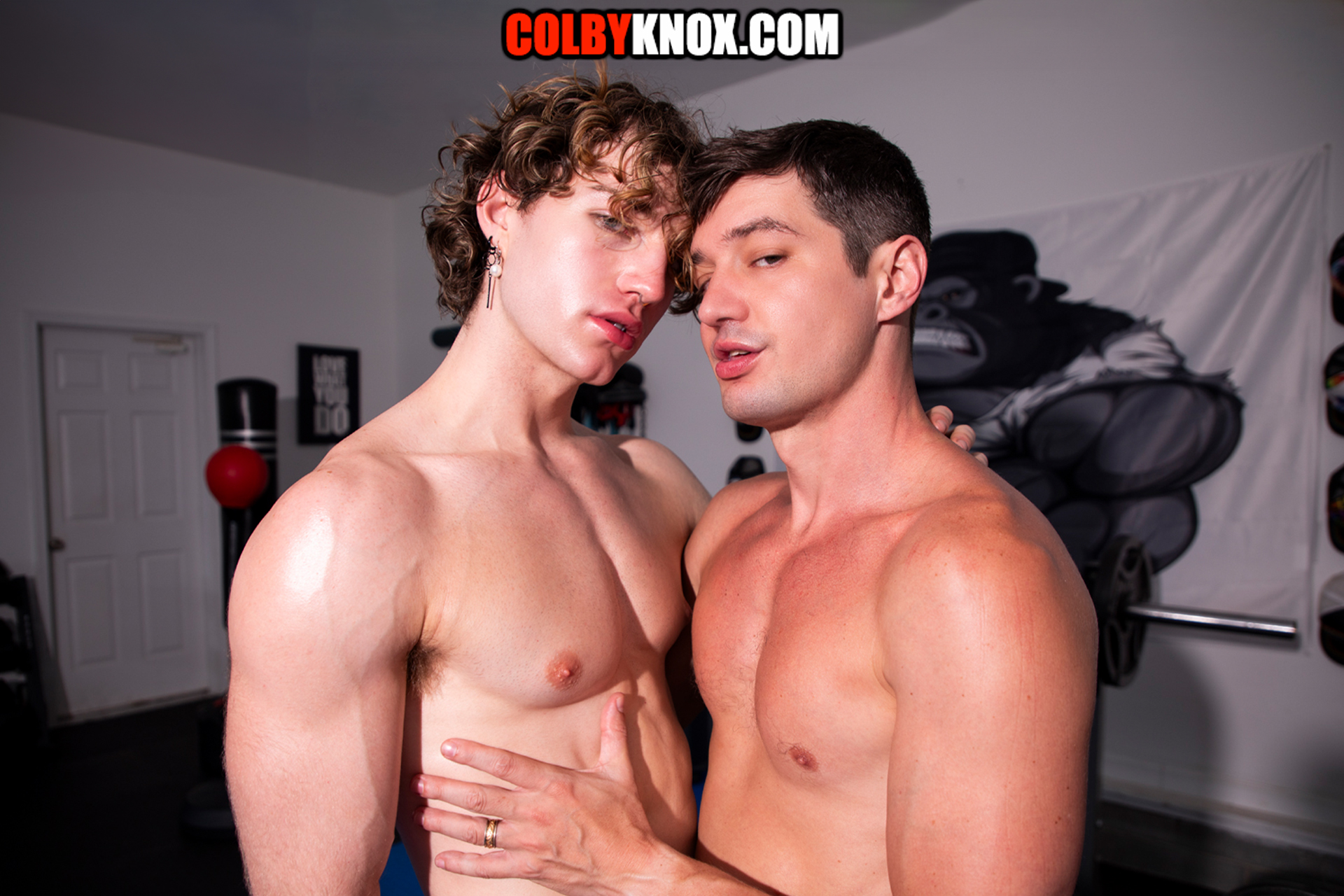 Description
This week, at ColbyKnox, we offer something a little different. A musical interlude as a video introduction. Not as elaborate as the closing of "An American in Paris", but tantalizing enough to show off the assets of site "newcummer," Hazel Hoffman. He walks into the gym, a groove matching his purposeful strides. After removing a shirt, Hazel works out. His shorts barely contain his ass but no one will complain :-) As he's lifting, Colby Chambers strolls in. The "newcummer" gives a provocative grin. As he's lifting Colby slides behind him, stroking Hazel's chiseled chest. The two gently kiss. Colby nibbles Hazel's bicep. He moves to one of the lad's tender nipples. Hazel's shorts are pulled down and Colby reaches for that backside. Not wanting to be left out, Hazel strokes Colby's cock through his shorts. They get pulled down and both studs are naked, making out, in the middle of the gym. Hazel gets on his knees, swallowing Colby's stout tool. "Feel those throat muscles work," Colby whispers. "Fuck yes, boy." "Your dick tastes so fucking good," Hazel moans. He tries to fit all of the beef down his throat but gags. Colby bends over to smack Hazel's pearly buns. "Stick your tongue out," Colby orders. He takes the tip of his dick and smacks it on the tip of Hazel's tongue. "You're so fucking beautiful" Colby says. "So sexy with my dick in your mouth." Hazel's pretty eyes look up as he services Colby. It's time for Hazel to receive a good turn. He gets on all fours so Colby can devour that boy hole. "Fuck. That feels so good," Hazel groans. "Play with that hole." How could Colby not grant such a request? Hazel's booty is meant to be worshipped. "I am so horny for you," Hazel confesses. As he makes the boy's hole wet, Colby smacks the round butt. "Spread those fucking cheeks," he orders. "Your tongue is so nice in there," Hazel replies. He wants something a little bigger inside him. Colby pulls up, slowly filling Hazel up with raw meat. Both guys are shocked Hazel can take it all without lube. At first, Colby's strokes are gentle. However, that hole gets the better of him. He forcefully drills to the balls. "Fucking use me," Hazel pleads. "Take my dick," Colby instructs. "Give me that thick cock," Hazel says. "Fucking stretch me out. Fuck. Destroy my ass." Colby leans in, tasting Hazel's neck. He falls to his stomach. That doesn't stop Colby from pounding. "I want you to ride the shit out of me," Colby suggests. He pulls out, sitting on a bench. He and Hazel lock lips. "Sit that muscle ass down on my dick," Colby declares. "Fuck. I need that," Hazel whispers. With his back to Colby, Hazel squats. He bounces up and down, grinding his ass on Colby's bush. "Can you feel it throbbing in you," Colby wonders, caressing Hazel's chest. Eventually Hazel gets on his back; on the bench. He pulls his legs apart. Colby stands above him, his dick right at the hole's opening. "All at once," Colby asks. Hazel nods yes and his insides are stuffed with man meat. "Fucking pound me," he groans. "Fucking use that hole." "It's fucking mine," Colby replies. As he hammers into Hazel, Colby strokes the boy's plump rod. "Fill me up with that big fucking cock," Hazel whimpers. He spreads his legs wider so Colby can get as much access as required. Hazel nuts first. His load sprays all over his stomach. He repositions himself on the bench; on his stomach. He wants Colby to coat his insides with man milk. Colby re-enters, taking his time. "Your cock is so nice and warm," Hazel whispers. "Fucking fill me up. Stretch that hole out nice and good." "Edging myself with your hole," Colby explains. He creampies Hazel, dumping so much cum inside him the overflow leaks out of his freshly fucked ass. The man milk leaves a trail on one of his nuts. "Welcum" to ColbyKnox, Hazel!
Reviews
Really good. Loved all the moments where Colby was behind Hazel, worshipping his tits and arms. Superb missionary segment, especially when Hazel tucked his toes under the bar, spreading himself wide for a deep, intense fucking. Hazel was joyful and hungry -- really a talented bottom. Would've liked to see Hazel's hole more, especially during rimming and during transitions between fucking positions. [11.18.2023]
For the first year or so when Hazel broke into gay porn, he had shoulder length hair and looked more the part of a "Hazel!" But, as he showed in this hot scene, Hazel remains a very hot boy bottom, and Colby fucked and then cream pied him well! Very hot fuck scene!
Get rid of socks and shoes, please!!!
Awesome suck and fuck story. 2 handsome well built and hung men.
Join Colby Knox
Get unlimited access to Colby and Mickey's hottest scenes. New videos every week!
Sign In