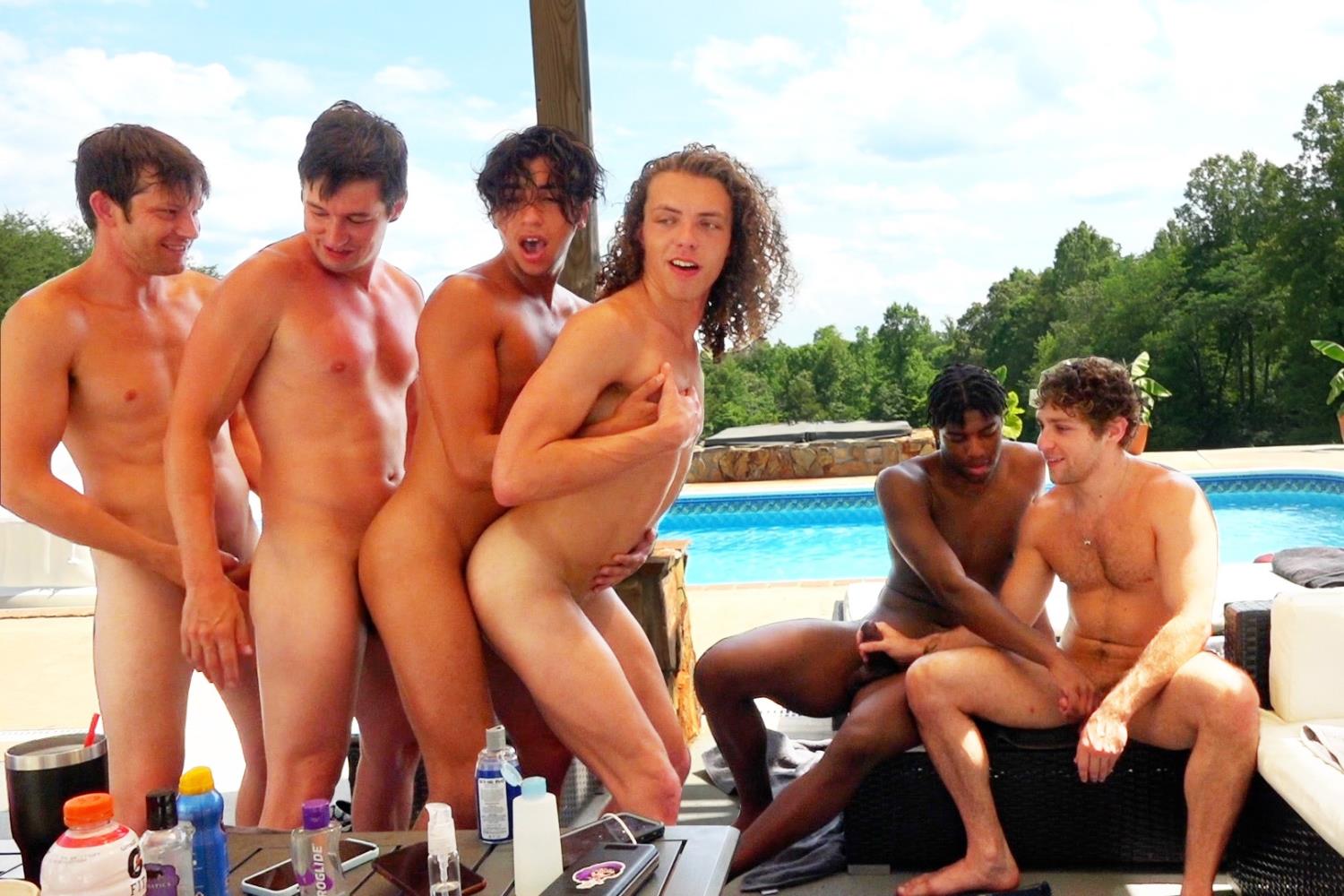 Description
This massive ColbyKnox orgy starts off with Colby Chambers using his hard dick to gently tease Gabe Bradshaw's hole and slide in and out of it, a taste of what's to come. Myott Hunter and Jack Valor are enjoying the view while stroking each other's cocks. Kylan Kain and Calvin Banks both come into frame to watch and enjoy the show. Colby decides to speed up and fiercely pound into Gabe now directly over the other four studs, Gabe uses this opportunity to take Jack's erect cock into his mouth. Mickey Knox joins the couch to suck Kylan's dick while Calvin and Myott finger and tease Jack as Gabe continues to get spit roasted by Colby and Jack. A LOT is going on. Calvin steps away to talk to the audience and answer questions, more than happy just watching the intense fuckfest in front of him; he'll get his turn. The boys take some time to readjust. Kylan is now getting dicked down by Colby right in front of Myott and Gabe decides to start topping Jack. We than fade forward to Jack getting fucked HARD by Gabe who is also taking Colby's cock, the other's watch from the side while passionately stroking and kissing each other. The ColbyGabeJack sandwich continues on foot with Gabe thrusting as fast as he can stuck in between the two hunks. Mickey switches places with Colby, eager for a piece of Gabe's tight ass. Colby kisses and spanks his husband before sliding into his ass. The four are all moaning out and thrusting away into each other as Calvin starts to suck Kylan's massive dick on the side. Everyone's drenched in sweat. Jack steps away from the ongoing foursome to give Kylan some love and starts fiercely riding and bouncing on his huge dick. We get to the point where Myott is teasing and licking Colby's ass who is fucking Gabe who is fucking Mickey who is kissing Kylan who is fucking Jack. Amidst all the fucking and moaning Colby pulls out of Gabe and cums all over his ass. We than jump forward to a close up of Kylan pounding away into Jack's tight hole, these two are electric together! The camera zooms out to Calvin fingering and teasing Gabe's ass while Mickey begins to get his cock sucked by Myott. Gabe and Calvin move over to a lounger to make out and caress each other while Jack rides Mickey's cock and gets his dick sucked by Myott. Mickey goes off to play cameraman, Calvin, Gabe and Kylan are all sucking and kissing each other, and Jack cums all over himself as he gets fingered by Myott. Jack shows off his cum soaked belly+chest for the camera, delicious! Gabe Bradshaw, hungry for more pulls Myott into him. Gabe's hungry for dick and he has plenty of help on the way. Calvin switches places with Myott and pumps his thick cock in and out of Gabe's willing hole. Afterwords it's Kylan's turn, Gabe squeaks and moans out as Kylan slowly pushes his massive cock into Gabe. Calvin starts fucking Gabe's toes to get off. It doesn't take long for Calvin to finally shoot his load all over Gabe's body. Calvin's not done though and uses his cock and fingers to push Gabe to the edge. Gabe cums all over himself up to his face, he is DRENCHED in cum. Calvin scoops up some of the love juice and puts it into Gabe's mouth, tasty. The seven say goodbye to their audience as the show comes to a close. Hope you enjoyed! :)
Reviews
With July 4th just a week away, what could be better than a seven way holiday gang bang at the pool? Jack did his best to take every cock that he could, and Gabe was not far behind! This hot scene had switching sandwich fucks, multiple fucking positions partner pairings. Fun at the holiday pool party gang bang!
Somebody had an orgy, and I didn't even get a tee shirt. I am a big fan of Colby and Mikey but this is the best session I have seen at the ColbyKnox compound. This session had everything: toe sucking, chain fucking, passionate kissing, and Kylan has the biggest dick I have ever seen. I thought the holiday show was hot, but this is pure bank. It has everything. The toe jerking with that explosive cum shot, amazing. Beautiful bodies and hot asses with cocks that will make anyone hard, this session is one of the best.
Join Colby Knox
Get unlimited access to Colby and Mickey's hottest scenes. New videos every week!
Sign In