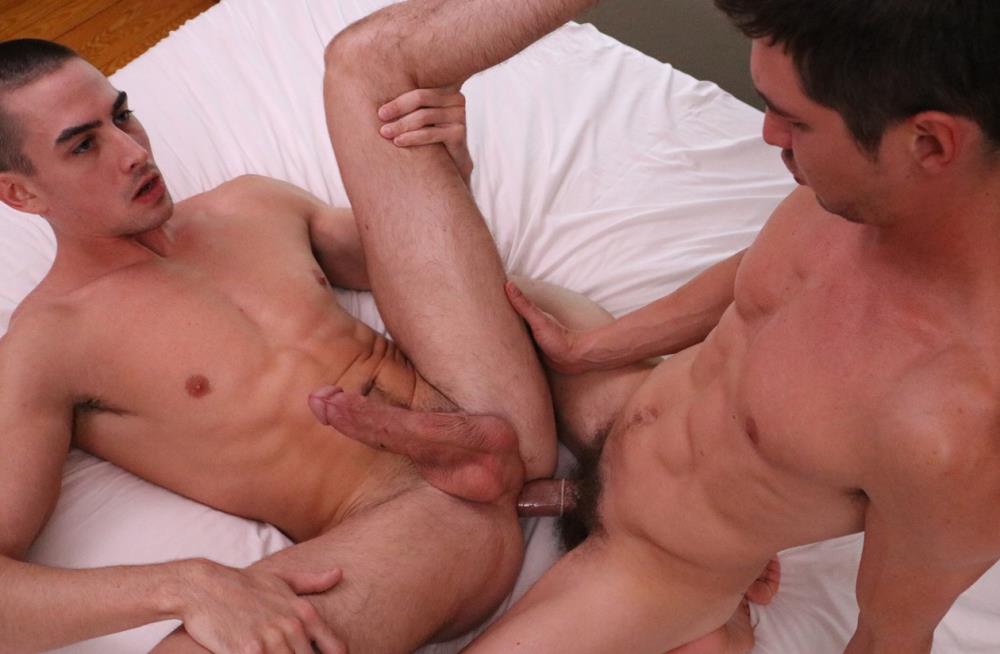 Description
Colby Chambers has invited the very hot Jack Hunter back to the ColbyKnox house for another round of steamy man on man sex in this new gay porn video. Jack is a tall stud with a huge nine inch cock that Colby is excited to taste. The chemistry between these two guys is undeniable as they are rolling on the bed making out and licking bodies. These two studs are soon pulling off each other's sweatpants to expose hard bodies with thick meaty cocks. Colby rubs his hands up and down Jack's sexy body feeling as much of his chiseled physique as he can. Stroking his hard body gets him harder and ready to taste his thick meat. Colby pulls Jack's thick nine inches of cock out to see how much of that monster shaft he can get down his throat. Taking that hard long shaft in his mouth, he pulls his balls while gagging on his monster cock. Colby takes as much as he can before tapping out and positioning his cock in front of Jack's face. Jack returns the favor of sucking Colby's cock before they reposition to share some amazing deep throating action at the same time. Colby teases Jack's tight hole with his tongue and fingers before he rams his thick cock deep inside of his sweet ass. Having used his tongue to get his tight ass wet, he lubes up and pushes his thick cock deep inside of Jack. The sight of Jack's hard nine inch cock bouncing on Colby's chest muscles as he fucks him is nothing short of amazing. Watching Colby work every inch of his throbbing cock deep inside of Jack will have you rock hard and stroking along with the fucking. Jack has an insatiable ass that takes every inch of the thick shafted cock that Colby gives him. The two get aggressive and fuck harder and harder with Colby ramming his cock in his tight ass as Jack moans with pleasure. Jack brings out the sexual beast in Colby as he growls and explodes in a huge load of cum. Admiring the huge load of cum he coated all over Jack, Colby ends another hot gay porn video scene by slapping Jack's tight ass.
Reviews
Beautiful hole. Would like to see yours to Colby.
I really like that interviews are now part of some of the scenes and that wonderful people like Jack are getting to enjoy the ColbyKnox hospitality. He is such a hard worker and commits so much to his presence with his partners. It is obvious that both he and Colby had a great time.
Join Colby Knox
Get unlimited access to Colby and Mickey's hottest scenes. New videos every week!
Sign In