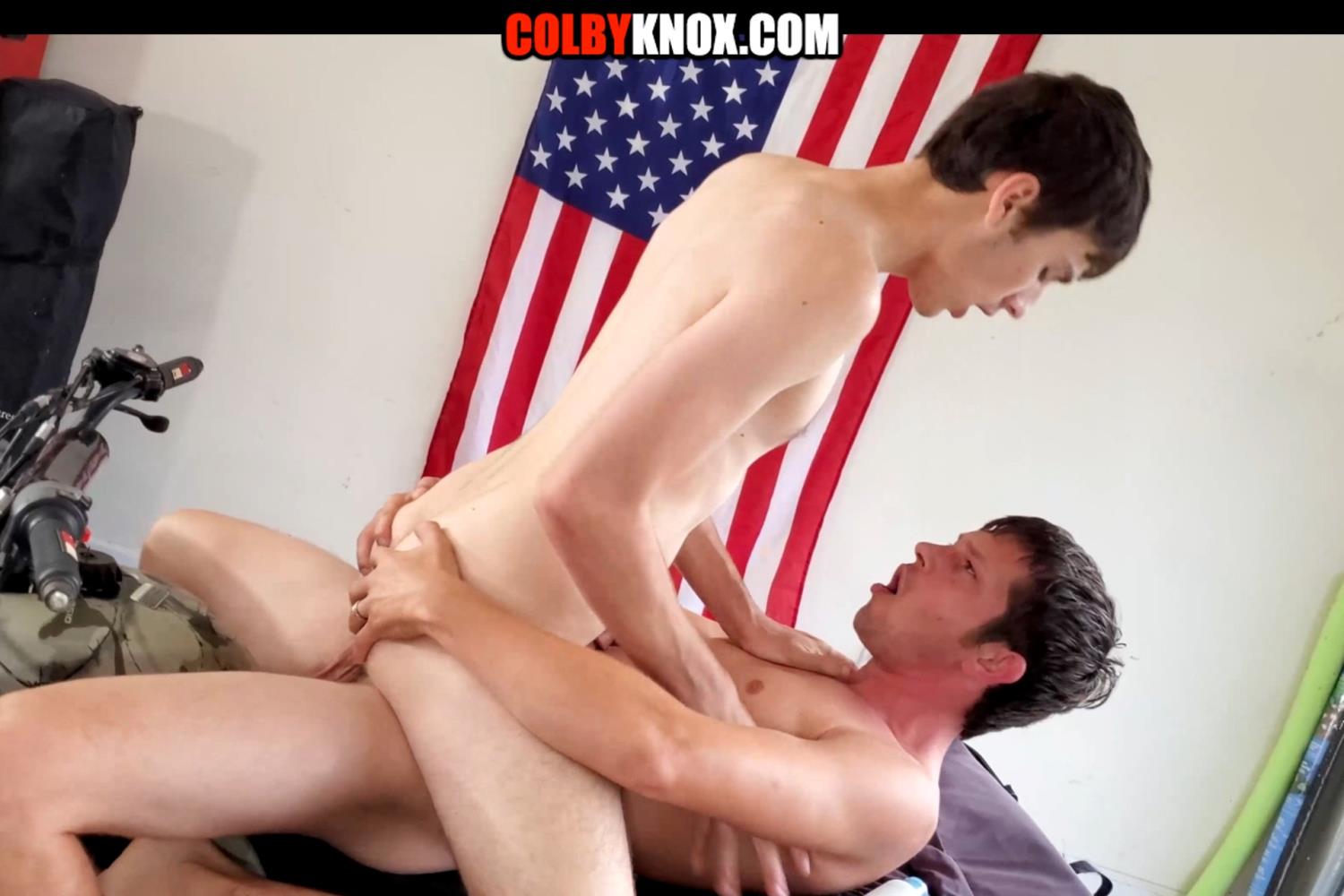 Description
Tyler Tanner has returned to ColbyKnox! In this video he and Mickey Knox are go at it in the garage. They sit on an ATV, kissing like the horned up hotties they are. T-shirts are removed and Tyler reaches for Mickey's meat. "Hard already," Tyler observes. "I've been waiting for my turn," Mickey replies. After some maneuvering, Tyler starts to suck Mickey off. He starts at the tip of Mickey's rod, working his way to the base. This causes Tyler to gag, which Mickey loves to see. Spit falls from Tyler's mouth. "Fuck," he whispers. "Your dick is so nice." Mickey reaches to play with Tyler's butt cheeks. After juggling the mounds, Mickey puts lube in Tyler's hole. Both boys know what's next. Shorts are quickly removed and Mickey lubes up his bare tool. Tyler straddles him, slowly sitting down. After getting accustomed to the anal intrusion, Tyler bounces up and down. The shock absorbers of the ATV are getting more work than out in the field. Mickey grabs Tyler's ass, pounding up. All this intense fucking also includes passionate kissing. They get off the ATV and Tyler leans against the sofa. Mickey gets behind and reinserts his tool where it belongs. Mickey makes those twink cheeks sing. Each stroke is to the balls. "Fuck me," Tyler moans. "Holy. Fucking. Shit," Mickey says. The camera gets a great view of cum and lube dripping out of Tyler's man hole. "You are so fucking hot," Mickey moans. Tyler grabs a sofa pillow, biting it. Mickey loves ramming a tight hole. However, his backside also needs a stuffing. He gets on his back. Legs up. Tyler teases for a bit but he works his cock inside. He quickly starts to pummel away. "Yeah. That feels good," Mickey moans. He jerks his own tool. "I've been wanting to do a fuck since you got here," Mickey says. Look how Tyler grins after hearing that. Seems like he had the same idea! He spreads Mickey's legs so to get better access. Mickey's wide eyes show his spot is getting rammed just the way he wants. "You like getting these six inches," Tyler asks. "Oh, yes! I like it," Mickey replies. Tyler spits on his rod, giving it more lubrication. The boys get ready for the final round. Mickey gets on his side with Tyler right behind him. Tyler is causing to moan and plead. "Squeeze me too," Mickey begs. Tyler rubs his hands all over Mickey's chest and stomach. "Fuck. That went deep," Mickey moans at a stroke. The boys are getting close. They switch up so Tyler can pop on Mickey's face. Tyler kneels over Mickey, jerking his rod. He drops a load on Mickey's forehead, upper lip, and open mouth. The tongue kiss. Mickey shoots next, shooting all over Tyler's face. "It's like a got milk commercial," Mickey jokes. Lucky Tyler! Lucky Mickey!
Reviews
This is an amazing scene. Flip fucks are always hot but these two put in such a passionate performance. Plus, super grateful they left their hair all natural. Likely in the top 5 on this site. Great job guys!
Very hot scene as Mickey has his way with hot twink Tyler following lots of hot foreplay. But late in the scene a surprise breaks out as twink Tyler flip revenge fucks Mickey! Great ending of Tyler shooting his load into Mickey's wide open swallowing mouth and then Mickey doing the same to Tyler, even giving Tyler a cum-stache over his upper lip! Tyler is smoking hot and should be welcomed back to get his hot little ass fucked some more!
Wow what a breath-taking round of sex. It starts with extreme passionate kissing and moves into some hot sex on a four-wheeler. Tyler is one of your hottest guests with that deviously hot hairy chest. He is all man with a great tush and that beautiful hairy hole. Mikey has a hairy hole too and I could just eat both for breakfast, lunch or dinner! They move to the couch (also love you guys live in the country where you can fuck openly with rain falling outside). They sex is amazing but the cum shots: Tyler's look of absolute ecstasy and Mikely's look of absolute satisfaction make for on hot ending.
Very hot flip fuck between Tyler and Mickey in the garage with a rainy backdrop from the bouncy ATV to the couch it's a sight to see. Hot encounter between these hot sexy guys. Kudos and hugs! Well done! ---L
Join Colby Knox
Get unlimited access to Colby and Mickey's hottest scenes. New videos every week!
Sign In