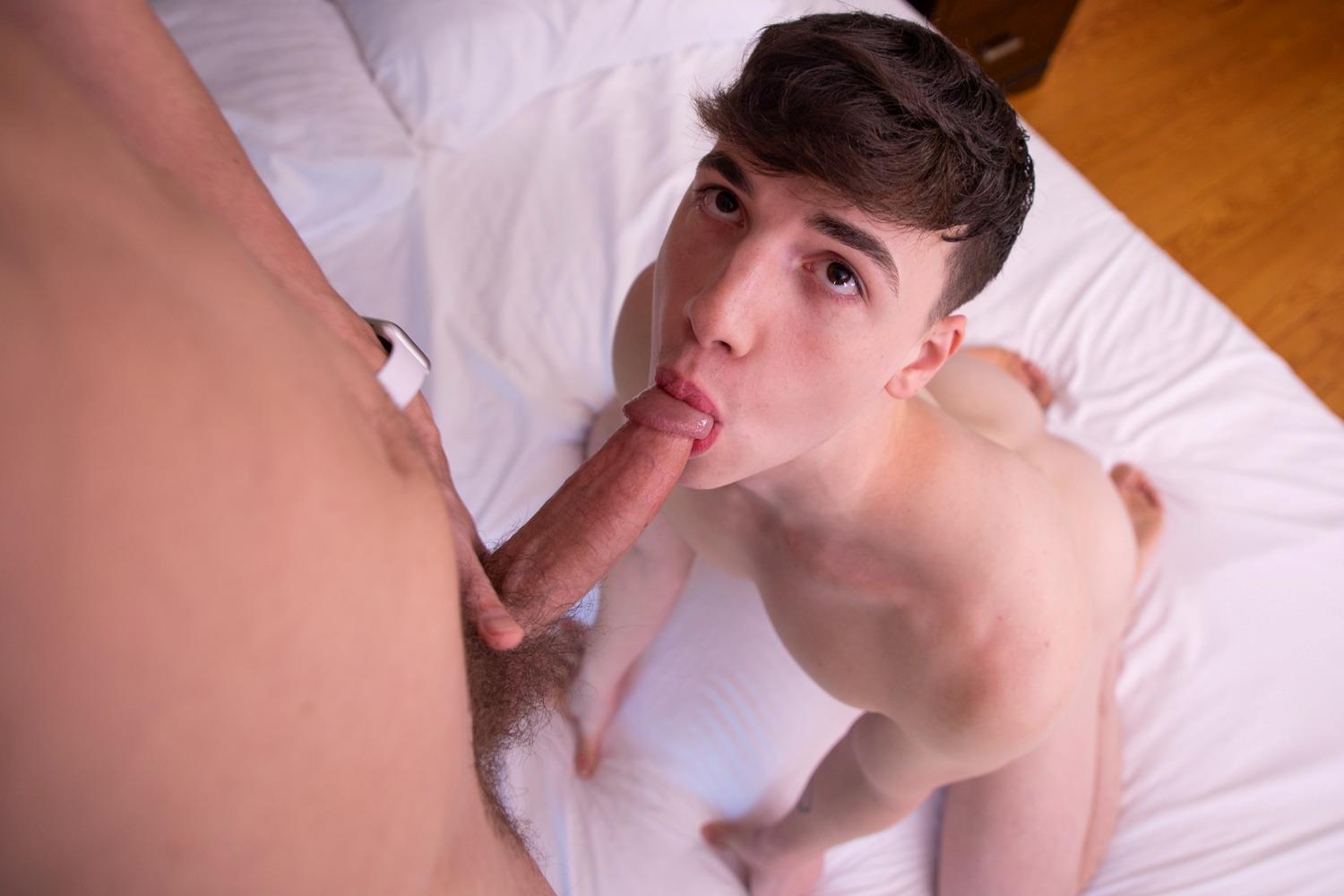 Description
Today's update starts in a perfect way. Troye Jacobs, on a bed, naked, and his back arched. Let's be honest: a lot of fun dreams have this setup as a premise. A nude Colby Chambers comes on screen (another moment in a few pleasant fantasies...smile). He slaps one of Troye's butt cheeks. "You're going to do what you're told," Colby asks. "Yes," Troye responds. "Going to let me use your body," Colby wonders. "Yes, sir." Colby stands by Troye's side, stroking his back, ass, and thighs. He briefly jerks Troye's tool. "You thinking about my dick," Colby asks. "Fuck, yeah," Troye says. "I'm thinking about using your ass," Colby notes. "Tell me you want my cock in you." "I want you so bad," Troye whispers. Colby puts spit on a finger and places it near Troye's hole. "Oh, yeah. Play with my hole," Troye pleads. "Tight, fucking hole," Colby observes. He pushes a finger in. Then he whacks Troye's butt. "Say 'thank you, Colby.'" Troye does what he is told. After making sure those cheeks are red, Colby leans down to lick Troye's hole. He puts his whole face between those globes of ass flesh. "Lick my hole nice and wet," Troye begs. Colby decides his dick needs to briefly be in Troye's mouth. However, Troye's backside is irresistible. Colby goes back to munching it. "You like being a little fuck toy," Colby asks, putting his fingers in Troye's mouth. Troye mumbles. Colby stands up, his rod right in Troye's face. "Service my cock," Colby commands. He face fucks Troye, gagging him with dick. However, it's the booty Colby is transfixed by. He pushes Troye on his stomach, swivels behind him, and slowly penetrates that tight-fitting hole. Once the bare johnson is completely in, Colby slowly pounds. "Goddam. You feel so good," Colby says. Troye can't respond because his mouth is covered with Colby's hands. He pulls out and stands in front of Troye. "Suck me," he whispers. "Suck my dick." "It tastes so good after being inside me," Troye responds. "Worship that dick," Colby commands. He skull fucks Troye, a string of saliva going from Troye's pretty mouth to Colby's engorged head. After slicking up Colby's cock some more, Troye resumes the position he held when the video began: hands and knees. "You like getting mounted and fucked raw," Colby asks. "Give me that dick, please," Troye sobs. "Fuck me. Yes, sir." Troye is pushed back on his stomach. Colby slams him to the balls. Hard and fast. "Please fuck me," Troye groans. "Oh, you're so deep." His ass pushes Colby to the edge. "I'm going to breed your fucking asshole," Colby declares. "Take my fucking cum." Colby makes a deposit in Troye's hole. A deep one. "Lay on your back," Colby says. "I might let you cum." Troye follows the orders; Colby puts his still hard dick inside of his compliant bottom boy. Colby is gentle now as Troye pleasures himself. "Keep you tied up in my room," Colby says. "Use you whenever I want. Keep your mouth and ass full of my fucking cum." "Want me to be your little toy," Troye wonders. The fucking paces increases. "Jerk that twink meat," Colby insists. Finally, Colby relents. Letting his "Troye toy" have some release. "You can cum," Colby says. Troye loses a load as Colby is still inside of him. His first spurt lands right below his belly button. Colby shoots a second time. This time his load covers Troye's stomach. After the two start to relax, Colby gives Troye a final command: "Get back in the doggie position. I'll see you in an hour or two." Troye does so. What should happen to him next? Any ideas?
Reviews
Nice ?? big butt to fuck! ??????
Everyone knew coming into this scene that Colby topping Troye meant hot sex! The add on was adding the theme of domination by Colby and submission by Troye! Combining those two subthemes made for a really good scene! Not only did hot twink Troye repeat every sentence of submission that Colby directed him to say, but in addition at one point Troye on his own called Colby "daddy!" I'm not a fan of domination scenes, so I did not make this scene my favorite, but any scene of Colby on top and Troye on the bottom warrants five stars!
Join Colby Knox
Get unlimited access to Colby and Mickey's hottest scenes. New videos every week!
Sign In