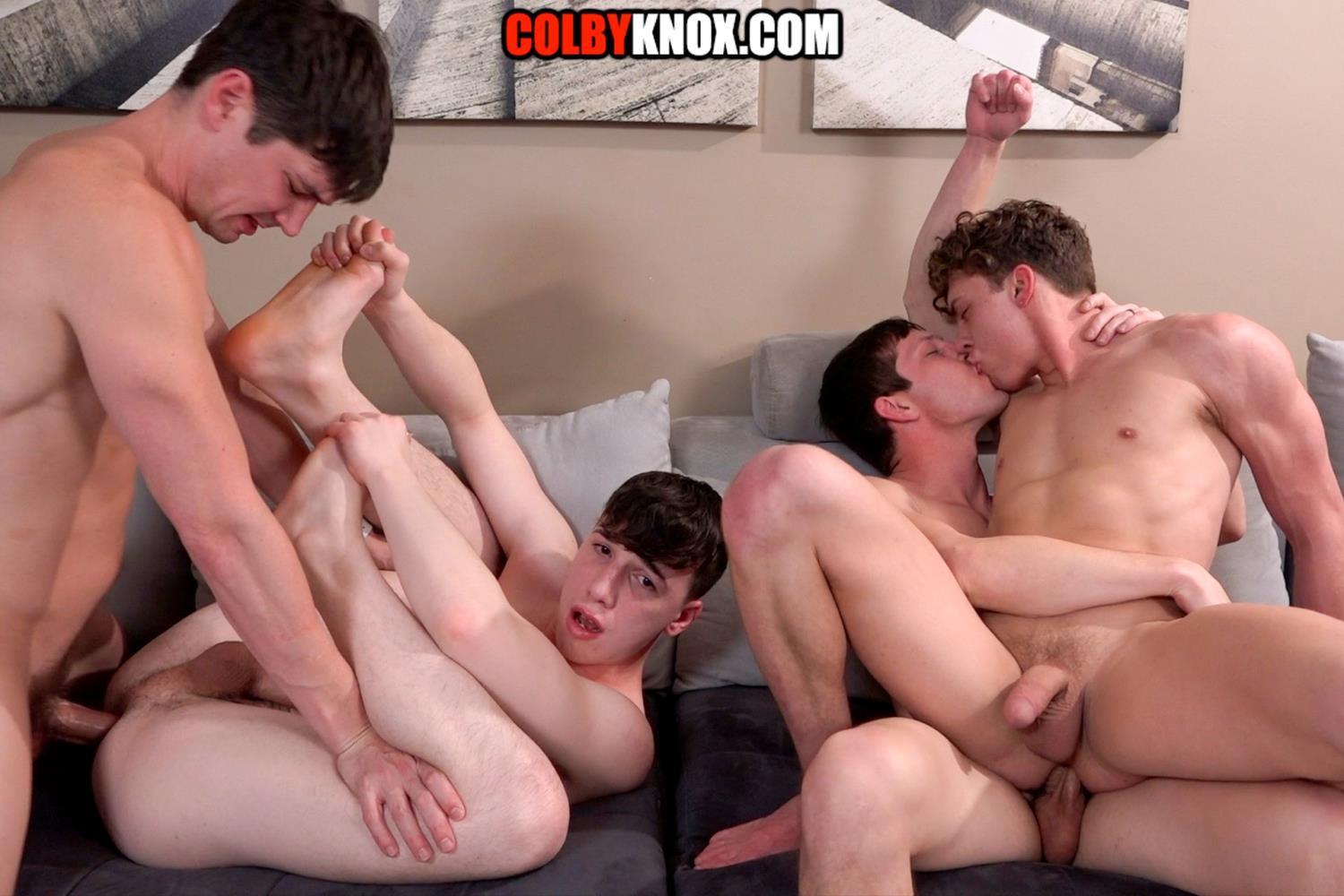 Description
This week's ColbyKnox webcam video flawlessly starts with Colby Chambers rubbing Jack Valor's sweet rump. As for Jack, his mouth is filled with Colby's stiff staff. Colby's boo, Mickey Knox, joins the studio sofa, offering his mouth as a portal for Colby's rod. "I thought we were going to pair off, but everyone sucking my dick works too," Colby jokes. Troye Jacobs joins the fun, placing romantic kisses on Jack's lips. Troye hits his knees, offering Jack oral love. Colby wonders if they can do a chain: Troye servicing Jack. Jack handling Colby. And Colby blowing Mickey. The chain is linked. It's broken up so Jack's backside can get rimmed by Mickey. Colby does the same to Troye. "Fuck. That feels good," Troye whispers. Colby and Mickey eat those asses like they have serious plans. Which, of course, they do! Mickey lubes up and gradually parts Jack's cheeks. Bare. "It feels so good," Jack moans, arching his back. He leans down to swallow Troye to the root. Troye is needed for other things. Colby is back on the couch; his tool points to the ceiling. Troye slowly sits on it. The camera gives a great shot of his pearly butt getting busted. After he gets used to Colby's girth, Troye bounces up and down. Both pairs are lost in their own rhythms. Jack and Mickey mimic their costars. Mickey sits down. Jack rides him. Colby picks Troye up, putting him on his back. As he pounds him, Troye sucks Colby's fingers. Mickey and Jack are too busy to even pay attention. "Fuck, yes," Mickey says to Jack. "Feels so good. Just ride my dick." Jack decides to turn around so he can face the camera. Both bottoms moan to the old and new gods. Troye gets on his stomach. Colby refills him. As this is happening, Mickey drills Jack. "Breed my hole," Troye whimpers. Colby likes the request. He floods Troye's guts, pulling out to leave streaks of cum on Troye's tush. "Show us your hole, Troye," Colby suggests. Troye does. It's rimmed with man milk. "Cum all over my hole," he observes. As Colby goes to get everyone water, Troye returns to his back. This time Jack does some ramming. Mickey watches, jerking his meat. "Fuck that dick feels good," Troye exclaims. "Fuck him right in the ass," Mickey instructs. Jack and Troye switch positions. Once inside, Troye fucks to the balls. Mickey can't help himself. He busts a big ol' nut; the first stream of jizz landing on his shoulder. "So covered in cum," he says. Troye and Jack get back to fucking. "Pound me," Jack begs. His legs begin to tremble, causing Troye to leave a load deep inside Jack. The show can't end without Jack cumming too. He and Troye sit next to each other. Jack beats his meat. Soon his cum coats the lower half of his stomach. Hope y'all enjoyed that as much as I did! ;)
Reviews
One of the best videos ever! Let's be honest...any video that Colby and Mickey are in is always amazing. Colby knows and shows how to breed Troy's tight hole and Mickey has fun fucking the "new" Jack with a stud haircut. But the flip- fuck between Troye and Jack is amazing but it is clear that Troye loves the role of top and Jack is an amazing bottom. I just wanted Jack to beg Troye to breed him like Colby bred Troye. You guys are the best!
What a fuck fest between the adults Colby and Mickey and the twinks Jack and Troye! The adults took turns fucking each twink, and the twinks flip fucked each other, so both Jack and Troye took three different hard cocks up their hot little twink asses! Great four way ending with two well fucked twinks!
For the early part of the video Colby is the center of attention and just as a compass point due North, Colby is fully erect for the entire crew to enjoy. I liked the gradual pairing off, but the cream pies were explosive. I love to hear a man give directions. HOT.
Join Colby Knox
Get unlimited access to Colby and Mickey's hottest scenes. New videos every week!
Sign In