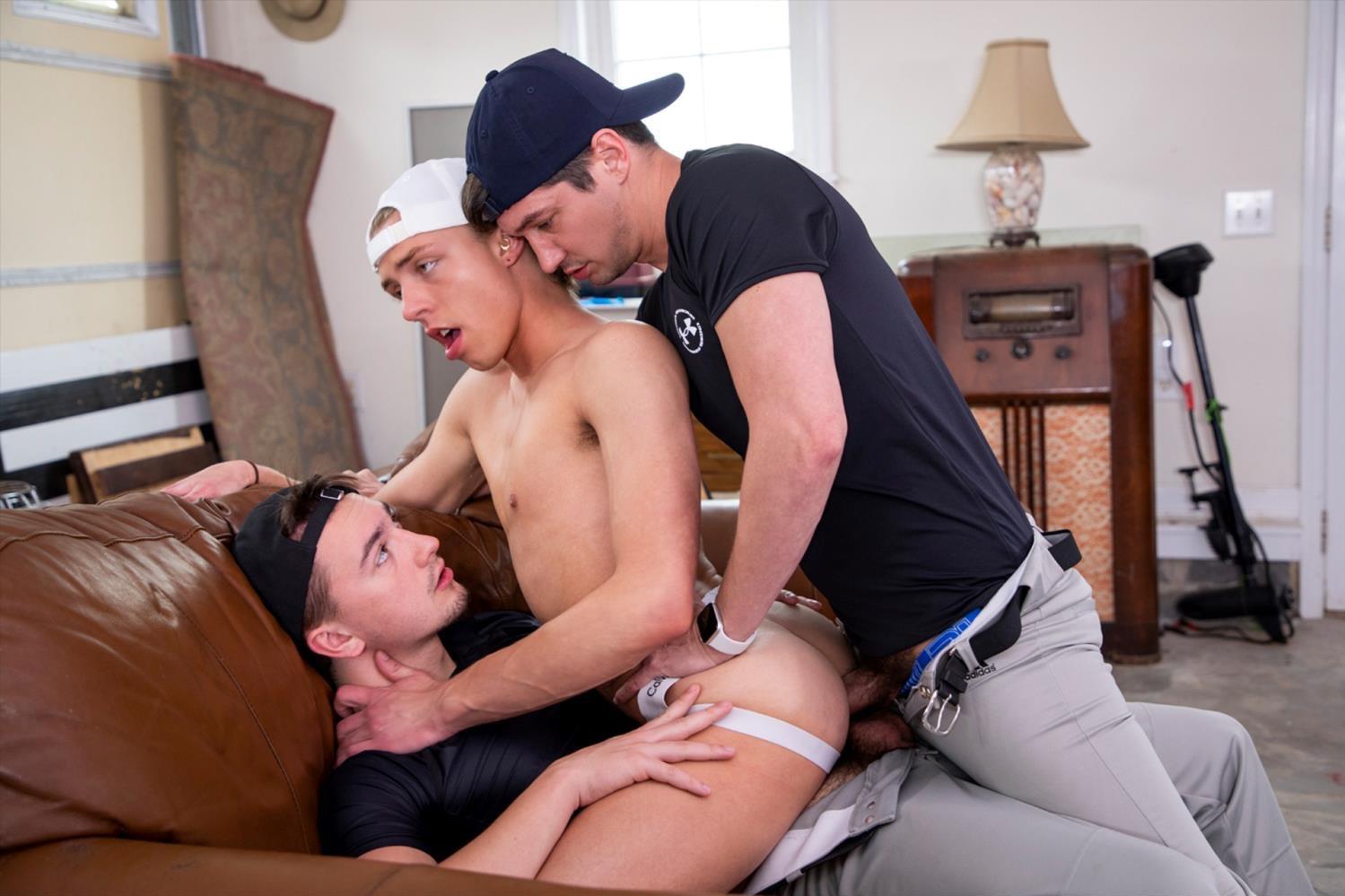 Description
Play ball! In the conclusion of this ColbyKnox doubleheader, Colby Chambers and Masyn Thorne return from baseball practice. On the way from the diamond, they played an intimate game of "bat and balls." :-) You can tell Colby had a good time because his wang obscenely stretches his pant's fabric. Jack Valor is patiently waiting for his teammates. Colby and Masyn walk in the garage. Jack explains he missed practice because of the rain. Colby has to get something from the car, leaving Jack and Masyn alone. He can't wait to tell Jack what happened after practice. "Dude! Colby and I fucked," Masyn exclaims. "I'm not even playing with you. He fucked me, bro. It kind of felt good. I'm not going to lie." "Dang," Jack says. "I might be missing out." This, naturally, leads Masyn to wonder if he can do the same to Jack. "You won't say anything," Jack wonders. Masyn assures he knows how to keep a secret. Just the anticipation has him hard. So Jack leans over and the two kiss. "Want to taste my fucking cock," Masyn wonders. He stands up, pulling it out for inspection. "Fuck, yeah," Jack whispers. "Oh, my God. It's so big." He might be startled by the size but Jack quickly gobbles up. "Suck that big cock," Masyn commands. "Get that shit wet." He face fucks Jack; his mouth quickly fills with pre-cum and saliva. "Open your fucking mouth," Masyn orders. "Service that fucking dick." He wants to return the favor so Jack gets on the couch. pulling his pants down midthigh. His exposed butt hole is eaten by Masyn. He plants a smooch on each cheek. "I want you to fuck me," Jack moans. "You want me to fuck you," Masyn replies. "Fuck that delicious hole." He certainly wants to but plays with that man pussy some more. "Quit teasing me and fuck me already," Jack demands. Masyn guides his uncovered shaft into Jack. Once in, he fucks to the balls. "It's so big," Jack groans. "I know it's fucking big," Masyn answers. He gives Jack a chance to work his butt on that cock. However, after a few moments, Jack takes control. He places his hands on the top of Jack's rump and pounds. "Fucking shaking, aren't you," Masyn observes. "Oh, it's so good," Jack says. "Please give me that cock." Masyn makes him beg but not for long. He pulls out occasionally to add some spit to Jack's opening so he can get real deep. "Nice, tight fucking hole," Masyn says. "Pound me," Jack begs. The boys must have made a lot of noise because Colby walks in. They are too busy to see him. "Having fun," he wonders when they finally notice him. "I step out for one minute God damn." He's teasing because all that action has him ready to play. Masyn moves in front of Jack and Colby gets behind. Soon both of his holes are rammed with man meat. "You like that shit," Masyn says to Jack. "I fucking love it," he replies before returning to slobbering up and down Masyn's rod. "Tear up that fucking boy pussy," Masyn tells Colby. "You got it ready," Colby answers. Jack is getting used right. Masyn leans over and pulls Jack's cheeks apart so Colby can go deeper. The pounding speed picks up. "He's taking it so fucking well," Masyn notes. Colby has something in mind. He wonders of Jack can handle two dicks in his butt. "You all better go easy on me," he says as he straddles Masyn. He sits on Masyn, arches his back, and looks back to Colby. He reinserts his engorged head. Jack is rightfully concerned. "I don't know," he murmurs. "It feels really tight." The pain soon turns into bliss. Jack's ass is stretched to the max, his hole filled with two hard cocks. "I can feel our cocks rubbing together in his ass," Colby says. "Stretch my hole," Jack groans. "Fuck. It feels so good." "You're going to fucking breed him, bro," Masyn wonders. "Feel my dick explode next to yours," Colby replies. "Is that what you want? Fuck him with me." Colby does breed Jack. When he pulls out some of his juice lands on Jack's ass and Masyn's dick. "Damn, that was hot," Colby says. "Your cum is all on my dick, dude," Masyn says. He wants to nut too. Jack gets on his knees and Masyn puts his wood back into Jack's stretched hole. Jack opens his mouth to see if he can get Colby to bust another load. Masyn can't take anymore. He pulls out, jerking an abundant load that coats Jack's back. All that fucking and sucking make Jack bust too, jerking his seed all over his pubes. The spent studs eventually cool down. "We should invite the whole team next time," Colby suggests.
Reviews
Indeed the baseball pants are sexy and it was funny watching Colby round the corner of the garage with his big cock so clearly displayed through the polyester. Protective nut cups are typically part of the gear and might have been employed here for a little underwear kink and sniffing. Exemplary rimming by Masyn with extended shots displaying Jack's pretty hole.
disagree with uniform request...this scene is 6 stars hot. I'm always disappointed with the sports fantasies where the cloths are off a minute into a 20 minute scene. I find the fact these guys keep the baseball pants/uniforms on to make this extremely hot (the doubleheader is nice too). Not sure what it is about baseball uniforms...but this scene is one of the best baseball scenes I've seen...Well done guys!
Wow ! Wow ! Damn that was just HOT- all those dicks…..?????-Sherry
Colby/Knox is good at sports themed videos as is Masyn both here and elsewhere as at 20 years old, 5'10", 165 lbs., he looks like a college aged jock. Jack was more of a challenge as at 21 years old, 5;9", 135 lbs. and with long shoulder length hair, he did not. Kudos to the director to tie Jack's long hair into a bun and have him wear his baseball cap on backwards to hide the hair length, and, voila, Jack now has the little jock look as well! That set up a smoking hot sports sex scene, where Jack's hot little ass got fucked first by Masyn, then by Colby, and then DPed by both! Very well planned and executed hot sports sex scene. Colby's last words to Jack were "Maybe next time you can take on the entire team!" Such a gang bang of Jack would make for a great sequel part 3!
i get the uniform fetish. i love jocks, especially mlb players. That said, i watch porn to see hot bodies as well as big dicks. Especially two hot hung studs like Colby and Mason. So how about pleasing everyone and shed the clothes halfway through? including the caps and socks. it's a crying criminal shame to cover up those bodies!
Join Colby Knox
Get unlimited access to Colby and Mickey's hottest scenes. New videos every week!
Sign In