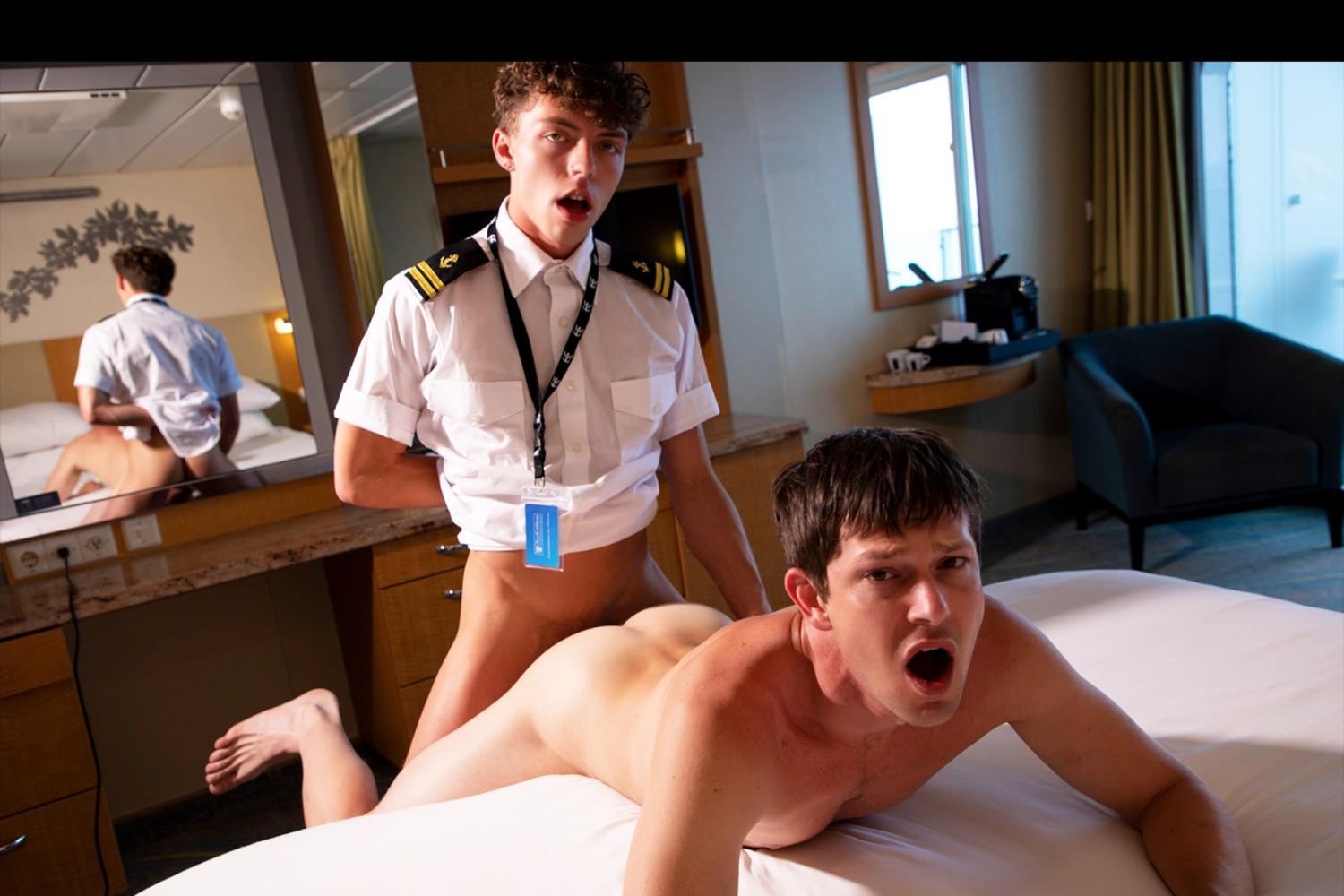 Description
Approximately a month ago Colby Chambers and Mickey Knox went on a Big Gay Cruise to Mexico. This week's release is plot video based on those days of ocean fun. Mickey Knox returns to his cabin as boat boy Jack Valor is cleaning up. "I hate that you just made the bed," Mickey says. "I've ben drinking in the sun all day. I'm just going to crash out. Is that cool?" Jack, looking sexier than usual in a cruise uniform, is amendable. "No problem," he replies. "That's what I'm here for." When Mickey flops on the bed his tasty ass cheeks are barely contained by his shorts. Jack notices, licking his lips with a subtle swipe. "Are you just starting your shift," Mickey wonders. "This is actually my last room," Jack replies. "I'm just about to go on break." "I have the room to myself," Mickey explains. "Want to hang out with me for a little while?" "That sounds fun," Jack answers, reaching for Mickey's tanned legs and back. He pulls down Mickey's gray shorts, caressing that juicy butt. "I think I'm going to stay for a while," Jack jokes. As Mickey turns around, to get on his stomach, Jack unbuckles his belt. "So how long have you worked here," Mickey wonders. "This is my first cruise," Jack says. "I've been in the service industry for awhile but I got fired at the last hotel I worked at." "What did you do," Mickey wonders. "Messing around with some customers," Jack says, grinning about the memory. "Hopefully I won't get you fired from this job," Mickey responds, opening his mouth to swallow Jack's rod. He gently face fucks Mickey. "I gotta admit I've seen you in the hallways once or twice," Mickey explains, coming up for air. "I think you're so fucking hot." "I made sure to clean this room last for a reason," Jack counters. Strategy wins out! Always! :-) He wants a chance to eat Mickey out. So Mickey turns around again and Jack spreads those plump cheeks. His tongue licks at the opening, getting Mickey's hole slippery with spit. "This is like the best vacation ever," Mickey exclaims. "Your cruise is a lot of fun," Jack notes. His tongue's handiwork causes Mickey to moan and squirm. "Spank me some," he pleads. "I like getting spanked." Jack likes to fuck. He stands up, his johnson curves to the ceiling. "Put that cock in me," Mickey whispers. Jack places the bare head at the opening and slowly shoves it inside. Mickey's eyes widen from the initial shock. "Fuck my ass," he begs. "It feels good," Jack says. "I've been waiting for this my whole vacation," Mickey notes. "You haven't been lucky yet," Jack wonders. "Not this lucky," Mickey replies. Jack fucks to the balls, making Mickey's legs raise off the floor. "I feel precum dripping out of me." Jack pauses to unbutton his shirt. "Hell, yeah," Mickey states. "Let me see that body," Jack grabs Mickey's hips, fucking with more force. "I love it so much," Mickey moans. "Give me that big fat cock." Jack gets rid of the shirt and identification card. "Don't stop fucking me," Mickey begs. "I'm not," Jack assures. The studs move to the cabinet behind them. Mickey places his legs on Jack's shoulders" "You're making my toes curl," Mickey exclaims. "Fuck me. I want to be your little hole." He moves both of his feet to one of Jack's shoulders. "I'll be your little ship bitch," Mickey vows. They return to the bed. Mickey is on his side as Jack licks that hairy hole. He puts his raw meat back inside. "Fucking tag that ass," Mickey implores. "You want it hard," Jack wonders. Mickey does and the pounding intensifies. "You're fucking wrecking me," Mickey wails. "You like that cock," Jack says. "I do. Please don't stop." Mickey grabs the bed's edge. "You're fucking deep," he observes. Jack pulls out, jerking over Mickey's face. He shoots cum on Mickey's cheek, hair, and tongue. Mickey needs to bust so Jack feeds him his jizz covered cock as Mickey jerks his meat. "You look so fucking hot covered in cum," Jack remarks. Mickey's load explodes in the air, landing on his chest. Hopefully Jack's cruise bosses give him a hefty raise for being extremely helpful to a customer. :-)
Reviews
Young Jack has been so great as a bottom as to type cast as one in the overwhelming majority of his scenes, so it's great to watch Jack break out of his type casting to fuck Mickey well! Jack has bottomed for so many hot dudes on the Colby/Knox site as to make for great potential future scenes of Jack fucking some of then in revenge fuck rematches!
Love these sexy themed videos. And watching Jack top after a long while was a real treat. Who better to bottom for him than the sexy Mickey? Their chemistry together is sizzling.
Join Colby Knox
Get unlimited access to Colby and Mickey's hottest scenes. New videos every week!
Sign In