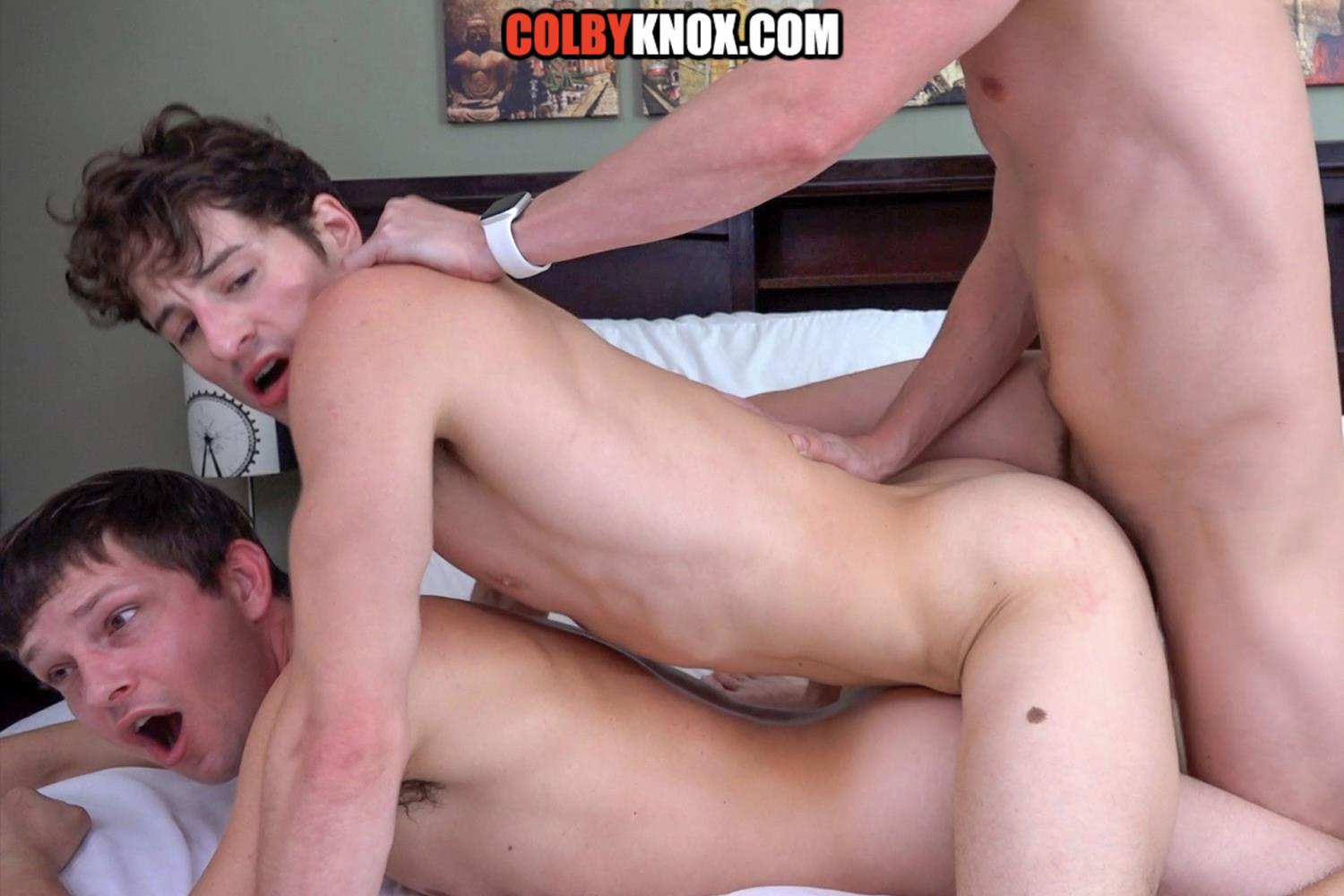 Description
Today's ColbyKnox webcam video begins with a question: "Who's going to get a massage," Colby Chambers wonders. He grabs his man, Mickey Knox, by the neck, pushing him on the bed. Mickey's yummy rump gets some slaps. "I don't know," Taylor Reign replies off camera. "Mickey is already there." Taylor gets on the studio bed and soon he and Colby are massaging Mickey. Colby gets the back. Taylor's attention is on thighs and booty. "This is nice," Mickey says. Colby's massage technique includes smacking his husband's back with his tool. "Is that how it works," Mickey asks. "Tenderize me with your big dick?" Colby gets in front of Mickey so his husband can swallow that big ol' dick. As Mickey is tenderly face fucked, Colby and Taylor lean in for a short kissing session. Taylor's hands continue to knead Mickey's backside. Colby reclines on the bed and Mickey's mouth never stops servicing Colby's rod. Taylor decides it's time for lunch so he eats Mickey out. Taylor puts his meat in front of Colby. He gobbles up what he can. Mickey returns the favor of his butt being licked by eating out Taylor's hole. Colby's shaft is tasty so Mickey returns to slobber it. Taylor's tool is fully erect. He lubes up and slowly enters Mickey. Mickey's moans are muffled because his gullet is filled with Colby cock. Mickey is stuffed with dick, front and back. "This feels amazing." he says, pulling away from Colby's dick. Taylor makes certain Mickey will be bowlegged for a day or two, or three, or four. :-) Colby wants to give it to the man laying pipe to his husband. He saddles up behind Taylor, placing his shaft right at Taylor's anal opening. We get a "Taylor sandwich," with the "meat" doing all the work. He pumps into Mickey. Pulls out to be tagged by Colby. "Fuck me," Mickey groans. Colby takes control, pounding into Taylor. Mickey gets a break and Colby keeps fucking Taylor. He even puts his foot on Taylor's face. The strokes are deep and Taylor takes each one like a champ. Mickey ends up alone on the bed. "I might be a little bit of a slut," he jokes with the webcam audience. Colby joins him, pushing Mickey on his stomach. After lubing up, Colby gets inside Mickey. "Want to ride it," Colby asks. "Sure," Mickey replies. "I can ride." Colby gets on his back and Mickey straddles him. He takes his time, letting Colby's sturdy shaft part those cheeks. "It's so big," Mickey whimpers. Colby shows how big it is by pounding up. "Fuck me," Mickey begs. Colby loves to keep his man happy so he does what's asked. "I'm going to cum in your asshole," Colby announces. And he does, coating Mickey's insides with man milk. He pulls out and leaves more cum on Mickey's tush. "Taylor will be back to finish off with Mickey," Colby explains. "I just couldn't hold it back anymore." As Colby talks, Mickey shows the audience his winking hole. He teases Colby by licking cum off of his sensitive dick. Mickey puts his head on Colby's chest, jerking off his meat and Colby's. Taylor returns. He and Mickey fervently kiss. Mickey then puts his mouth on Taylor's tool, making Taylor's toes curl. "You want to fuck my mouth or my ass," Mickey wonders. "Let's do ass," Taylor decides. Mickey gets on his side, with his "take all you want" grin. Taylor gets inside Mickey and fucks to the balls. "That feels so good," Mickey moans. "Fuck me." He cries into the sheets as Taylor pounds. "Keep fucking me," Mickey moans. Taylor grabs a leg and spreads Mickey out, picking up the speed. He pulls out and the two studs are next to each other, pulling their individual puds. Mickey is the first to bust. His cum lands on his stomach, chest and chin. He cuddles up to Taylor, stroking the stud's taint and nipple. Taylor's jizz shoots out and Mickey opens wide, catching as much as possible on his tongue. The tired hotties kiss, sharing Taylor's tasty cum. "Hope you guys had fun," Mickey cheerfully says.
Reviews
This is still my dream scene !!! Love love you three together.. sooooooooooo hot ! That sexy Taylor.. WOW ! Thanks Sherry
Hot chemistry for this great three way! Mickey's ass was well fucked by the end of this hot scene!
Please keep these hand-over-mouth scenes in your videos! As always, your videos are so complete. Great quality. Thank you!
That was really hot guys!! I loved seeing Colby's cum dripping out of Mickey's asshole as Taylor fucked him. I just wish Taylor had cum inside Mickey too. I loved the other 3way you did with Taylor and he came in Mickey.
This was an absolute awesome fuck session. All three guys are amazing, and I loved the variation in sexual acts. All three have gorgeous bodies and are cut like a roman god. I discovered I have two things in common with my favorite couple Colby and Mikey. I come early just like Colby and love cum just like Mikey. The early cumming of Colby and the duo fuck of Taylor and Mikey resulting in an amazing load in Mikey's mouth. He slurped it right up! HOT!
I always these three together as my dream team. This was a very sexy night online and you did not disappoint. I remember it well. I love all three of you guys with all my heart. --L
The chemistry among the three of you is amazing. It is obvious that each of you try outdo each other in giving sexual pleasures to the others. I know Mickey LOVES being a bottom...you can from the way he responds that every cell in his body loves it. Just once I would love to see Mickey breed Taylor good followed by Colby! You guys are the best!!!
Join Colby Knox
Get unlimited access to Colby and Mickey's hottest scenes. New videos every week!
Sign In