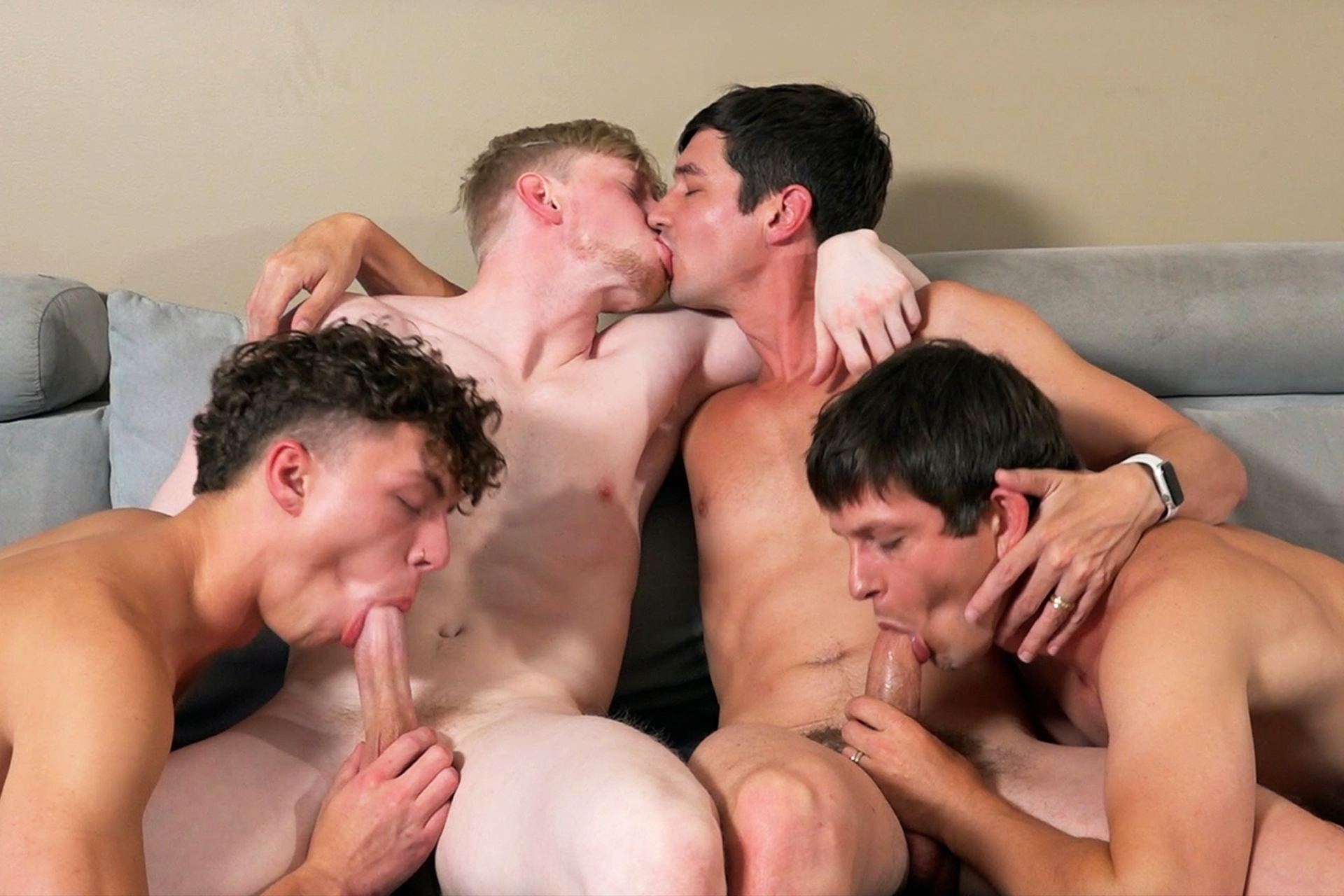 Description
"Have your way with me, big strong men!" This is how Colby Chambers introduces this week's ColbyKnox webcam video. The men on the sofa are Jack Valor and Jesse Stone. Two guys who need little encouragement to "have their way" with studly Colby. :-) Mickey Knox, Colby's man, enters the scene, placing a tender kiss on Colby's backside. Jack and Jesse leave for a minute as Mickey straddles Colby. He grabs two scoops of booty, smacking a cheek for good measure. Jack's plump piece of man meat shakes in front of the camera. Jesse comes back to the sofa. He and Jack get naked. Jesse sits down and is straddled by Jack. Mickey gets on his stomach, swallowing Colby's rod. He massages Mickey's ass and does the same to Jack's. Jack mimics Mickey by getting on his stomach and sucking Jesse off. Mickey slides over to slobber on Jesse's johnson. Jack sits next to Jesse and the two kiss. And Colby laps up Mickey's hole. Jack wants his shaft serviced by a warm mouth. So he gets on his knees and feeds Jesse. Jack and Mickey get on their hands and knees. Colby and Jesse lube up their dicks. Jesse gets behind Jack. Colby behind Mickey. At first Colby and Jesse tease the holes in front of them. They slowly work their raw cocks inside. The two bottom boys make out between their moans. Jesse begins to drill fast, grabbing Jack by the waist. "Fucking precum out of you already," Colby teases his boo. Mickey decides to ride Colby. Jesse continues pummeling Jack's insides. He pushes Jack on his stomach and doesn't miss a stroke. Mickey moans as he goes up and down on his husband's shaft. It's soon time for a "Jesse sandwich." He's the tasty treat between Mickey and Jack, pounding Jack. And getting pounded by Mickey. "Oh, my God," Mickey says. "That feels so fucking good." Colby gets in front of Jack so he can stuff his mouth with dick. "Somebody's working," Colby says to Jesse. "You're sweaty already. Fuck that ass for me." He wants to get back in the action so Jack rides Colby. Jesse shows his sweet ass to the audience and Mickey keeps fucking it. "Fuck that ass good," Jesse moans. Colby lifts Jack up, drilling deep into his hole. Colby returns Jack to the sofa. On his back with his toned legs pulled to his chest. Jesse assumes the same position. Jack and Jesse are royally thumped. "Look at that fucking pink hole," Mickey says to the audience as Jesse shows his cheeks to the camera. He gets off the sofa, sticking that booty in Mickey's direction. He re-enters, letting Jesse's ass go up and down his shaft. Colby strokes Jack as he continues to fill his ass with dick. Colby and Jack take a water break. That doesn't mean Mickey stops plugging away. "Come anyone," Colby wonders, back in view, shaking his large tool. Everyone comments how sexy Jesse is with a film of sweat. "I get all shiny," he explains. "It's like oil." Jack and Jesse's asses ready for more action. Mickey fills up Jack. Colby stuffs Jesse. "You like that fucking muscle bubble butt," Jesse wonders. Colby's hard strokes are the answer. :-) "Fucking love that cock," Jesse exclaims. Jack works his ass on Mickey's meat. Jack and Jesse face each other as their cheeks are parted by hard dick. "Fuck me with that fucking cock," Jesse begs. "Oh, my God. You're so fucking deep." As for Jack, he's on his stomach. Getting fucked to the balls. Jesse is not the only one sweating. When Jack and Mickey change positions we see their sexy bodies glisten too. Is there a better perspiration than sweat caused by fucking? :-) Mickey sits on the couch and Jack guides the rod to his hole. Jack goes up and down once it's in. "That little muscle pussy, squeezing your cock," Jesse explains to Colby. "Fucking come for me," Jesse pleads. "Fucking come in that tight, little hole. Use me, Daddy." That "tight, little hole" makes Colby breed Jesse. Colby pulls out, dumping more man milk on that sweaty ass. Then he reinserts his meat to make sure Jesse's insides are coated white. Jesse gives the audience a view of his cum covered hole. Mickey and Jack continue to rut as Jesse poses. Eventually Jack, who is the top of bottoms, is back on his hands and knees. Behind him is Jesse. Mickey watches, stroking his staff. "Oh, that's so deep," Jack groans as Jesse fucks to the balls. All three are soaked with sex sweat. Jesse busts first. Deep inside Jack. After kissing Jesse, he sits next to Mickey. He's been entranced by the show. Jesse jumps over, kneeling in front of him. "Want to come on my face," he asks. Mickey says nothing except point his engorged cock in Jesse's direction. He shoots a load that lands on one side of Jesse's face and part of his tongue. Jesse licks the rest of the cum off of Mickey's sensitive dick. Jack is next to bust. He fingers Jesse's hole and beats his meat. Jack's load shoots out, landing on his sweaty, muscled thigh. Jesse laps what remains on Jack's johnson. The scene closes with Jack's sexy eyes looking at the camera and Jesse's tempting hole, winking to the audience.
Reviews
DAYUM.... okay... now that I got that out of my system... a beautiful group of guys for sure. the opening sequence is a bit odd, but I kinda like that. Shows it's kinda of a real life thing when you get groups to play together, *so I have heard*. Love watching multiple tops just sit back and get serviced and letting them enjoy each other. The fukking is intense and sexy as always. The vers side of the guys definitely comes in to play here. This is truly one of my top picks!
Fantastic foursome! As a big Jack Valor fan from his first year or so as a shoulder length hair bottom, Jack switched to a more normal haircut but remains one of the hottest little bottoms in all of gay porn! Great job by all four!
Join Colby Knox
Get unlimited access to Colby and Mickey's hottest scenes. New videos every week!
Sign In