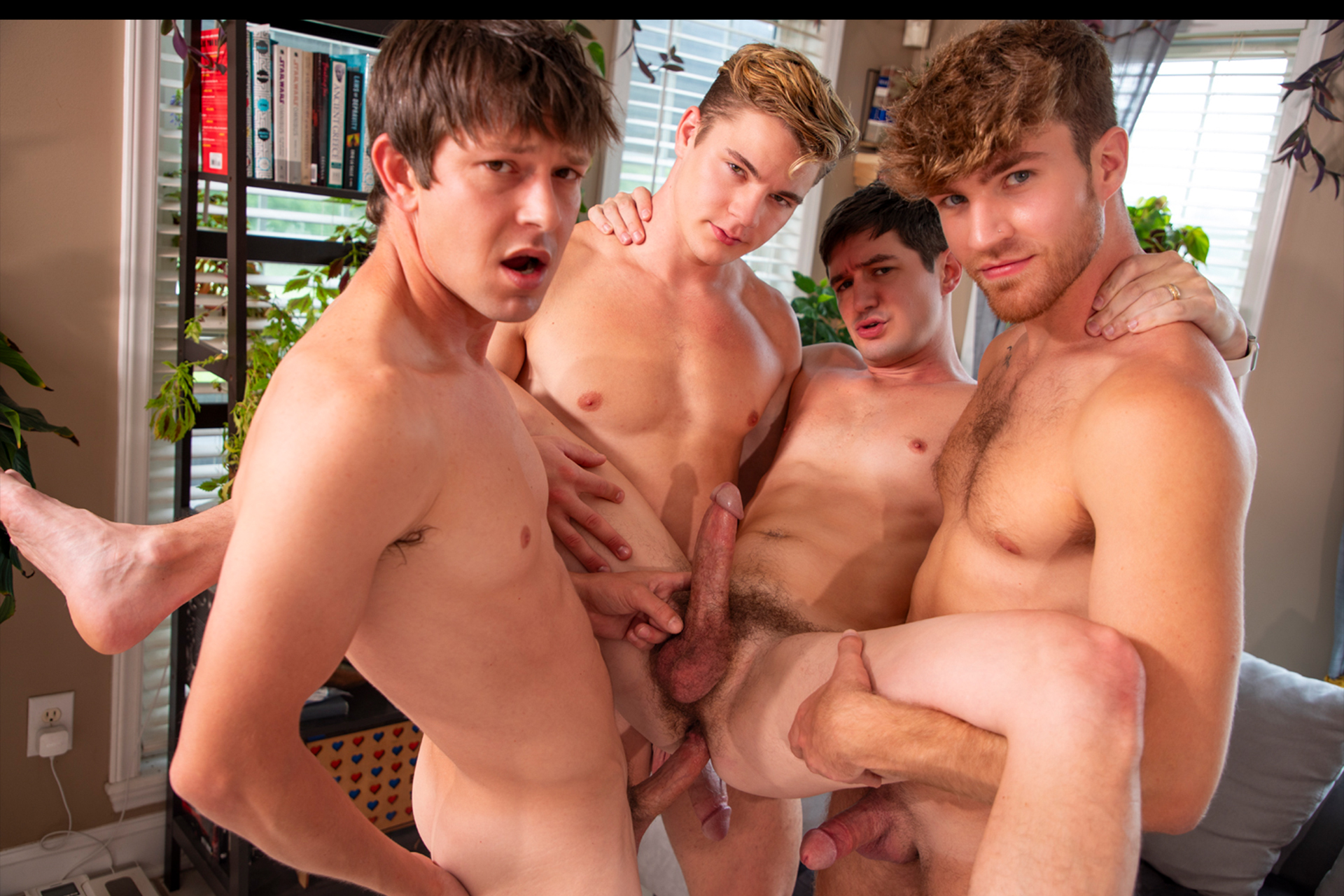 Description
On one part of the couch, Colby Chambers and Mickey Knox are making out. Not far from the husbands are the Southwest College Boys: Carter Collins and Oliver Marks. They are also making out. Colby reaches over, grabbing Carter's cock. Oliver offers his man to Colby. He and Carter lock lips. As for Mickey and Oliver, they get off the sofa and remove the underwear of their boos. They then start swallowing rods. "You want to taste my boyfriend's hole," Carter asks Colby. Oliver returns to the couch. Mickey too. Both studs get on their hands and knees. Carter rims Mickey and Colby eats out Oliver. As their holes are made wet, Mickey and Oliver kiss. Colby devours Oliver's backside. Carter gobbles Mickey's tasty cake. "This hole is so fucking perfect," Colby says. "Why don't you give it your cock," Carter suggests. Oliver lays on an ottoman, pulling his thick thighs to his chest. Colby lathers up his hole with lube. Slowly, and gently, Colby pushes his bare cock inside Oliver's ass. "Oh, fuck," Oliver moans. "You're so big." Mickey and Carter, stroking themselves, hold Oliver down so he can feel every inch. Mickey decides to tongue down his man's hole. Carter wants Colby to use his tongue on his tool. "Fuck my mouth as I fuck your man," Colby says. Mickey slips his meat into his husband. Colby's holes are in use. "Fuck the shit out of each other," Carter suggests. "Fuck your boyfriend into me," Oliver tells Mickey. Mickey fucks right to the balls. "Want to feel how my ass is," Colby asks Carter. Mickey makes room for Carter. Next Colby is the tasty meat in a "Southwest College Boys sandwich." "Fuck me into him," Colby commands. Mickey feeds his shaft to Oliver. The boys try another position. Oliver and Carter hold Colby in the air to be fucked by Mickey. Listen to Colby's yelps as his husband enters him. :-) "Pound his fucking ass," Oliver whispers. After so much fucking, you would think Colby needs a break. Nope. "Give me that dick, Carter," he says. Carter and Mickey switch places. Carter drills to the balls. He jerks Colby as he fucks him. "Ram that dick into me," Colby demands. "Fuck the hell out of him," Mickey suggests. Carter has an idea. "Why don't you take him over there, boys," he says. He lays on the ottoman. His tool points to the ceiling. Oliver and Mickey guide Colby on Carter's meat. "This is new," Colby jokes. He rides Carter. Oliver and Mickey get back on the couch. Mickey rides Oliver. "Your husband looks so good on my boyfriend," Carter observes. "I know you're struggling that's why it's hotter to me." Oliver takes control, furiously pounding Mickey. Carter and Colby change positions. Colby pulls his legs back, giving Carter all the access he needs. "Fuck me," Colby whispers. Oliver and Carter fuck with determination, wrecking the husbands' holes. Mickey and Colby want each stroke. "Bounce on that cock," Oliver whispers to Mickey. Carter wants to see his man fucked some more. Oliver gets back on the ottoman. Hands and knees. Carter stands in front of his man, jerking his dick. Colby re-enters that sweet ass. "Get deep in his hole," Carter says. "Fuck. It's so tight," Colby replies. "It's such a nice ass." Mickey stands behind Colby, placing his rod between Colby's cheeks. Carter wants another round with Colby's cake. "Why don't you work back on that cock," Carter instructs Colby. Colby accepts that challenge. Fucking Oliver. Being fucked by Carter. "Fuck me, Southwest Boys," Colby begs. "Fuck me, Carter. Fuck me into him. Fuck me into your man." "Fucking use his hole, baby," Oliver whispers. Carter doesn't need any further encouragement. As for Colby, he holds on. His ass dicked properly. "You want to use my man's phat ass," Carter says. "Fuck him. Use him." Colby does, knowing as he uses Oliver his own ass is also being used. "Fuck, yeah," Colby begs. "Fuck me right." Colby can't hold off any longer. He breeds Oliver, pulling out to dump some cum on Oliver's plump buns. Carter wants to make sure Colby's load stays deep inside his man. So he fucks him. Oliver grabs Mickey's leg as his hole is stretched. "It feels so good," Oliver moans. "You want to come on my boyfriend," Carter asks Mickey. "Want to paint his back with your load?" Mickey is ready to blow. He's been jerking his johnson this whole time, Now he's shaking and sweating. His husband is behind him, fondling that tight ass. Mickey's load shoots out. Most of it passes over Oliver's back, but a few drops coat the smooth skin. Carter licks it up. "You guys want to come all over my face," Mickey wonders. "Sexy fucking boys." He gets on his back, on the ottoman. Carter, Colby, and Oliver lean over him. Oliver comes first. His man milk hits Mickey's cheek, tongue, and neck. Colby is next, leaving cum all over his man's face. Mickey licks what's left off Colby's bloated head. Carter's load is massive. The first stream hit's Colby's thigh. The rest plasters Mickey's' face.
Reviews
Not going to sugar coat it. Mickey is one hard core fuck machine. He is amazing in that he can take it and give and loves every minute. Hats off to you Mickey. Colby, I love the hairy balls and what a cute couple you spent the afternoon doing crazy, amazing things. Great video. Glad to be back.
I wanted to see much more of Oliver's hole while Colby rimmed him. Hot guys, nicely directed, but 4-ways and more-ways aren't my thing. Sometimes I like a stylyzed, almost choreographed 4W where the pairs are side by side, almost mirroring one another.
Hot damn! This is one of the hottest scenes I have seen in a long time! Seeing two couples really getting into each other is amazing. Colby and Mickey have been long-time favorites of mine, and now Carter and Oliver are right up there with them. Oliver has a beautiful face, and a smoking hot body and uses it so well. Watching these 4 in action is something I will never get tired of - great work guys!
Just when you think these guys have hit their peak; they do something like this! Hottest scene I have seen in a really long time. Amazing chemistry and the sheer bliss of all certainly got an unassisted rise for this old porn fan. Amazing camera work and extra compliments to the photographer(s)...the accompanying pics are as hot as all the action (had to throw out the scorecard halfway through as impossible to keep up with who's on first, let alone second, third before the grand slam ;-) ) virtual after sex hugs guys...that was amazing!
I can't remember when The Boys (Mickey & Colby) put together a video that was more fun and sexy at the same time. They accomplished it with the good nature of cute SW Boys Carter and his BF Oliver. Thanks for a hot video I'll go back to often.
Mainly tops Colby and Carter start off by fucking the mainly bottoms Oliver and Mickey from each other's relationship; Colby bottomed a lot as the meat in two sandwich fucks, and being fucked along with Mickey bottoming for both Oliver and Carter! One loses count of all of the top/bottom combos in this hot fucking scene!
What an action packed scene! Colby out bottomed everyone and Mickey had his beautiful face sprinkled with cum. Those SWCB have really made an impact at CK
Join Colby Knox
Get unlimited access to Colby and Mickey's hottest scenes. New videos every week!
Sign In