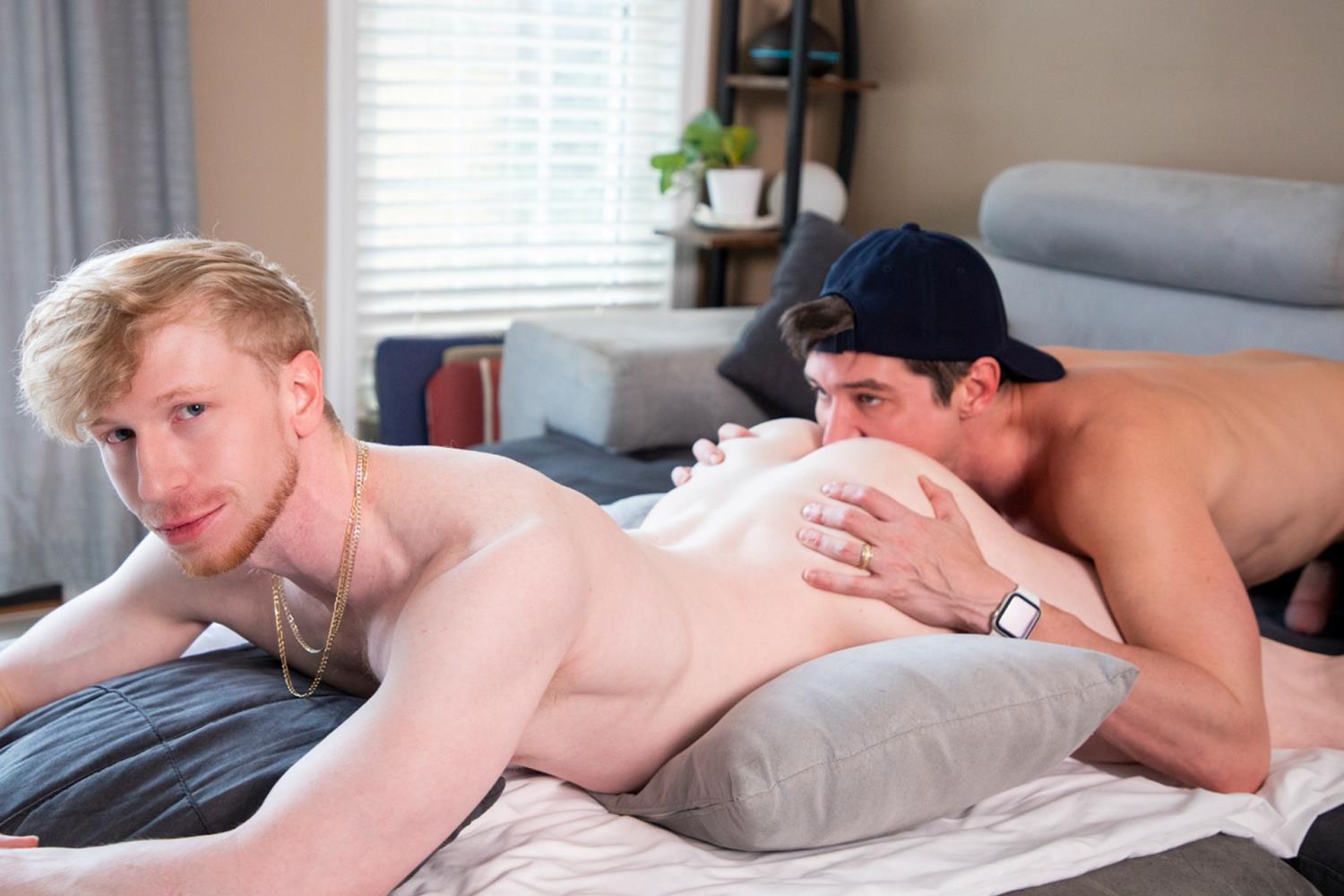 Description
Poor Jesse Stone. Looks like he's pulled a muscle. As this week's ColbyKnox video begins, he's leaning on Colby Chambers. Colby leads Jesse to the couch, instructing him to remove his shirt. "I'll go grab some oil and will try to rub it out for you," Colby says. Jesse gets on his stomach. As for Colby he grabs the massage oil. And lube. Always be prepared. :-) "Where do you feel it," Colby wonders. "Where do you feel pain?" "All the way up here," Jesse says, grabbing a thigh and butt cheek. "I think it's your sciatic," Colby explains. "I can definitely rub it out for you but the main area is going to be your glutes. You cool with me rubbing on your ass?" "Yeah. It's cool," Jesse replies. "Just as long as you fix me." Colby starts to "fix" with some oil and sturdy hand work. He takes off Jesse' shorts, getting to the root of the "problem." :-) "You got some big glutes," Colby notes. "The bigger the muscle the more painful the pop." Colby nibbles Jesse's ears. He then snacks on Jesse's hole. "Feel good, Jesse," Colby asks. "You like it?" Jesse moans approval. He spreads his cheeks so Colby's tongue can explore deeply. It's time for Jesse to do some work. Colby stands in front of him. He pulls down his shorts and his hefty slab of beef wobbles in Jesse's face. He gets on his hands and knees, swallowing Colby whole. "Fuck, yeah," Colby commands. "All the way down your throat." Jesse gags but returns for more. After getting face fucked Jesse laps up the drool coating Colby's cock. He walks back to Jesse's behind, slapping those perky buns. After lubing up, Colby works his meat inside. Then he fucks. Hard and deep. "Fuck. I love that cock," Jesse mutters. Colby places both hands on top of Jesse's rump and grinds away. "Use that cock," Jesse murmurs. His ass pushes Colby over the edge. "Going to come in your fucking ass," he exclaims. He does with a picture perfect creampie. It covers Jesse's man hole with juicy goo. Colby isn't done. "Get on your back with your legs in the air," he commands. Jesse does so and Colby reenters, making sure all that cum stays inside Jesse. Colby drills down as Jesse keeps his thighs near his chest. Oh, God," he whispers. "You feel so fucking good." The pounding slows but remains intense. As he's pounded, Jesse jerks his meat. "I'm going to fucking come," he moans. "It's so fucking good." He shoots juice on his stomach and inside his navel. "Can I keep fucking you," Colby asks. Jesse agrees, getting back on his stomach. "I love that cock," Jesse whimpers. "Use that tight, little, pink hole." Colby doesn't need to be asked twice. :-) He gets Jesse to grind his ass. That causes Colby to dump a second sloppy load. "Pump it deep in you," Colby blurts out. Two creampies in one scene! Jesse pulls his cheeks apart and the camera gives a great view of his cum plastered hole.
Reviews
Good energy and chemistry between you two!
Join Colby Knox
Get unlimited access to Colby and Mickey's hottest scenes. New videos every week!
Sign In