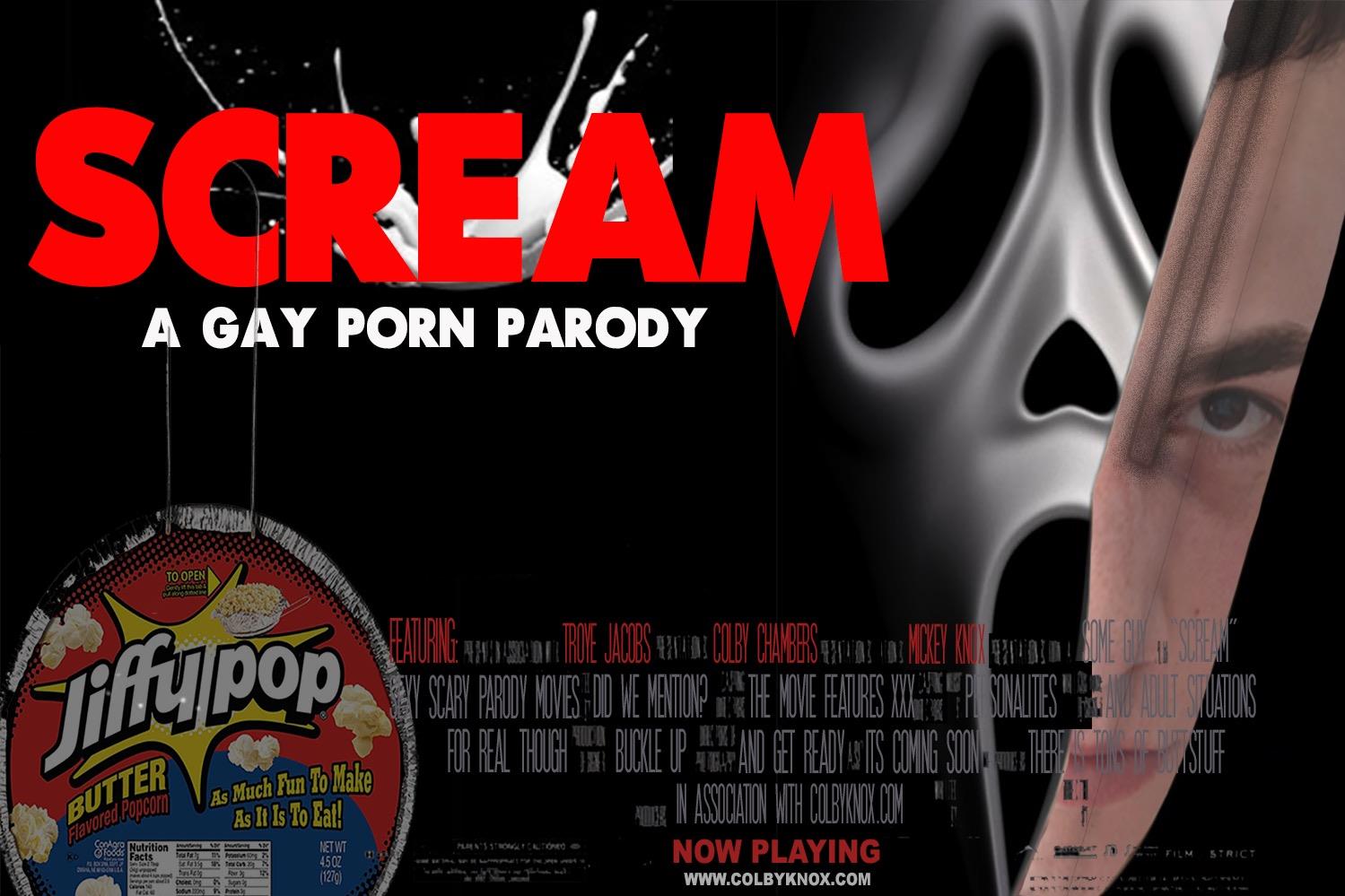 Description
In this week's ColbyKnox gay porn video, it's SCREAM!!!!!! The classic horror movie, from the 1990s, serves as the boys' muse in this special Halloween release. We start the night in a quiet country home. The gorgeous Troye Jacobs makes himself some popcorn, getting ready for a night of relaxation and scary movies. The phone rings….for the rest of the evening the poor teenager, and his football star boyfriend "Steve," are terrorized by a crazed masked killer. Troye Jacobs plays his part perfectly. It probably helps he is a "Scream" fanatic. He was dying to play the epic role of Drew Barrymore (from the original production). We hope you enjoy watching it as much as we enjoyed making it!!! HAPPY HALLOWEEN!!!
Reviews
Going through a pandemic reduced lower key Halloween this year, what a creative and sexually hot parody this scene was! 19 year old twink Troye was outstanding both in his acting and his bottoming! In this parody of Scream, the monster instead of murdering his victims, fucked them raw instead! Instead of murdering football player "Steve", he was left tied up and fucked with cum streaming out of his ass instead! Just as twink Troye was about to have the cum fucked out of him, his popcorn on the stove popped. With the breeding of twink Troye, instead of two murder victims the monster left two butts full of his cum! Much hotter and more civilized way to celebrate Halloween 2020 if you ask me! Happy Halloween everyone!
All of your hard work definitely paid off, because this is amazing! It is funny, sexy, entertaining...so well done! Is it weird that I find Colby's Ghostface phone voice HOT?! Or that seeing Mickey tied to a chair with duct tape over his mouth is a genuine turn-on? How about that Troye's acting was so good that I forgot there was some super hot sex just around the corner? Not that I'm surprised. These guys are extremely talented and committed to producing top-notch content. They just went above and beyond for this one! Great job, boys! - kit
WOW ! That was a lot of hard work- but, came out GREAT ! A+ work on everything ! Troye did a amazing job acting. Colby was sexy as ever and "Steve" AKA Mickey was scared as hell. Best work ever. Great job ! Going to watch it again. ????????????-Sherry
The best production from ColbyKnox ever! True to the storyline to a point..amazing imagery, creepy moments and ultra hot sex with a surprise conclusion. I love every moment of this film..Troye is awesome, Colby is so sexy hot and "Steve" aka Mickey was perfect in his "terror". Epic editing! Worth watching over and over again... Great job!!! L
So many questions...Did the popcorn burn? Did "Steve" get fucked to death? How did Colby manage to jump over the couch and line up perfectly with Troye's butt all while in costume? LOL Amazing scene! I loved it. Even loved the coffee cup at the end. Great job! Happy Halloween!
Join Colby Knox
Get unlimited access to Colby and Mickey's hottest scenes. New videos every week!
Sign In