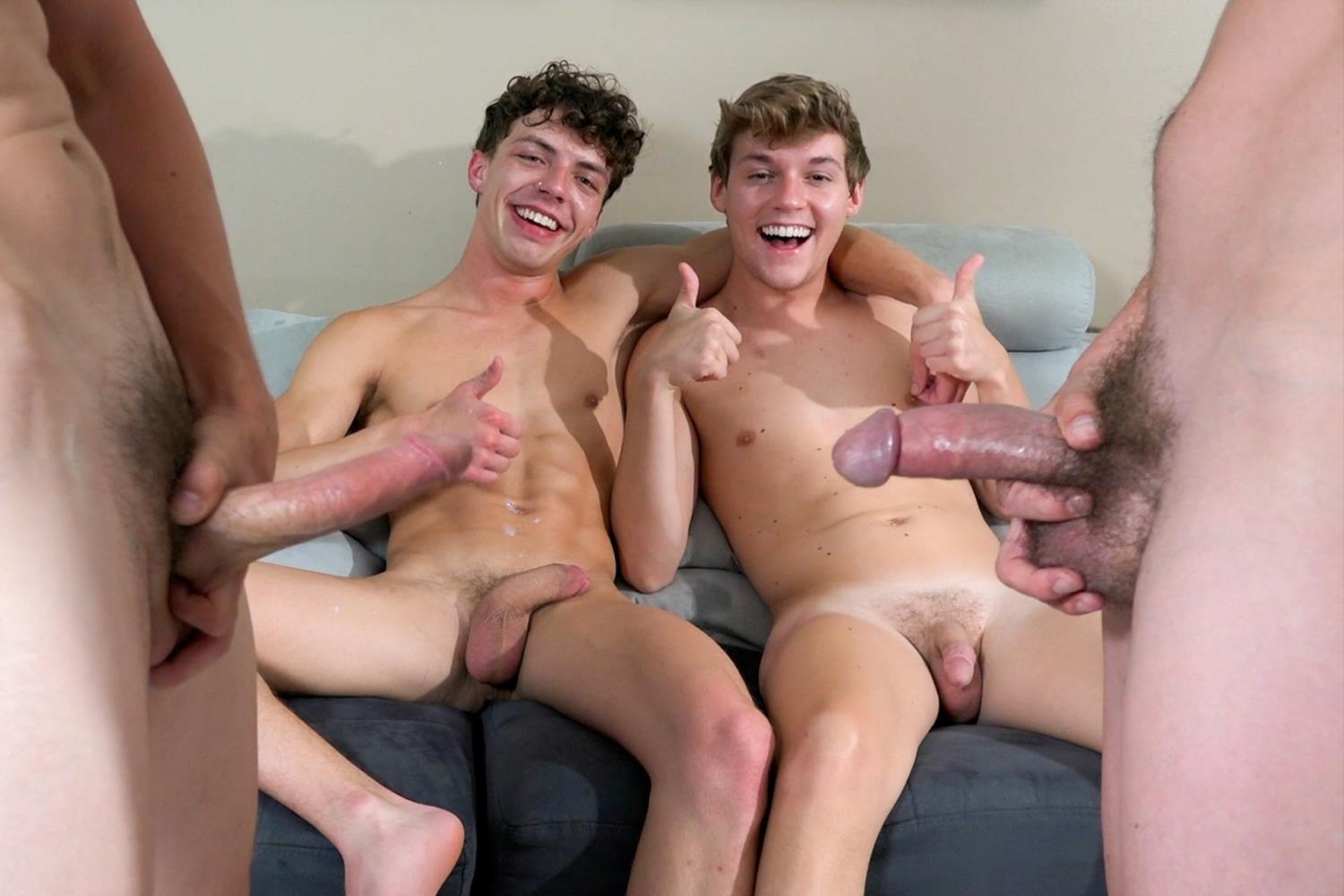 Description
This ColbyKnox webcam video has a pair of Jacks: Jack Bailey and Jack Valor. They are on the studio's sofa with Colby Chambers. Jack B. slurps on Colby's cock. As for Jack V., his rod is attended to by Colby. Colby has a question for Jack B. "Want him to fuck you?" Jack B. likes this proposal. As the three lads get situated, Mickey Knox comes into the room. He adjusts the camera, making sure it catches all of the action. "Let me see that butt real quick," Colby says to Jack B. He gets on his back, pulling his legs to his chest. Colby buries his face in Jack B's hole. Mickey joins the trio, kissing up a storm with Jack V. "Let me see that ass," Mickey asks. Jack V. gets on his knees and Mickey dives right between those perky cheeks. As for Colby and Jack B., Colby smears lube on his shaft and Jack's ass portal. Colby gradually works his way inside. "You all got right to it," Mickey observes. "We thought it was just a rim job over here," Colby replies. Mickey saddles up behind his Jack. Like his husband, Mickey takes his time getting into Jack V. The husbands fuck the Jacks. Nice, steady, and to the balls. Jack V. leans forward, giving Jack B. a chance to swallow his johnson. The husbands switch Jacks. Mickey gives it to Jack B., who gets on his hands and knees. Jack V., facing the camera, rides Colby. "Fuck, yeah," Colby says. "I can feel your dick hitting my nuts." Jack V's rod is engorged, hitting his stomach and Colby's balls. "Fuck. That feels so good," Jack B. whispers as Mickey stuffs him like a holiday bird. The boys change up again. This time there's no Jack switch. :-) Jack B.'s back is to the camera as he rides Mickey. Colby continues to pummel Jack V. but now he's on his hands and knees. Mickey takes a handful of ass as Jack B. rides. Colby puts his hand in Jack's arch, hammering away. Colby and Mickey need a water break. Who can blame them? :-) When the action restarts, both Jacks are on their hands and knees. Mickey slurps his Jack's hole. Husband Colby returns to fucking his Jack. "I'm going to come," Colby notes to Mickey. He grabs Jack V.'s neck and bottom, pushing his shaft as far as it can go. He floods Jack's insides with cum, making sure each drop stays where it should. When he pulls out, he pumps white goo on Jack's backside. Colby leaves the sofa and Jack B. takes his place inside Jack V. Mickey jerks his tool as the Jacks fuck. What's that axiom about good bottoms being good tops? Jack B. has his way with Jack V. "Using my man's cum as lube," Mickey observes. He's really enjoying the Jacks fucking like rabbits. As he beats his tool, Mickey fingers himself. "Pound me," Jack V. begs. Jack B. pulls out to munch Jack's hole. "Do you want to fuck him," Jack B. asks. "Sure," Mickey replies. "You okay with that," Jack quizzes Jack. "I'm down," the Jack on his stomach replies. "I'll take them all." "I think she has assumed the position as the power bottom," Jack B. jokes. Mickey fucks Jack V. and Jack B. watches, stroking himself. Jack V. inserts a finger inside Jack's hole. "Pound me," Jack V. whispers. "It feels so good." "I'm going to come," Jack B. announces. "Shoot that load for us," Mickey commands. Jack B. explodes, leaving juice on the floor and his thigh. "Then there were two," he quips, walking off screen. Jack and Mickey keep fucking. Jack is covered in sweat. His butt cheeks jiggle each time Mickey hammers down. Jack gets on his back, spreading his legs. Mickey reenters. His speed picks up. Jack jerks his meat. His legs shake, "You're going to make me come," he moans. And he does. His load coats his stomach. "Come for me," Mickey encourages. "That's a good boy." Jack's man juice also lands on Mickey's face and chest. He pulls out, sucking Jack's slick shaft. Poor Mickey doesn't pop. Jack B. returns to the couch, sitting next to Jack V. We don't see all of Colby or Mickey. Colby's semi-erect tool shares the screen with Mickey's rigid cock. "Good box cover," Colby jokes.
Reviews
The boys pull a four way with twinks Jack Bailey and Jack Valor, who the boys take turns fucking! Around the 23 minute mark, Mickey starts cumming inside Jack V.'s butt and pulls out to complete his cum shot on Jack V.'s asshole! Then for nearly three minutes the only twink on twink fuck takes place as Jack B. sticks his dick inside Jack V., to which Mickey blurts out: "He is using my cum as lube!" When Jack B. completes his fuck of Jack V., he offers the hot ass back to Mickey, who asked if Jack V. was up for more to which Jack V. replied: "I'm down! I'll take them all!" Mickey took his sloppy seconds of Jack V.'s "beautiful fucking ass!", Jack B. interjected: "That is a nice ass!" And as Mickey fucked the cum out of Jack V., he had to say: "What a good boy!" Jack B. appropriately ended this epic scene with both of hands showing thumb's up! Jack V. ended as the only total bottom of this hot scene!
Join Colby Knox
Get unlimited access to Colby and Mickey's hottest scenes. New videos every week!
Sign In