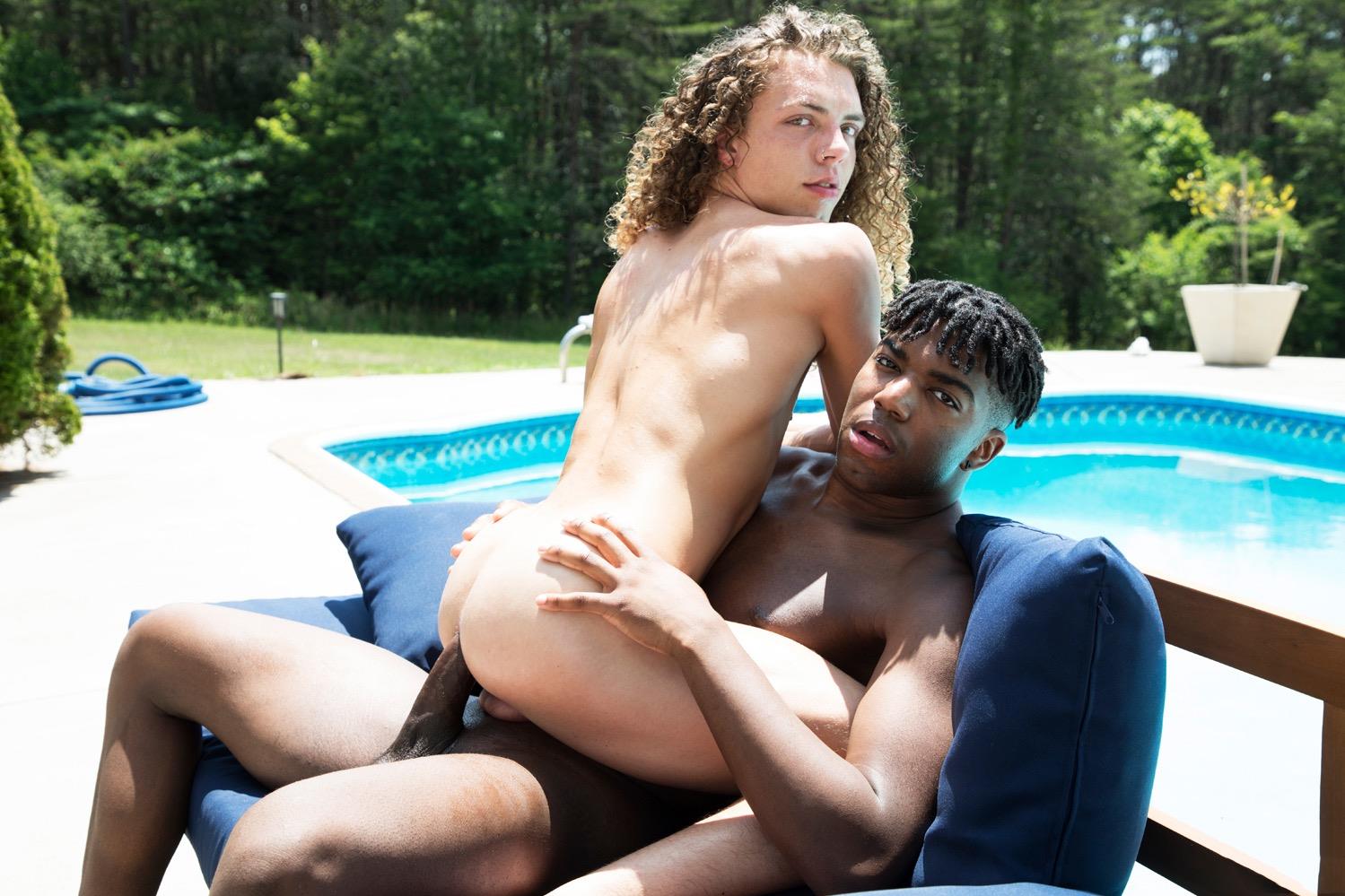 Description
A pool, oil, Kylan Kain, and Jack Valor. A perfect setup for a ColbyKnox video. When today's scene starts, Jack is on his stomach. Kylan straddles him, rubbing his back and mound of butt flesh. "You're so sexy," Kylan whispers as he gently massages Jack. His hole must really be sensitive because when Kylan touches it, Jack's moans get louder. Kylan puts a finger in it but gets up. As he walks in front of Jack, Kylan is stroking his hefty piece. Jack knows the deal. He opens wide and swallows. "Yeah. Suck me," Kylan gently commands. "You like that," he asks. "Oh, fuck yeah," Jack replies before he puts more dick down his throat. He tries to swallow it all but can only get so far. "It's so thick," he observes. Kylan gently slaps his dick on Jack's face before guiding him back to sucking. He looks up to Kylan as his mouth fills up with spit and pre-cum. "Get it nice and wet so I can pound you," Kylan says. "Ready for it," he wonders. "Yes, sir," Jack says. He gets on his stomach and Kylan lubes up. He only teases Jack a little bit before slowly filling up that hole. Jack takes every inch of that bare dick. "Oh, fuck. You feel so good," he murmurs as Kylan picks up the pace. The strokes are long and deep. "Tight fucking hole," Kylan observes. "Oh, my God," Jack sobs. It's so fucking deep." "You like it balls deep," Kylan asks. Jack gives the best, and only, answer. "Fuck, yeah. Give me that dick, Kylan." Kylan could keep fucking that hole, but Jack wants to do some of the work himself. Kylan takes a seat and Jack does the same too. Except he's sitting on a thick shaft. He bounces up and down, moaning with each stroke. Kylan puts his hands on Jack's sweaty ass, spreading it apart so he can enjoy every inch of Jack's insides. "Fucking love that hole," Kylan says. He picks Jack up and puts him on his back. Kylan refills that succulent hole and Jack holds on. "You like my dick," Kylan asks. "Oh, I love it," Jack replies. The fucking can be deep and long or short and quick. Jack takes it all without a complaint. It's time to cum. Kylan pulls out, sitting next to Jack. The two kiss as they jerk their meats. Jack busts first, coating the sweaty skin right above his pubes. As for Kylan's nut, the first stream hits his chest. Another lands on Jack. But hold on. Someone else needs to let loose some juice. Off camera Colby Chambers is jerking like there's no tomorrow. Kylan comes over and bends in front of him. When he explodes, Colby's cum coats one of Kylan's butt cheeks. "Lot's of fun hanging out at the Colby Knox house," Mickey Knox, the cameraman, explains. Who can disagree?!
Reviews
was watching the free video on xvideos and it was so hot i subscribed. i dont ever subscribe for any adult site but this is the first very worth it.
Cute little long haired Jack at 5'9", 135 lbs. has a hot little butt perfect for bottoming. Perfect pairing with Kylan, whose big black cock both in length and girth was in a topping mood after Kylan bottomed for and was creampied by Colby in his first scene. An epic fuck resulted when the huge African American dick went balls deep pumping in and out of the hot little twink ass. Great scene which only a cream pie inside of Jack would have made better!
Always thought Jack to be incredibly sexy ! What a big stud that Kylan is…. ??-Sherry
Join Colby Knox
Get unlimited access to Colby and Mickey's hottest scenes. New videos every week!
Sign In