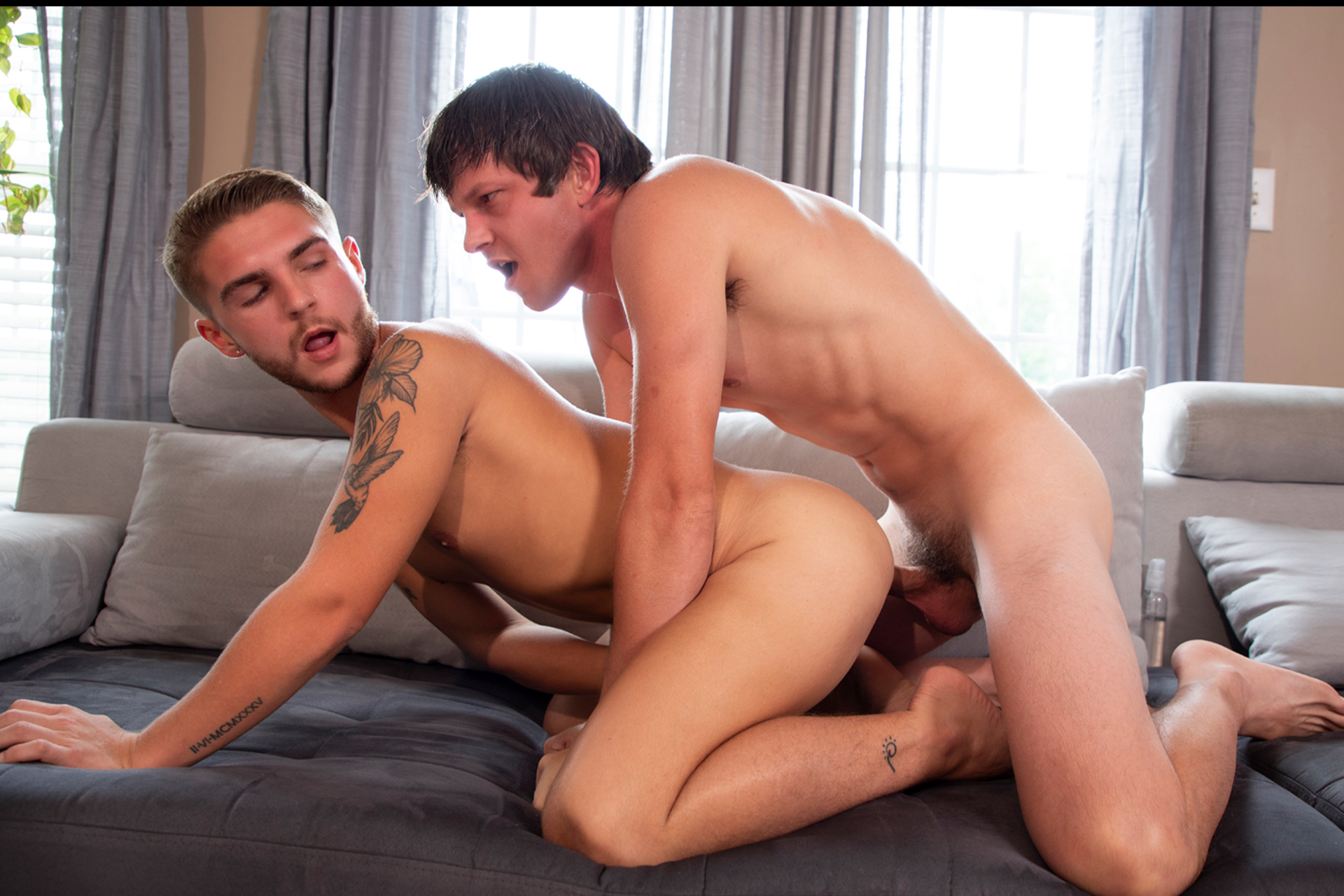 Description
The last time we saw Austin Hopes he was having a good ol' sexy time, by the pool, with Colby Chambers. In this week's update, the "newcummer" is paired with Colby's man, Mickey Knox. For this session they are inside, on the sofa. The studs, both wearing shorts, start with affectionate kissing. Mickey is the first to remove his underwear. Austin reaches over to grasp Mickey's shaft. He remains on the couch as Austin kneels on the floor, opening his mouth to swallow Mickey's meat. Austin keeps his pretty eyes focused on Mickey as he services him. "Lick on it," Mickey whispers. "You're so fucking hot." Mickey reaches for Austin's shorts, pulling them down. Austin's butt cheeks are massaged. Mickey face fucks Austin as he plays with his hole. "You have such a beautiful fucking hole," Mickey exclaims. It's time Austin had a break. "Can I see that ass," Mickey wonders. Austin pulls off his shorts and gets back on the couch. On his hands and knees. "Fuck, yeah. Show me that hole," Mickey says. He pulls those plump cheeks apart and dives right in. Mickey's dick leaks precum and he places it at the opening of Austin's hole. He returns to eating Austin out, getting that hole wet and slippery. "I want to stick my cock in it so bad," Mickey notes. Austin arches his back and Mickey slowly fills that ass with raw meat. "Fuck, yeah," Austin whispers. Mickey grabs two scoops of Austin's booty and hammers to the balls. "Get down for me," Mickey quietly orders, pushing Austin's chest into the sofa cushion. "Feels so fucking good," Mickey states. Austin turns his head and smiles. "Oh, fuck yeah," he moans. "I love watching your ass jiggle," Mickey notes. The pace picks up. Almost pushing Austin off the sofa. Mickey pulls out so he can munch that sweet cake some more. The boys switch positions. Mickey sits down and Austin sits on Mickey's engorged dick. He jerks his own slab of beef as Mickey fucks upward. He devours one of Austin's armpits. "I love how you smell like a man," Mickey explains. The lads try another position. Austin on his back and Mickey on the side. When he re-enters, Austin sighs with appreciation. "Fuck, yeah," he moans. Mickey alternates the hammering speed but each stroke fills the room with the sound of skin slapping skin. "That fucking hole is so tight," Mickey observes. Austin furiously strokes his johnson. Mickey adjusts so he's over Austin. He remains inside him, pounding away. Austin's sexy legs are spread apart. "Oh, fuck," he whimpers. "I'm going to come." His juicy load lands on his stomach. "That's so fucking hot," Mickey breathlessly says. He's still fucking, making sure Austin's hole remembers this moment. He pulls out and the first stream of cum lands on the sofa. The rest splatters on Austin's shoulder, chest, and stomach. The cuties lean in for a tender smooch. Stay right where you are because Mickey interviews Austin. The 21-year-old is from Florida. He's been in the industry for two months (you can find him on Twitter and OnlyFans). The tattoos on his body are connected to family and his proud status as a Sunshine State boy!
Reviews
I love a missionary finale. I would like to have seen a transition from the scissors -- perhaps Mickey withdrawing and toweling off a bit, too tired to continue. Meanwhile Austin goes to his back, paws his own hole a bit, begs for more. It would've shown Austin more as a power bottom, really hungry for cock. Mickey really got into that finale but it was over too soon.
At 21years of age, 5'2", 115 lbs., twink Austin has the perfect hot little ass for bottoming! Only two months into porn doing solo cam shows, Austin was fucked for the first time filming gay porn by Colby a few weeks ago, and this scene was Mickey's turn to fuck that hot little twink ass and fuck it well he did! So great gay porn debut for Austin at the Colby/Knox homestead! Austin's tattoos are moderate and OK, but his facial hair and mustache make this hot young twink look years older, so I would recommend that Austin go to the clean shaven look and appear to be the hot young 21 year old twink that he is! Good luck to Austin in his new gay porn career and please return to ColbyKnox for more bottoming!
Join Colby Knox
Get unlimited access to Colby and Mickey's hottest scenes. New videos every week!
Sign In