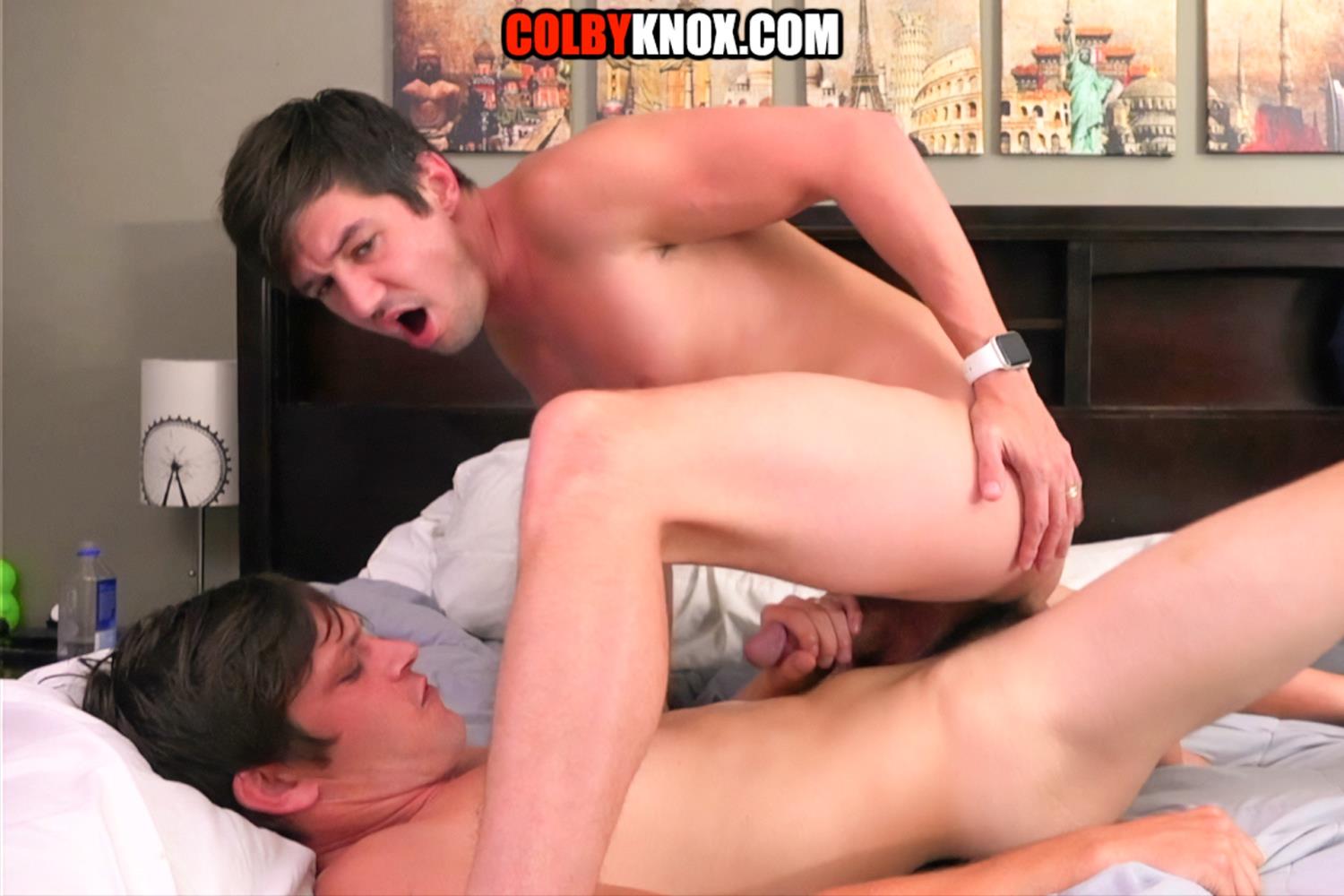 Description
This week's ColbyKnox webcam video starts with dessert: Mickey Knox munching Colby Chambers' cake! Who wouldn't want a taste, or two, of Colby's cute backside? Colby is on his stomach, grooving to his man hole getting licked like an ice cream cone. "Awwww. Fuck, yeah," he moans. His husband grabs Colby's jiggly cheeks, forcing his tongue as far as it can go. Mickey gets on his hands and knees, guiding his raw rod where it needs to be. He is gentle. As for Colby, his mouth is open wide. He's getting accustomed to his tight hole being used. Mickey, knowing what a bottom needs, pulls out. He grabs more lube, returning to eating Colby out. "I should totally bottom more," Colby notes to the audience. "It's pretty much a night where I can just lay here and get spoiled." Few will contradict that logic! :-) Mickey refills his man up. We find out Colby likes to be tenderly fucked. His boo knows this and takes his time. Colby bites his lip, lifting his legs as the pounding turns more intense. Mickey snuggles Colby's neck. "I'm so hard," Colby says. Mickey stops dicking his man so he can remove Colby's red shorts. Mickey has Colby move on the bed so his butt is closer to the camera. As Mickey rims Colby more, Colby receives a phone call on his iPhone. "Tyler Tanner always calling at the worst time," Colby explains after hanging up. As for Mickey, he's not deterred by disruptions. He continues to make sure Colby's hole is slick with spit. When that's done, he reenters. This time we see his meat penetrate Colby. He gets on his hands and knees. Mickey slowly fills his man up. "Spank me," Colby moans. After a few slaps, Colby works himself on Mickey's meat. Mickey puts his hands on top of Colby's cheeks and takes over the pounding. "He's a great bottom," Mickey says to the audience. A viewer offers a line that must be used in the future: "Choosy bottoms choose Mickey." :-) Colby requires a pit stop so Mickey relaxes by jerking his stiff shaft. When Colby returns, he sits on Mickey's cock. We get an impressive view of Colby's butt cheeks being parted by meat. Mickey pounds up. However, Colby wants to control the speed. Mickey grabs Colby's ass, making sure each inch is felt. Soon, Mickey is doing all the work, making Colby moan and curse. The pair offer a side view and we see Colby's dick is close to bursting. He grinds his ass so Mickey's johnson disappears in the booty channel. Mickey takes control one more time, drilling his man. "Use my ass," Colby begs. "Ride me," Mickey whispers. That riding hits Colby's special spot, causing him to shoot cum all over Mickey's chest. "Baby," Mickey utters. "You're so hot." He shows us his glazed chest. "I got his load," Mickey jokes. As Colby goes to clean up, Mickey tastes Colby's juice. Dropping it on his tongue, treating it like the nectar it is. After sampling Colby's man milk, Mickey strokes himself to orgasm. "Oh, fuck," he moans before the first stream splatters on his chest. "Look at all that fresh cum," Mickey says to the audience, showing off the white goo on his arm. What a show! Hope you all had fun!
Reviews
I know this is a porn site but none the less .... Cleary this was a very intimate session between the 2 of you so appreciate you sharing this with your fans. I recommend you add one more category .... "just us" or "husbands" with only your scenes in it. Fans like me may just want to view those. All the best to you both!
You two always get the best out of each other. ??
I could watch you both all day! Love you friends… Sherry
Join Colby Knox
Get unlimited access to Colby and Mickey's hottest scenes. New videos every week!
Sign In