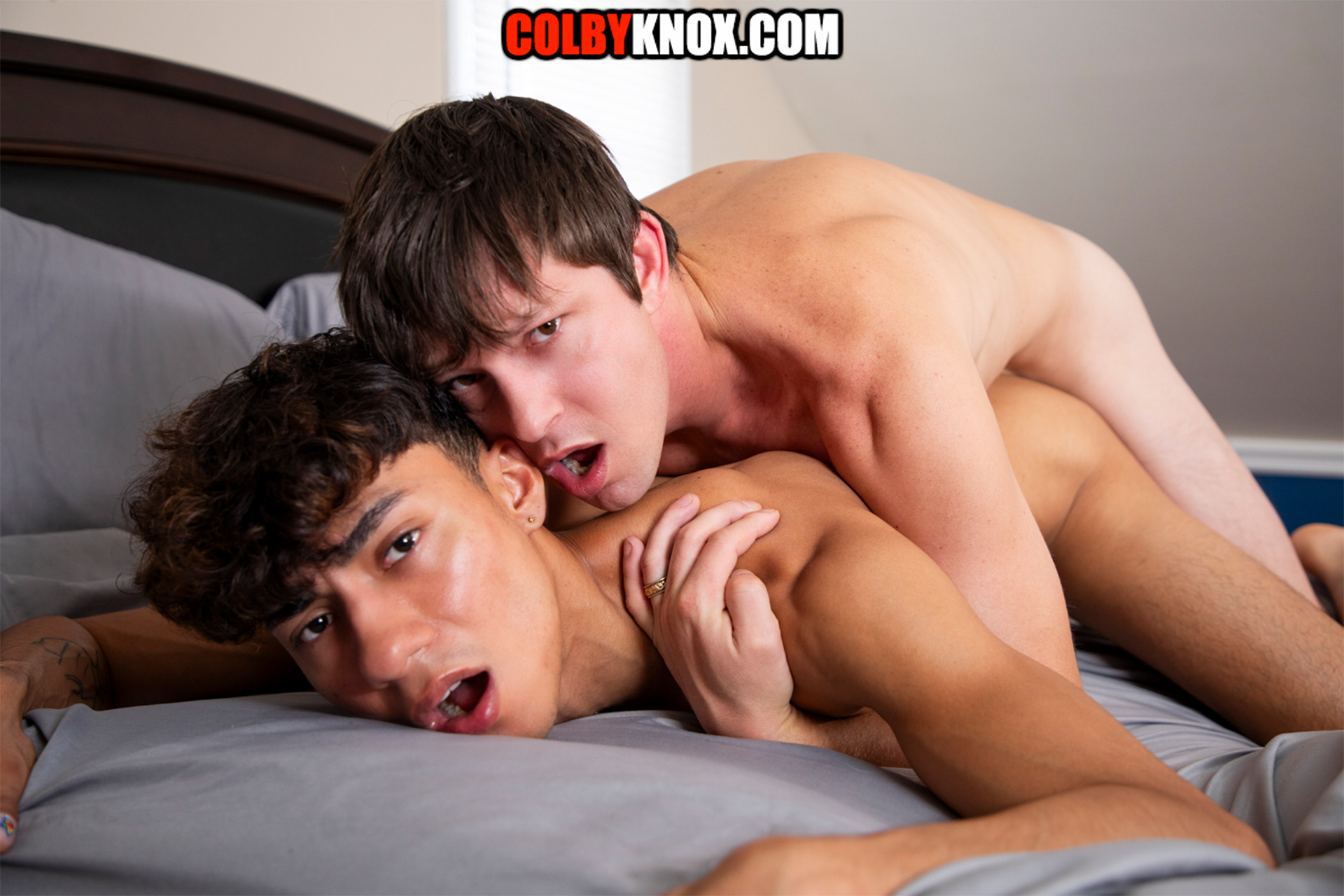 Description
Mickey Knox is so lucky! In this week's ColbyKnox update, he gets to have fun with site newbie Luca Ambrose. The pair are on the bed, starting with sweet kissing. Luca fondles Mickey's meat as they make out. "So fucking sexy," Mickey says between kisses. "Going to let me suck on your cock?" The "newcummer" finds that plan acceptable and pulls down his underwear. His dick is ready to play and Mickey gladly gobbles it up, making sure Luca's tasty balls are licked. "You have such a fucking nice dick," Mickey declares. After putting spit on his finger, Mickey plays with Luca's hole. "Your ass is so soft," Mickey notes. "Love it." "Play with your cock," Luca moans, placing a hand on the back of Mickey's neck. When Mickey comes up for air he just stares at Luca's rod. He's transfixed by it. Who wouldn't be? :-) Mickey wants an opportunity to eat Luca out. The cutie gets on his hands and knees. Mickey dives in. "Lick that hole," Luca whispers. After lubing up, Mickey slowly pushes his raw shaft inside Luca. "It slides right in," Mickey notes. He's still hungry for the boy's hole, so he returns to eating Luca out. "Spit on it," he pleads. Mickey does and puts his dick back inside Luca. "It feels so good," Luca groans as Mickey begins to fuck. He stops, lapping Luca's ass again. That backside is like candy. It must be savored. Mickey puts his hands on top of Luca's butt cheeks and hammers away. "Fuck, yeah," Luca whispers. "Fuck my ass." Mickey slaps each cheek as he stretches Luca out. He licks and nibbles Luca's ear on the downstroke. "Fuck, yeah," Luca moans. "Use that hole." The boys change positions. Mickey gets on his back so Luca can ride. The camera gets an amazing shot of Luca's perky butt sitting on Mickey's meat. Luca takes the reins, riding Mickey like an experienced cowpoke. Look how hard his tool is. Luca's "special spot" is getting beat like a drum. Mickey grabs two scoops of ass. "Fuck, yeah," he groans. "Stroke that cock for me." Luca gets on his side, pulling his legs toward his chest. Mickey re-enters; the strokes turn more forceful. Each one is balls deep. "Goddamn. You feel so fucking good," Mickey declares. "Take you by your fucking cock." Luca's reply is a satisfied moan. His toned thighs tremble from the onslaught. "Jerk that fucking big dick for me," Mickey commands. Luca gets on his back with his legs in the air. Mickey continues to drill into the boy's hole. He beats his rock hard cock. That mouthwatering booty pushes Mickey over the edge. He pulls out, shooting cum that lands on Luca's shoulder, chest, and stomach. Some even hits the sheets. Past Luca's other shoulder! The newbie's eyes widen from the amount of man milk Mickey plasters him with. Mickey gladly licks up the gooey mess. "Got to clean you up," he says with a smile. Luca busts next. Mickey fondles Luca's hole as his load splatters on his inner thigh and Mickey's hand. He eats the cum on his hand and Luca's shaft. "Sensitive," Mickey wonders before leaning down for a sloppy kiss. Stay where you are because Mickey and Luca sit down for a talk. The 21-year-old has been in the industry for approximately two years. He started doing studio work before branching out to OnlyFans. The love of his life is an adorable Pomeranian. Luca has the best plans for Halloween but we'll let him explain them! :-) "Welcum" to ColbyKnox, Luca.
Reviews
21 year old twnk Luca is one hot bottom, and Mickey got to partake of his hot little ass for our viewing pleasure! Also an interesting interview as Luca said he started with a particular studio, did not care for his treatment there and has moved on to OnlyFans. What was interesting about that other iis that other hot young models have left that studio for similar reasons, so Luca was effect confirming their public statements as to why they moved on. But the bottom line is that Mickey and Luca hit it off and enjoyed each other with Luca being delighted to bottom for Mickey as was Mickey to top Luca!
Join Colby Knox
Get unlimited access to Colby and Mickey's hottest scenes. New videos every week!
Sign In