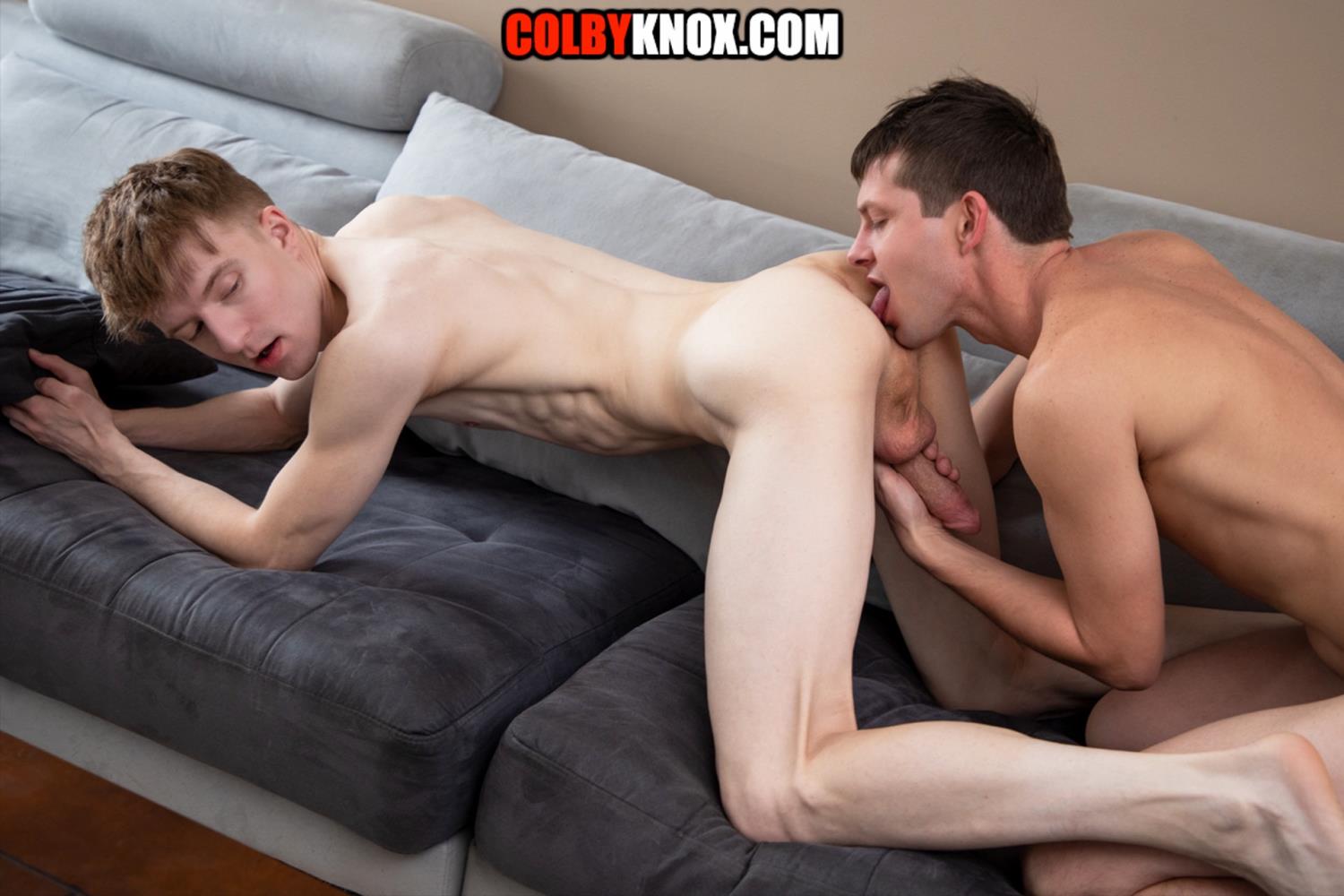 Description
Mickey Knox is so happy in this ColbyKnox update because he introduces "newcummer" Chris Keaton to the studio's sofa. The newbie and Mickey start the session with steamy kissing. Clothes are lost as Chris ends up on his back. They continue to kiss until Mickey decides it's time to see what the newbie packs. He takes off Chris' underwear and gobbles the stud's meat. Mickey's tongue works its magic. He uses some of that same magic on Chris' booty. Chris gets on his hands and knees. "Oh, God," Mickey whispers. "You're so fucking sexy." He dives right into Chris' man hole, getting it slippery and wet. "Fuck. You're so hot," Mickey notes. He puts his bloated head inside Chris. The newbie takes the intrusion. Mickey puts more of his raw meat inside and starts to pound. To the balls. "You feel so good," Chris moans. Mickey leaves his hand prints on Chris' cheek. "You like that," Chris wonders. "Fuck, yeah," Mickey answers. "It feels so good." Chris ends up on his stomach, crying into the sofa. "Use me," he begs. "Say it again," Mickey demands. "Use me," Chris repeats. They decide to let Chris go for a ride. He straddles Mickey, sitting on the host's hose. Chris goes up and down, letting Mickey bust his tight little ass. "You're so sexy," Chris whispers. Mickey grabs two scoops of cheeks and pounds up. Chris gets back on the couch. This time on his back. Mickey sucks him off, but needs to get back inside the newbie. "Show me that fucking hole," Mickey says as he reenters. "You going to cum in me," Chris wonders. "Make me take it," he pleads. "Take this fucking dick," Mickey answers. He pulls his rod all the way out. Only to put it back in, making sure Chris feels each inch. "You like that," Chris whimpers. The increased fucking tempo is a perfect answer. Mickey wants Chris' load on his face. The newcomer gets on top of Mickey, furiously jerking his meat. He loses a load on Mickey's upper lip, tongue, and chest. Mickey swallows what's left on Chris' cock. With his mouth stuffed with cum-covered dick, Mickey beats out his own juicy explosion. His load slathers Chris' lower back and butt cheeks. The spent cuties kiss and fondle each other. "You're fucking gorgeous," Mickey says. "So are you," Chris says. Welcome to ColbyKnox, Chris!
Reviews
Absolutely loved Chris' tight bod and that big floppy dick. Mickey puts in yet another intense performance. Great job!
At 5'10", 140 lbs., Chris is the perfect bottom, and his youthful make him look more 21 than his actual age of 27. Mickey has his way with Chris the perfect bottom and fucks him well!
Chris has a beautiful, toned body. I agree with Mikey when he says, "Oh God, you're so fucking sexy." Mikey's cock has never looked so hot as he pounds Chris' beautiful hard ass. The cum is so damn hot. Chris cums in Mikey's mouth and Mikey swallows it up. (I love the taste of cum.) Mikey explodes all over Chris' ass with a flood of cum. Hot scene.
Join Colby Knox
Get unlimited access to Colby and Mickey's hottest scenes. New videos every week!
Sign In