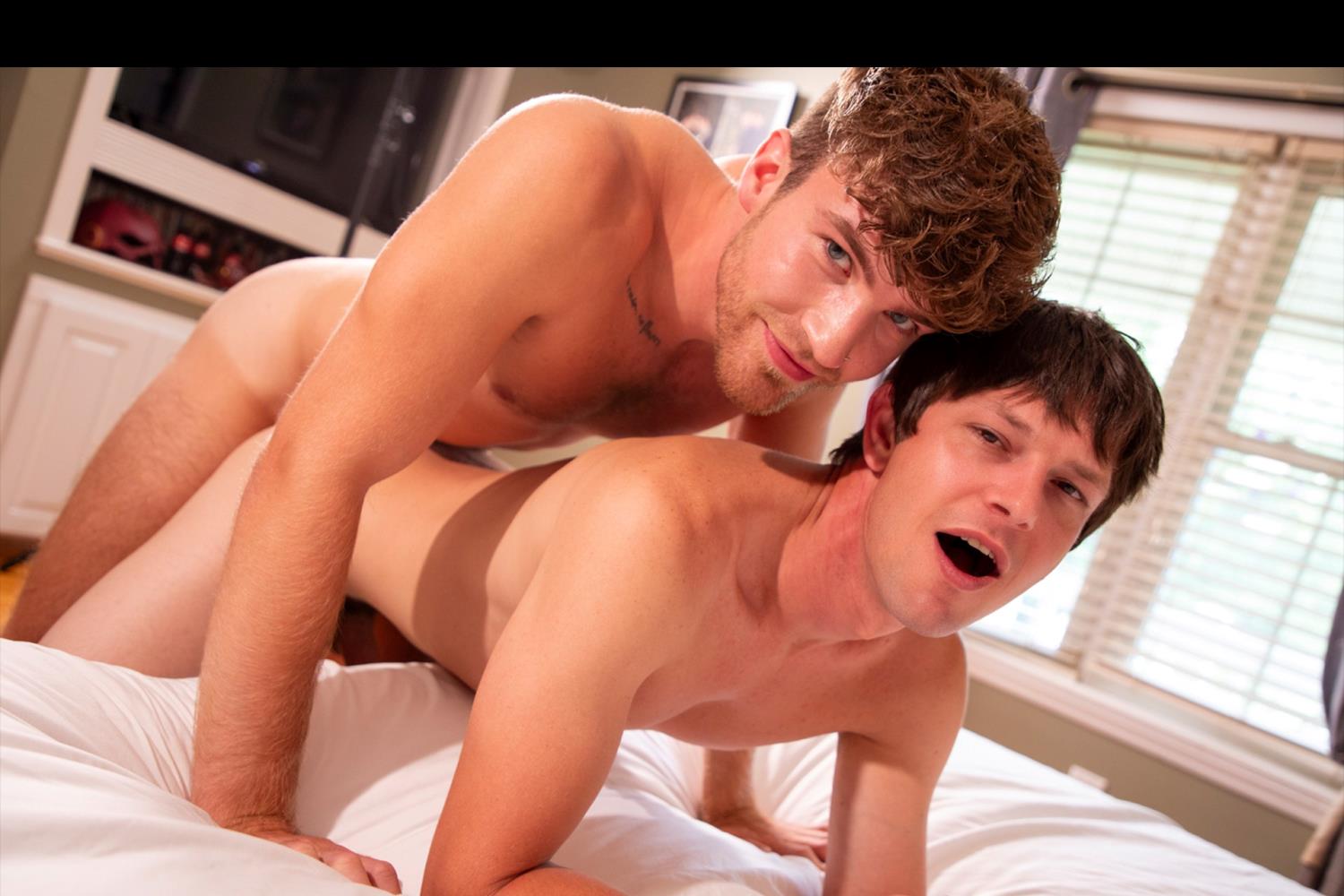 Description
Last week Colby Chambers got it on with Oliver Marks. Today Mickey has playtime with Carter Collins, Oliver's boyfriend. Unlike Colby and Oliver's session, Mickey and Carter plan to do their "business" indoors. In the ColbyKnox studio's bed. From Mickey's big ol' smile he would do anything with Carter, a tall glass of water, anywhere. :-) After a brief introduction from cameraman Colby, Carter and Oliver kiss. They get on their knees. "Want to play with me some," Mickey wonders, pulling a dildo, and lube, from under a pillow. "Hell, yeah," Carter replies. Both studs quickly get naked. "You're so hard," Mickey observes, getting on his stomach. He swallows Carter's cock. As for Carter, he puts a finger in Mickey's hole. "Your hole is so fucking tight," Carter notes. He puts lube on the dildo. He then smacks it against Mickey's curvy backside. "How bad do you want it," Carter wonders. "So fucking bad," Mickey replies. Carter pushes the dildo inside Mickey. He moans from the shock but the sounds are muffled because his mouth is filled with Carter's staff. "You want it nice and deep in there," Carter wonders. Mickey whimpers in the affirmative. When he pulls away from Carter's tool, a silver thread of spit trails from Carter's bloated head to Mickey's mouth. "Spread those legs for me," Carter commands. "Show me your tongue." Mickey holds out his tongue and Carter hits it with his slab of beef. "You're going to get my cock nice and wet," Carter explains. "Look me in the eyes. Show me you love my cock. Good fucking boy." He returns to using the dildo on Mickey's booty. "Fuck, yeah," Carter says. "So nice and open. You like it when it slides in and out like that?" Mickey wants to see what else Carter can offer. "Can I play with your ass some," Mickey wonders. Carter gets on his hands and knees and Mickey places his face between his scene partner's butt cheeks. "Your ass is so plump," Mickey exclaims. "Your tongue feels so good," Carter moans. "You got me so fucking hard." Mickey makes a meal out of Carter's backside. "You like the way that hole taste," Carter wonders. "Good. Give me yours." Mickey gets back on his tummy and Carter munches. He jerks Mickey's meat and slaps a cheek. "Fucking look at that hole," Carter declares. "Your cock is going to look so good in it," Mickey says. "Fuck, yeah," Carter replies. "It's going to feel so good in it." When he gets to his feet, Carter has one question for Mickey. "How bad do you want it," Carter wonders. "So fucking bad," Mickey replies. He's on the edge of the bed. On his hands and knees. Carter smacks his dick on Mickey's ass. "You like when I tease you with my cock," Carter asks. "I want you to beg for it." "Please," Mickey pleads. "Put it inside me. Please. I'll be good." Carter works his way inside Mickey, getting his shaft inside the hot hole. "Do you need a minute," Carter wonders. "No," Mickey breathes out. "It feels great." Carter starts to fuck; the stokes are slow and deep. "Your hole is so fucking good," Carter declares. When he picks up the pace, Mickey's eyes widen. "There is that second hole," Carter remarks. He pounds to the balls. Just the way Mickey wants it. "I love fucking your hole," Carter observes. "Your cock is so nice," Mickey whispers. Carter drills deep. "I love watching your hole as I fuck you," Carter notes. "Your cock fits in perfectly," Mickey says. "Fuck me." The pounding causes Mickey to moan into the mattress. "Want to ride it," Carter asks. He gets on his back and Mickey straddles him. Once "strapped in," Mickey goes up and down. "I love when you slam on my cock like that, Carter comments. "You're hitting my prostate," Mickey explains. "Fuck yourself real good," Carter suggests. Mickey's meat is hard as a rock. "Spread your cheeks for me and bounce on it," Carter demands. As Mickey does that, Carter strokes Mickey's meat. "Keep playing with it," he moans. Carter loves getting Mickey off. "Show me how much you want it," Carter states. Mickey takes over beating his cock. "Goddamn. Your dick feels so fucking good in me," he whispers. Mickey's juice explodes out, landing on Carter's chest and stomach. "What do you say after I let you come," Carter asks. "Thank you, sir," Mickey says. Carter scoops up the man juice, feeding the fluids to Mickey. "You like that," Carter wonders. "Still have to take my load." Mickey returns to his back and Carter returns to fucking. "Nice and deep," he moans. "That hole is fucking mine," Carter explains. "Take that fucking hole," Mickey begs. He brings his knees to his chest, giving Carter as much access as possible. When Carter is ready to blow, Mickey sits down. His mouth opens wide to catch Carter's cum. Carter's load drenches the side of Mickey's face, from his hair down to his chin. Mickey slurps the remaining man milk on Carter's tool. "You came so much," Mickey observes. "Welcum" to ColbyKnox, Carter!
Reviews
Oh, Carter. Your cum shot was extraordinary. Your dominating dialogue is a real turn-on. If you're the homebody you state you are in your bio, then I'm staying home!
Beautiful. Seeing Carter deliver a huge load all over Mickey's face and then watching Mickey suck the last drops of cum out of Carter's dick was awesome!
Mickey is stunning as always and Carter seems like the perfect top; deliciously commanding but always looking out for his partner. That gorgeous curved cock perfect for hitting that sweet spot, and Mickey knows exactly how to make it work for him. #jealous And if all of that isn't enough... those eyes!
Last week, Colby fucked Oliver Marks, half of the Soutwest College Boys duo, in this week's scene, it was Mickey's turn to top the boyfriend of Oliver, the other Soutwest College Boy, 23 year old, 5'11", 175 lbs., Carter Collins and send both college boys back to Arizona well fucked! However, Carter had other ideas fucking Mickey first with a dildo and then with the real thing, fucking the cum out of Mickey and then giving Mickey a huge facial half into Mickey's swallowing mouth and the other haff all over his face! So instead of the final topping score being ColbyKnox 2, Southwest College Boys 0, it turned out to be a 1-1 tie!
Join Colby Knox
Get unlimited access to Colby and Mickey's hottest scenes. New videos every week!
Sign In