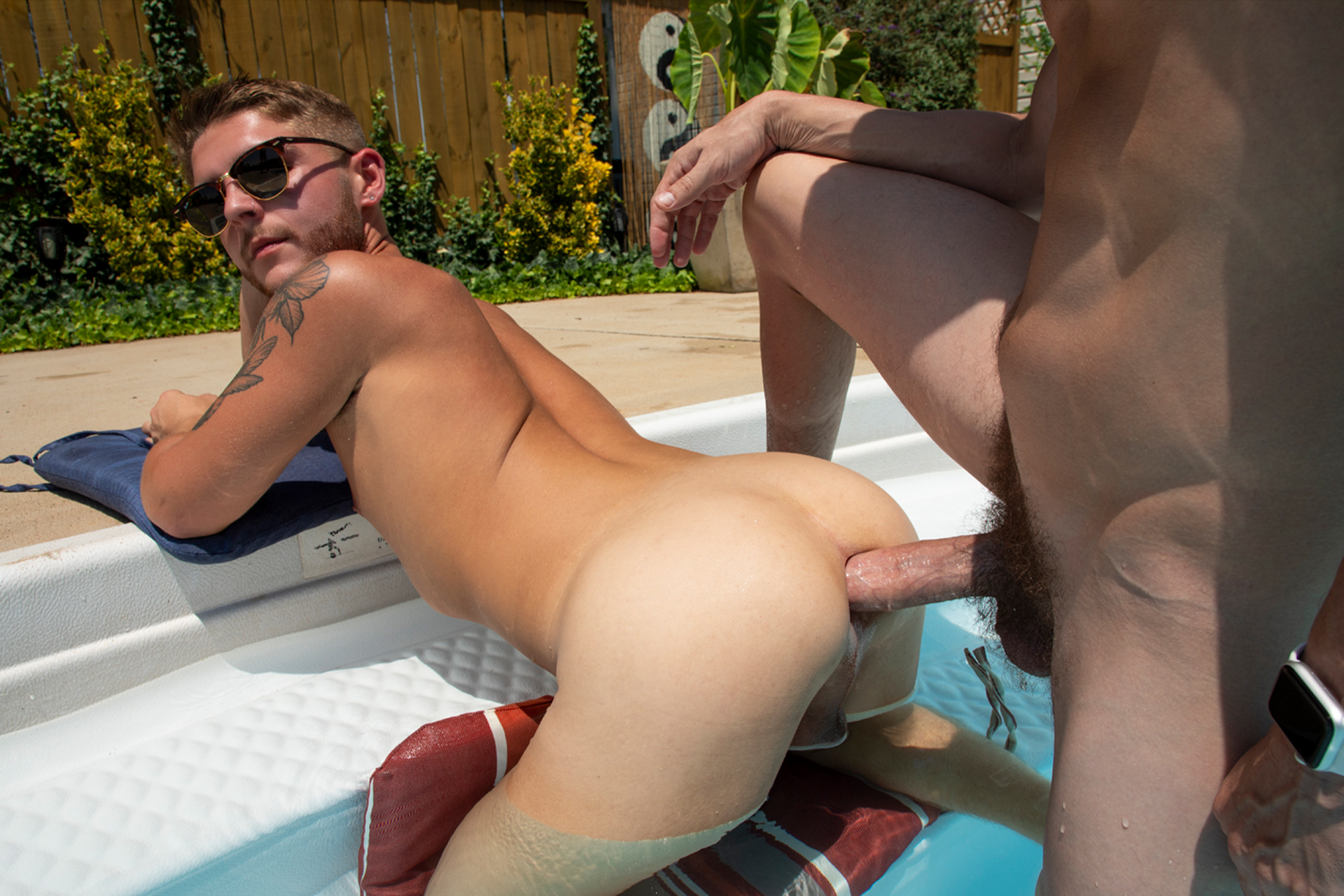 Description
Look at sexy Austin Hopes! The ColbyKnox "newcummer" strolls, ever so casually, into the compound's pool. He slowly splashes water on his naked body. On the opposite side of the pool, Colby Chambers is getting some sun. A towel covers his plump meat. With his sunglasses, Colby looks like a lifeguard taking a break from his duties. Austin wants to get Colby's attention. So he gets on the pool's steps. His sweet backside points in Colby's direction. Austin caresses a butt cheek. That does the trick. Colby pulls down his sunglasses, smiling at what Austin has to offer. He gives a sexy smirk and returns to the water. Anyone notice how bigger Austin's dick gets from Colby's gaze? :-) As for Colby, he pulls the towel to the side. He strokes his cock. "Are you ever going to get into the pool," Austin wonders. "I thought you would never ask," Colby replies. He gets off the lounge chair, sitting on the pool's edge. He and Austin kiss. Then Austin goes down on Colby. He utters approval when Austin swallows him whole. "Yeah," Colby whispers. "Suck my cock." Austin gets the tool wet. "Lick the head," Colby commands. He reaches for Austin's hole, playing with it as Austin continues his oral services. His tongue licks Colby's nuts. "Let me feel that throat," Colby says as Austin works his way to the base. "Gag yourself. So hot." The boys switch things up. Colby gets off the pool's edge and Austin takes his place. The only difference is Austin's rump faces the pool. Colby eats him out. He pulls the cheeks apart so his tongue can cover more ground. Austin grunts and moans. "Spit on it," he says. As he eats Austin out, Colby gives the butt some firm slaps. His fingers play with the puckered opening. "Tight hole," Colby whispers. He carries Austin to the pool's steps. Austin gets on his hands and knees. Colby's cock slowly splits Austin's buns. He arches his back to make room for the meat inside him. Colby starts the dicking slowly but the speed gradually increases. Austin turns his head so the two can kiss. "Your skin is so fucking warm," Colby observes. The fucking is up to the balls. "Fuck, yeah," Austin groans. His rod sticks straight out. The horny studs leave the pool for some shade. Austin loses his sunglasses and gets on his back. Colby takes his time re-entering that hole. "That tight, tanned, ass," Colby mutters. "So fucking hot." He leans down and makes a meal of Austin's nipple. Austin wraps his arms around Colby and is lifted up. Colby keeps fucking. "Bounce that ass up and down on my dick," he whispers. "Fuck," Austin answers. Colby puts him back down, nibbling on a nipple. For a second time Austin is lifted up, impaled on Colby's pulsating shaft. Austin returns to his back, jerking his meat. He blows first. The initial stream of man goo splatters on his face. The rest lands on his shoulder, chest, and stomach. Colby continues to slowly pound. When he nuts, he pulls out. "Fucking soak you," he exclaims. Colby's seed glazes Austin's stomach. After kissing, the cum-drenched hotties head back to the pool. "Welcum" to ColbyKnox, Austin!
Reviews
I like getting glimpses of Austin's hole as Colby rims him and would love more wet closeups showing tongue/hole. Quiet intensity as Austin is fucked and that works great compared to loud whining and moaning. Lighting was challenging with the bright background often underexposing the foreground but mostly looks good. I'm a big fan of the missionary position and found this to be a treat.
This kid with the hot little ass has to be a lightweight the way Colby picked him up and carried the twink around while continuing to fuck him! Colby fucked a jet stream of cum out of Austin that traveled in the air all the way to the top of his shoulder! Colby then shot big all over the twink's stomach! Austin's hot little ass was just made to take Colby's big cock! "Welcum" to ColbyKnox Austin, and please come back for more!
Join Colby Knox
Get unlimited access to Colby and Mickey's hottest scenes. New videos every week!
Sign In