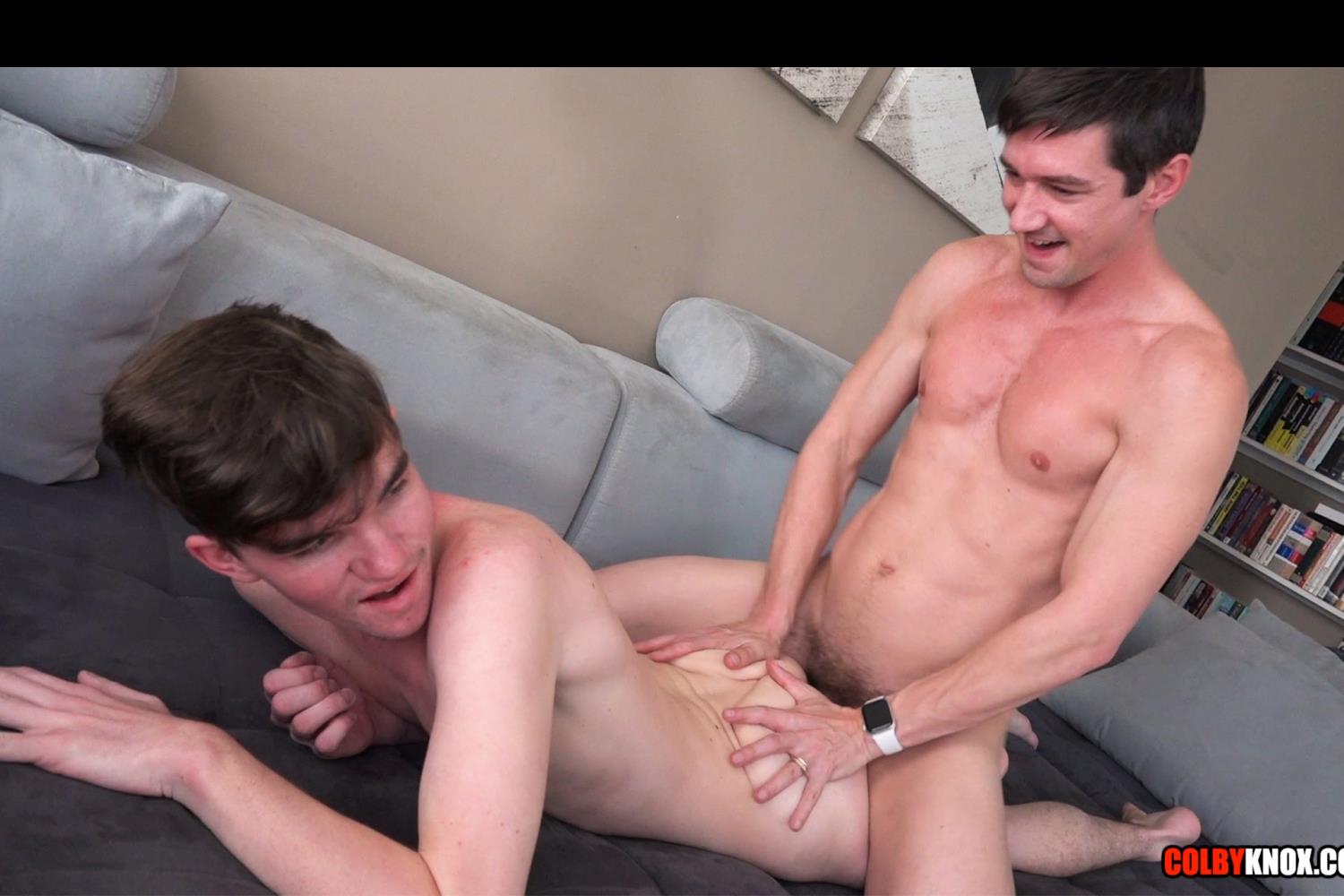 Description
Today we are very pleased to release a webcam video of Colby Chambers, Mickey Knox, and Levi Hatter. Levi is a frequent, and welcome, guest on the ColbyKnox sofa. He nibbles on Colby's perfect thigh as Mickey slobbers his man's tool. Levi decides it's time to pay attention to Colby's nuts. When Mickey comes up for air, Colby's hefty slab slaps Levi's face. "Got some weight to it," Mickey jokes. "First time I got slapped in the face by dick," Levi responds. He gets a chance to give Colby some oral love. Mickey stands up and Levi services the husbands. "Just prepayment for a massage," Levi notes. "Sucking dick does take all the spit out of you," he continues, downing some water. Levi has earned a massage. He jumps on the sofa, on his stomach, and Colby and Mickey rub oil on his skin. "So this is what heaven feels like," Levi sighs as his shoulders, back, booty, and thighs are rubbed and kneaded. Colby's cock has stood at attention this entire time. He puts some spit in Levi's hole, teasing him with the tip. "I think Colby is trying to massage something else," Levi observes. "I love watching the head," Mickey says off screen. "When you push it in and it separates his cheeks." Colby is methodical and slow, refusing to give Levi the full force. "Trying to make him beg for it," Colby explains to the audience. Mickey returns to the action. He kneels in front of Levi so Levi's second opening can get filled. Mickey leans down, jiggling Levi's buns. "Oh, my God," Colby observes. "That feels so fucking good." Colby is an amazing top but there's only so much teasing he can take. He slowly puts all of his raw dong inside of Levi. "Can you hand over the lube," Levi whispers to Mickey. "I always forget how thick you are," he says to Colby. He puts lube on his bloated head and Levi's hole. We get a shot of Levi. His eyes wide open, holding on with all his might. "God. Your cock is so big," he moans. The husbands switch places. Mickey lubes up, forcing his johnson into Levi. Mickey's strokes are slow and to the balls. "You feel so fucking good," he moans. The pounding picks up speed. Colby returns to the sofa, behind his man. Like he did with Levi, Colby plays with Mickey's hole. Eventually we get a "Mickey sandwich." His prong inside of Levi. Colby's inside Mickey. "Goddamn," Mickey says through clenched teeth. "That fucking cock in my ass." "Fuck me," Levi sobs. Mickey pulls out to command the camera. As for Colby, he returns where it began: Levi's booty. "How does that fat cock feel inside of you," Mickey wonders. "Fuck. It's so big," Levi breathlessly replies. "God. I want to feel you cum deep in me," Levi murmurs. That's all the encouragement Colby needs. "Fucking breed me," Levi demands. Colby dumps a load inside of his guest. When he pulls out, Colby's dick is shiny with man juice. Now Mickey and Levi need to bust. Mickey sits down and Levi sits on Mickey's rod. "Cum is the best lube," Levi observes. He can only go up and down for a few seconds. "I'm a whole lot more sore than I thought I was," Levi says. "It's what I get for waiting a month." "Colby broke him," Mickey jokes. "Dick's too big." "Colby always breaks my ass but in a good way," Levi says. He's on his hands and knees, his cum filled hole faces the camera. Mickey jerks his organ, staring at Levi's ass. Mickey's juice lands on the top of Levi's backside and cheeks. "There is so much cum on your butt right now," Mickey says, making sure the viewers get to see that glazed cake.
Reviews
What a three way! Great foreplay as the boys prep Levi for his big upcoming deep tissue massage! Colby, sticking just the head of his cock into Levi, wanted Levi to beg for his own fucking! At 21 years old, 5'8", 115 lbs., Levi has the perfect hot twink butt for fucking! And did he ever get it from both Colby and Mickey, separately, not a DP, as Levi's hot little ass was just too small for both big dicks at the same time! Colby and Mickey's massage of Levi was a dream come true, definitely for Levi and for Colby and Mickey as well!
First of all love all three guys. I love Levi's arm pits and his hot little ass. I would like to see some one lick those pits of Levi and maybe even dick fuck them. My favorite is the close up of Levi being fucked as the closeup allows us to see that great hair ring on Colby's nipples. All three men have great cocks and great asses but my favorite line is "breed me" so hot.
Join Colby Knox
Get unlimited access to Colby and Mickey's hottest scenes. New videos every week!
Sign In