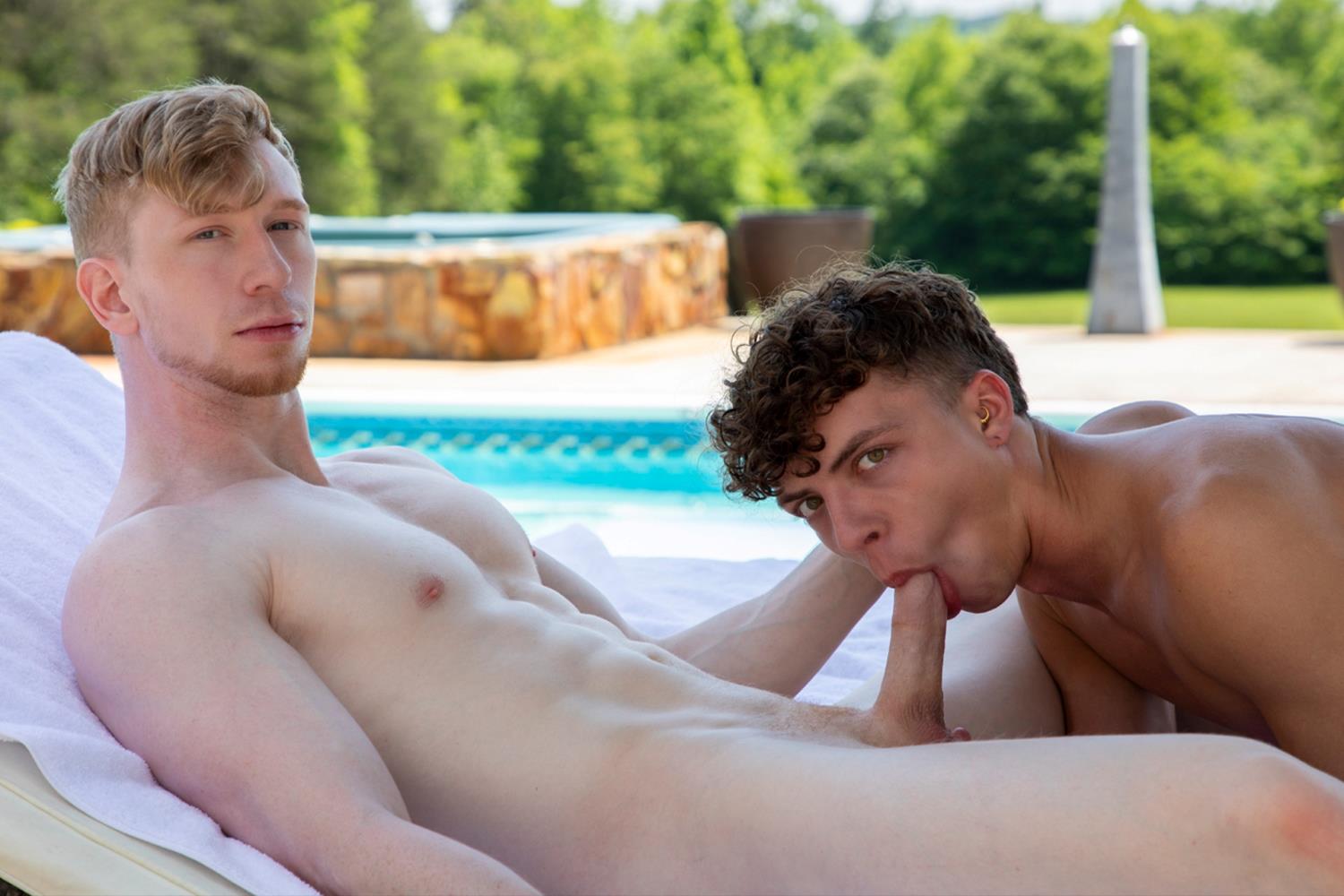 Description
The ColbyKnox pool. Jesse Stone, naked, on his back. Jack Valor, sans clothes, laying on his stomach. This week's update begins just right. Jesse offers Jack a compliment. "Your body has been looking amazing lately," Jesse says. "Thank you," Jack replies. I've been working out a lot." Jesse is also impressed with Jack's tan. "I got really tan when I was over in Europe," Jack explains. As they talk about the day, Jesse strokes his wood and nipples. Jack keeps his eyes on what Jesse has to offer. Who can blame him? :-) Jesse places a hand on that tan rump. Jack doesn't resist. He leans over, stroking Jesse's johnson. He's naturally transfixed by Jack's booty, sliding over to work magic on Jack's hole. The first licks hit the spot. "Fuck. That feels good," Jack whispers. He gets on his hands and knees. Jesse alternates between smacking a butt cheek and licking. He eventually leans back, offering Jack a chance to swallow his meat. Jack looks up at Jesse as he gets that tool wet. Drool drips from Jack's mouth. Jack gets on his side. Look how hard his rod is. Jesse cradles Jack, working his dick inside. Once in, Jesse goes with slow strokes. He picks up the speed. "Fuck me," Jack begs. Jesse pounds to the balls. He slows down so he and Jack can kiss. Jack gets on his back. His tanned, and toned, legs spread aside. The camera gives a perfect view of his hole before Jack gets back in. He keeps up with the deep dicking. Jack onto the edge of the chaise lounge as he beats his meat. Jesse is a man on a mission. He wants Jack to remember this fuck session. Each and every stroke. He pulls out so Jack can get on his hands and knees. Jesse resumes the vigorous fucking, grabbing Jack's hips and stuffing his insides. "You're stretching," Jesse notes. Jack is such a trooper. He takes each stroke as given. "You're using that tight little ass," Jesse asks. "Oh, fuck it, sir," Jack replies. Jesse works up a sweat. As for Jack, he knows the score. Make sure Jesse gets off. He deposits a load of cum directly inside Jack. When he pulls out he uses some the extra juice to coat Jack's puffy ass ring. The camera gets a perfect shot of man milk dripping out of Jack.
Reviews
I like Jesse Stone. Thanks for keep on bringing him back. Please post more of him with you guys.
Both naked side by side in a pool setting, buffed up Jack with his all over Summer tan was the perfect bottom for Jesse's big cock! As meant to be, in went Jesse's boner into Jack's hot little ass!
Join Colby Knox
Get unlimited access to Colby and Mickey's hottest scenes. New videos every week!
Sign In