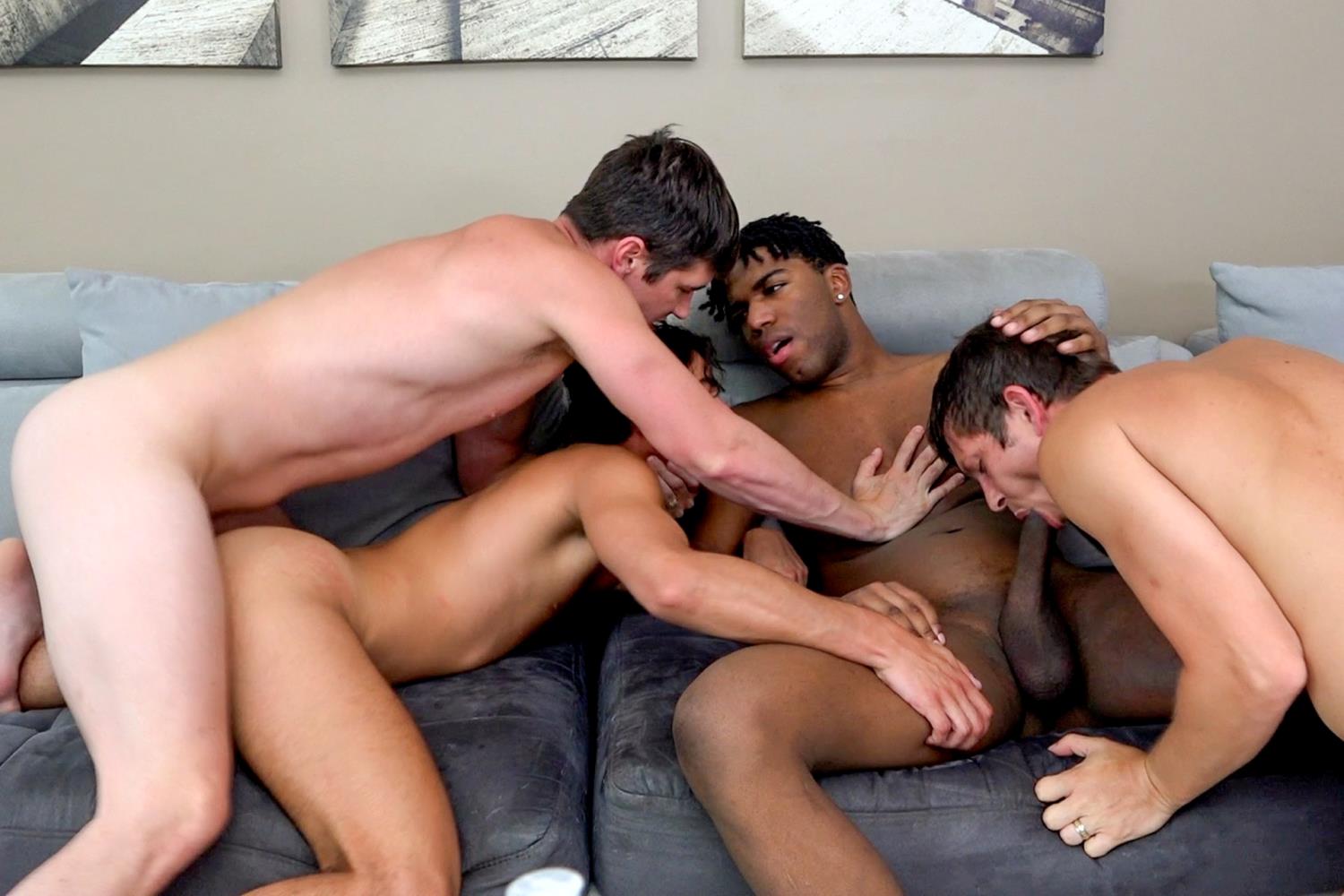 Description
This ColbyKnox webcam show begins with some serious butt sex. Kylan Kain on the couch, in red underwear, riding Colby Chambers. Bare. Next to him is hubby Mickey Knox, on his knees, getting serviced by Gabe Bradshaw. Mickey and Kylan lean into each other, ardently kissing. Gabe gets off his knees to sit on Mickey's raw meat. Kylan gets off Colby. "He says it was time to add lube," Colby says to the audience. As Kylan is off camera, lubing up, Gabe rides Mickey. He faces the camera as his perky cheeks are parted. Kylan returns, mirroring Gabe's position. "I'm loving the symmetry of our show, tonight," Colby jokes. Gabe and Kylan ride those ColbyKnox dicks. Colby and Mickey lean in and kiss. Gabe and Kylan follow suit. The husbands decide to change partners. Gabe gets on his hands and knees; Colby mounts him. Kylan rides Mickey. Colby whispers filth to Gabe, fucking to the balls. "Fuck my pussy" Gabe begs. Mickey decides to give Kylan's cock some oral love. Colby forces Gabe to take on Kylan's rod too. Next we see just Colby and Gabe on the couch. Colby remains deep inside Gabe. This time, however, Gabe is impaled on Colby's cock, with Colby's hands gripping Gabe's ass. Kylan returns to the couch. "Do you want to take him," Colby wonders. Kylan smiles, stroking his impressive slab of beef. Gabe is transferred to Kylan. Colby stands up, feeding Kylan some dick. "You guys both want to bend over for me," Colby asks. Their smiles answer the question, pointing their pink rosebuds in the camera's direction. "You guys ready to see what a lucky boy I am," Colby says to the audience. Kylan is fucked first. Then Gabe. "Plow that fucking hole," he demands. Colby returns to Kylan. When Mickey comes back to the couch, Colby is plowing Gabe. "Hey," Colby says to his husband. "These are both mine." Can you blame him for being greedy? :-) "You can't just take everything," Mickey replies. "I had to get you out of the way to keep them both satisfied," Colby jokes. Mickey eats Kylan out as Gabe demands his pussy be fucked. "You got me dripping," Gabe observes to Colby. Soon enough the house guests are getting plowed. "I'm so open, Daddy," Gabe says. We see lube leaking out of those sweet asses. Mickey decides he wants some dick in his mouth so he blows Kylan again. His ass proves too irresistible so Mickey places him on his back and pounds away. Colby makes Gabe scream to the gods, rearranging the bottom boy's insides. The husbands switch again. Kylan is on his hands and knees. Colby is behind him, pumping that plump booty. Mickey has Gabe on one knee, working his tool into his hot hole. "You're so fucking deep," Kylan whispers. "Keep fucking me." Colby and Mickey are deep drilling their house guests. Gabe wants to give Mickey the same feeling. So Mickey lubes up his ass, getting on his hands and knees. Gabe, whose pole has been hard this entire scene, plunges inside of Mickey's backside. "Fuck. That hole is so tight," Gabe observes. Mickey and Kylan make out as they are pounded. Gabe proves the maxim that a good bottom makes a better top. He is ravaging Mickey's hole, making him bite a couch cushion. As for Kylan, he tells Colby exactly what he wants. "Fucking pound my hole, Colby," Kylan groans. "Give it to me." Mickey is riding Gabe. "That hole feels so fucking good," Gabe says, pounding up. Poor Colby can't take it it any longer. He dumps juice inside of Kylan. He then pulls out, leaving more on Kylan's booty cheeks and hole. Kylan shows his ass to the camera and it's glazed with man goo. Mickey gets on his back and Gabe reenters. "Use my fucking tight ass," Mickey groans. Gabe does, pulling out to douse Mickey and the couch. The scene closes with Mickey in between Gabe and Kylan. They feel him up, playing with his ass as he beats his meat. He must have been holding in a load because the first stream lands on the top of his chest. "That's so fucking hot," Kylan observes. Gabe agrees. "Baby. I sprayed all over," Mickey explains to Colby (off camera). He did. Hope you all do the same!
Reviews
The central theme of this hot scene was Colby and Mickey using young Gabe and Kaylan as pass around bottoms! There were two exceptions however: First Kylan topping Gabe in the all twink fuck, and second Gabe topping Mickey in the twink tops a husband fuck! What a great four way fuck fest!
i have seen the great ones (Colby and Mikey), so fucking hot, have sex. And I have seen Kylan and Gabe fuck each other, but to see them all together was amazing. There are times when we know exactly what we want and times we like to explore. This was an episode when we saw men explore both. HOT AS HELL!
Join Colby Knox
Get unlimited access to Colby and Mickey's hottest scenes. New videos every week!
Sign In