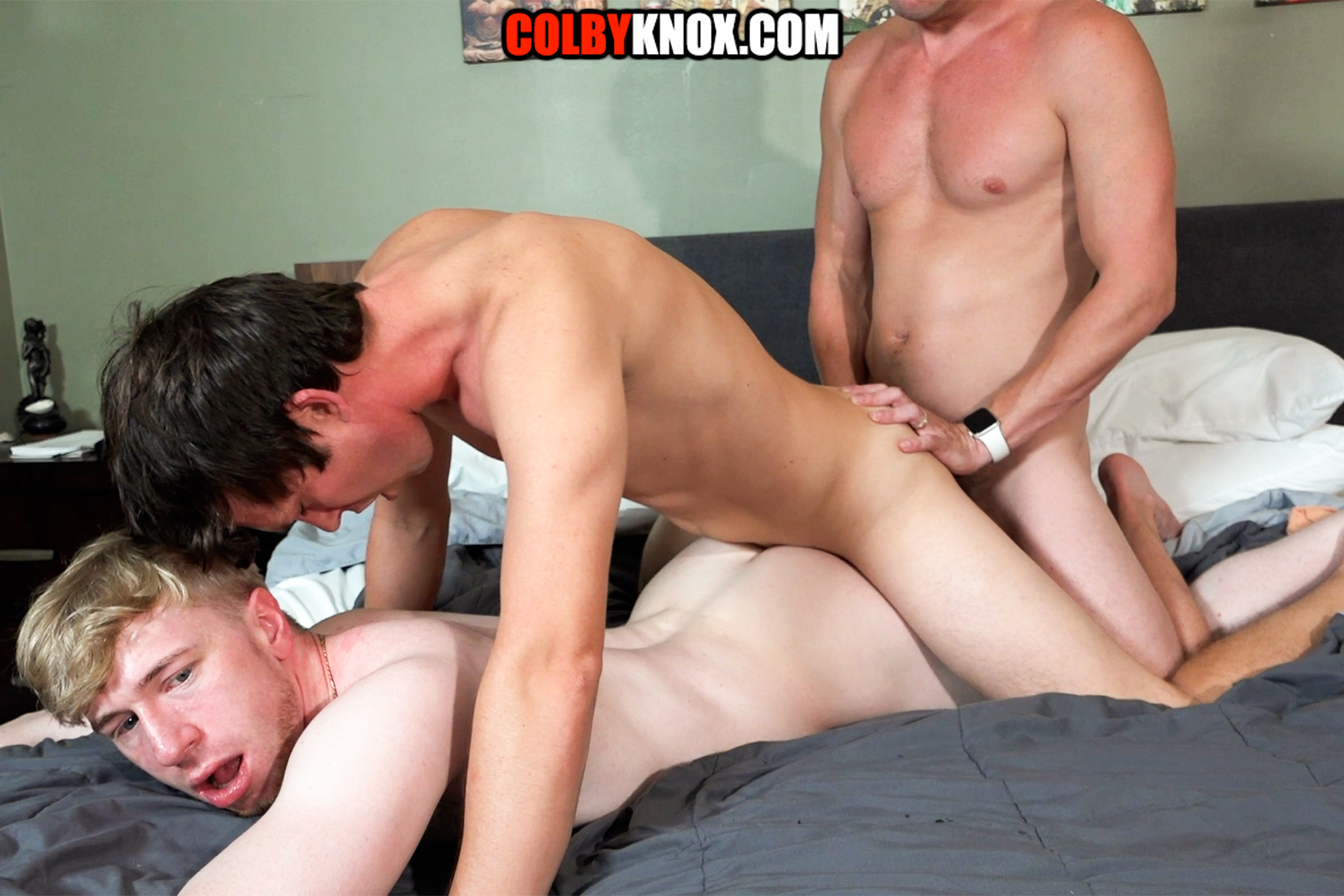 Description
This ColbyKnox webcam video gets going with Mickey Knox sucking Jesse Stone's rod. Mickey's man, Colby Chambers, fondles Jesse's bicep. "Yeah. It's as hard as it looks," Colby jokes with the audience. "I like to think how much he can squat when I'm fucking him." Jesse laughs but his attention returns to Mickey's warm mouth. The audience wants Colby to sit on Mickey's face. He slowly tongues his man's hole. Jesse gives Colby's cock oral love. After placing a kiss on Colby's lips, Jesse opens up for Mickey's meat. He eats his man's booty like it's Sunday dinner. After a long church service. :-) Viewers want Colby to be worshipped. How can he argue against public sentiment? "I'm just a cog," he quips. "A sexy machine." He gets on his knees. Jesse takes the dick. Mickey a nipple. Jesse pulls up so he and Colby can make out. He reaches for the backsides of both of his "worshippers," smacking ass meat. Mickey's eyes are on Jesse's booty but Colby wants the first ride. "You were just trying to make a move," Colby explains to his man. "And I saw it. And I intercepted." Jesse gets on his stomach, giving Mickey an opportunity to gobble those sweet cheeks. He spits on Jesse's hole. Then he mixes a few drops of lube with his saliva; Jesse instantly moans the moment Colby's bare rod enters him. Colby is slow at first, letting Jesse get used to his girth. Mickey watches the show, beating his tool. "That's so fucking hot," he moans. Soon Colby picks up speed, making Jesse moan even more. "You needed some cock, didn't you," Colby whispers in Jesse's ear. Mickey returns to eating Colby out. Mickey waits patiently to get some of Jesse's tail. He enters Jesse but it's a little tight. "Let me spread it for you," Jesse suggests, reaching back to spread his cheeks. Mickey's raw meat fills Jesse to the brim. Colby gets some more time with Jesse. This time he's not that gentle. "Flex those muscles," he commands, grabbing Jesse's biceps. He gets on his hands and knees, offering a wonderful view of his pink hole. Colby refills it with dick. "It feels so good," Jesse whispers. As for Mickey, he alternates between fondling Colby and Jesse's nuts. Colby, a dutiful husband, gives his man another go at Jesse's ass. The house guest's holes are filled with ColbyKnox dicks. Mickey takes care of Jesse's tush. And Colby forcing his tool down Jesse's throat. "My husband's cock feels good," Colby wonders, giving Jesse a chance to answer. "Yeah. It does" he groans. "Fucking you good," Mickey asks. Jesse sobs in approval as he sucks on Colby's fingers. Mickey is a beast, fucking to the balls. Colby removes his finger from Jesse's mouth, replacing it with his johnson. "Holy, fucking, shit," Mickey blurts out. "This feels amazing." He can't get enough of those mounds of butt. Who can blame him :-) However, he knows his boo wants to pound Jesse again. Jesse jiggles his cheeks as Colby puts more lube on his schlong. "Shake those cheeks on that dick," he orders as he gets back inside. The pounding gets faster. Jesse's yelps louder. "Fucking use that ass," he begs. Colby does. With a creampie. Jesse shows viewers his cum covered hole. Man juice drips out of it. Mickey lubes up and re-enters Jesse, pushing Colby's cum farther inside. At first Mickey takes his time but the cake is too irresistible. "I love it so much," Jesse whimpers. "Fucking use me." Mickey pulls out, shooting a load that lands on the sheets and Jesse's back. "There is so much cum all over you," Mickey explains before he and Jesse lock lips.
Reviews
This session is pure class ur all very hot
Join Colby Knox
Get unlimited access to Colby and Mickey's hottest scenes. New videos every week!
Sign In