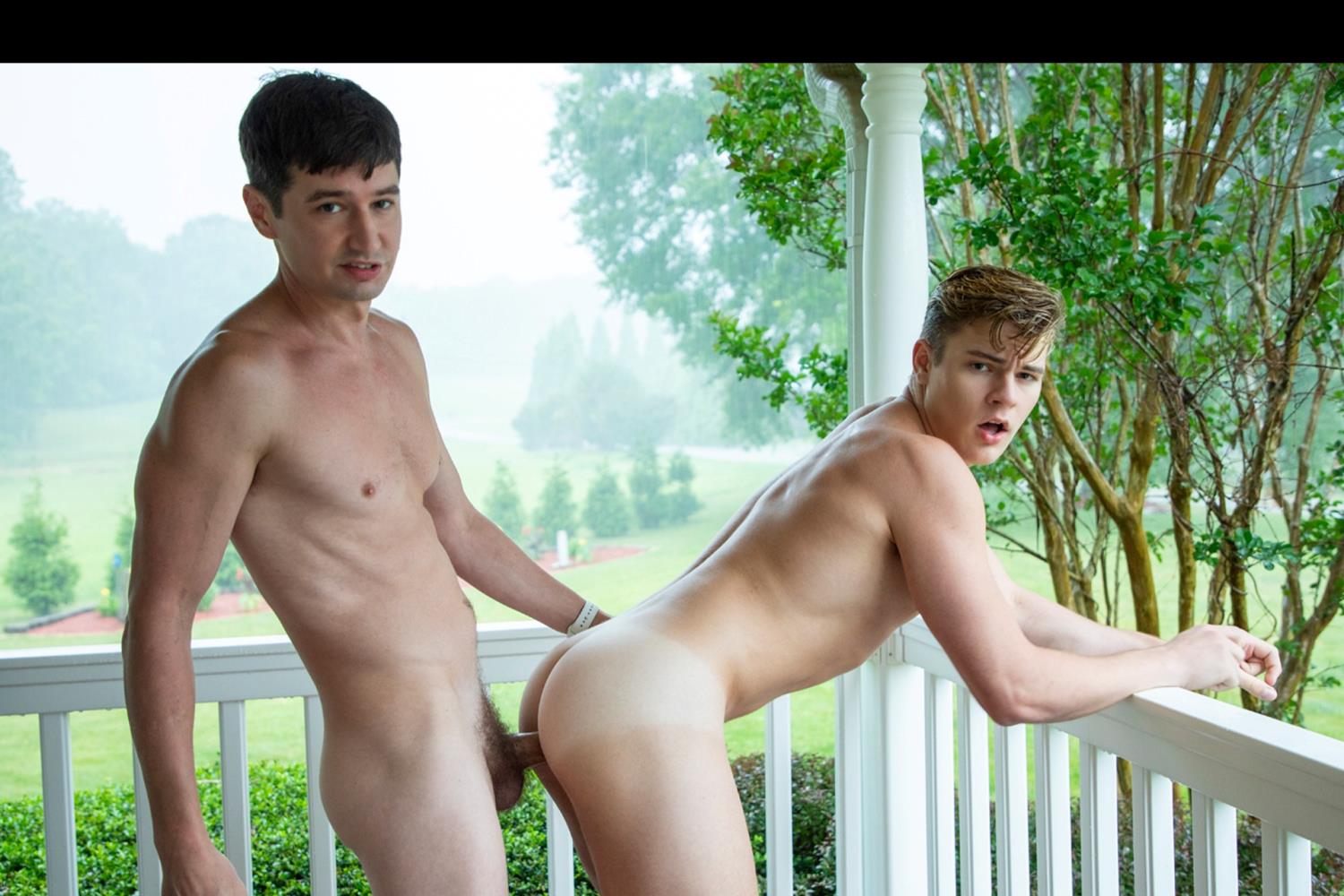 Description
ColbyKnox "newcummer" Oliver Marks is entranced by the rain, leaning on a porch rail. The falling water soaks the compound's yard. The sound of thunder mixes with the patter of rain on trees and shrubs. As the camera pulls away from the cutie's face, we hear slurping. Looks like Oliver's hole is wetter than the grass. Colby Chambers is on his knees, licking Oliver's hole. "So hot," Colby whispers. He pulls Oliver's shorts all the way down. Thunder can't cover Oliver's moaning. Colby licks Oliver's tool and gives those butt cheeks a few playful smacks. "Spread those cheeks for me," Colby commands. "Get in there," Oliver moans. Colby stands up, placing romantic kisses on Oliver's lips. He gets on his knees, kissing his way to Colby's crotch. His cock swings in front of Oliver's face when his shorts are removed. Immediately he swallows Colby's tool. Oliver spits on it, using both hands on the shaft. Colby face fucks him. "Your cock is so big," Oliver mutters. He licks Colby's nuts. He leans over to finger Oliver's hole. Spit and precum make Oliver's lips shiny. He stands up, leaning on the porch rail again. He arches his back and Colby works inside Oliver's tight hole. "Fuck me," Oliver begs. "Oh, my God. Your cock is so big." "Give me that ass," Colby commands. He fucks hard and deep, grabbing Oliver's throat to make sure he stays where Colby wants. He puts a foot on the railing to gain more leverage. The camera gives a great view of his rod smashing into Oliver's hole. They stop to make out. Colby heads over to a chair. Oliver follows, taking a seat on Colby's meat. Oliver goes up and down. "Oh, God," he cries. "You're so deep." Colby grabs both butt cheeks, making sure Oliver feels all of him. "Ride my dick," Colby orders. "Fuck me fucking good," Oliver mumbles. Colby thrusts up, toward the rain. "Pound that fucking ass," Oliver moans. The studs switch positions. Oliver on his back, knees drawn to his chest. Colby reenters the succulent hole. Oliver's eyes widen from the shock but he handles the intrusion. He strokes his dick as Colby fucks to the balls. "Spit on my fucking cock," Oliver whispers. "I want to come so bad." "Come for me," Colby instructs. Oliver does. A juicy explosion, glazing his stomach. After kissing Colby, Oliver goes back to the porch rail. Colby gets back inside that tight hole. "Drain my nuts inside," Colby promises. As cum drips off Oliver's stomach and dick, Colby fucks. "Fucking use my hole," Oliver pleads. "Fucking come for me." Colby shoots man juice inside Oliver, making sure it stays inside his canal. The tired studs make out. "Told you it would be better than fucking in the bedroom," Colby jokes between kisses. Who can disagree? "Welcum" to ColbyKnox, Oliver!
Reviews
I'm usually frustrated with lighting in outdoor scenes, but the natural glow on a rainy day gives this a lustrous and romantic look. I wouldn't change a thing. Amusing opener with the closeup of Oliver gazing off in the distance, only to pull back and find his ass being eaten. Oliver will be a porn superstar [and of course Colby already is].
The best find you've had in a while. We need to see way more of him. Colby is, as always, hot as fuck. He may have a laundry list of other talents, but he's a got a doctorate in great fucking. 6 stars out of a limited 5!
Oliver Marks is a 20 year old, 5'11", 185 lbs. college boy, who teamed up with his boyfriend Carter Collins to be the Southwest College Boys website. Today, Colby takes Oliver out to the porch during a thunderstorm and pounds that hot college boy butt royally fucking a big load out of Oliver, and then breeding Oliver with Colby's own big load of cum well deposited inside the hot college boy butt! Very hot outdoor thunderstorm fuck!
Honestly one of the best sites out there. So over "fake sex" with little intimacy passion and emotion. The biggest turn on for me is when you really feel the guys are into each other. The kissing, the passion, sex should be more than a quick, meaningless pump and dump and Colby Knox never disappoints. Always feel real and genuine. It's the authenticity and passion between the actors on this site that keeps me coming back. Truly the best. Great work guys.
Join Colby Knox
Get unlimited access to Colby and Mickey's hottest scenes. New videos every week!
Sign In