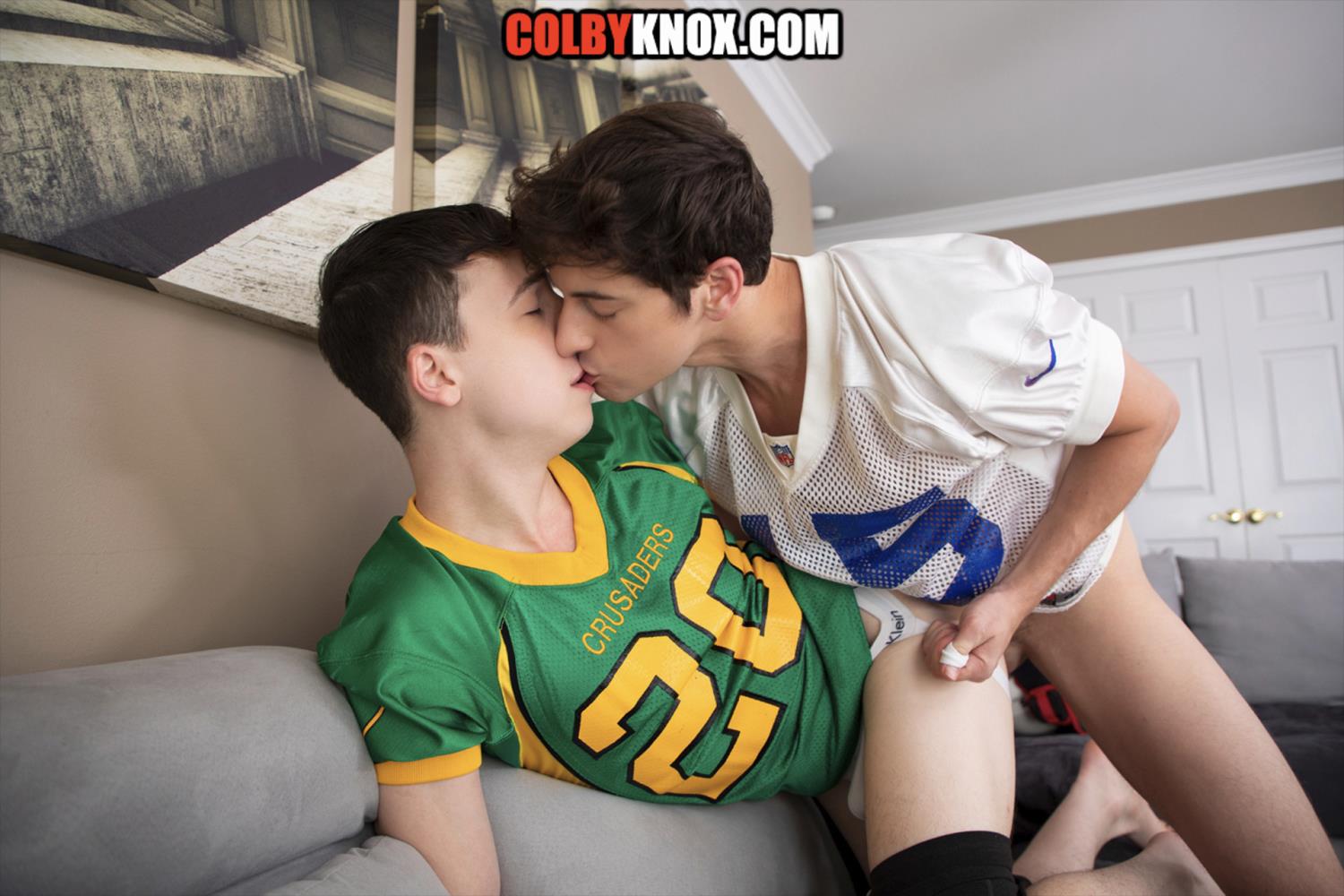 Description
It's hard to believe Taylor Reign and Troye Jacobs have not done a ColbyKnox scene together. Today we correct that by putting the two studs in football jerseys, on the studio's sofa. They begin with sensual kissing. Who knew football players were so romantic? :-) Taylor pulls down Troye's shorts to cop a feel of some sweet cake. Troye frees Taylor's tool from its confines. It stands at attention. After looking at it, Troye gives the meat oral love. He gets on his hands and knees, attempting to swallow to the balls. Gags before he reaches them, but Taylor appreciates the effort. Troye pulls his shorts down some more, offering a perfect view of his juicy backside. "That's right," Taylor says. "Show that ass off." He gently face fucks Troye. "It tastes so good," Troye whispers, coming up for air. "You like fucking my face," he wonders. Taylor answers in the affirmative. He also would like to fuck Troye. Taylor makes Troye turn around. "Look at that fucking perfect hole," Taylor whispers. "Play with it," Troye begs. Taylor puts his tongue to work. "Eat that hole, baby," Troye demands. Taylor's spit gets the hole slick. "Get it nice and wet," Troye moans. All that butt eating leads to the next course. "You ready for it," Taylor wonders. Troye answers in the affirmative. "Show it off for me," Taylor demands. Troye shakes his butt, giving Taylor a perfect landing strip. "I want your dick so bad," Troye says. When Taylor puts the bloated head in, Troye bites his lip. His hole is stretched out. "Oh, my God," he cries. "That dick feels so good." "Is this what you wanted," Taylor wonders. "It's what I wanted," Troye replies. Taylor grabs those butt cheeks and slowly pounds. He even lets Troye back up on that dick. But, mostly, Taylor is in control. Giving it to the balls. Making Troye bawl. "Plug that hole, please," Troye pleads. "It's what you wanted," Taylor reminds. He wants Troye to ride him but doesn't want to pull out. Eventually, they change positions. Troye faces Taylor and sits on Taylor's rod. Troye's moans are so sexy. "You feel so fucking good, baby," he whimpers. "Use my hole." Taylor pounds up, making sure his bottom feels each inch. Troye feels good because his cock points to the ceiling. Taylor's fingers spread Troye's hole out a little further. He picks Troye up and puts him on his back. After getting Troye's hole wet, Taylor works his way back in. "Fuck. That ass is so perfect," Taylor notes. The fucking is steady and deep. Troye can only handle so much before he pops a juicy load all over his chest. Taylor is next. He pulls out and dumps cum on Troye's face and tongue. The scene closes where it began. Tender kisses. Hope you enjoyed it!
Reviews
I liked how Taylor displayed Troye's pretty hole for the camera. So often rimming is blocked from view, leaving us to wonder if any analingus is actually going on. I liked how clothing was gradually removed during the encounter.
What a great idea to dress Taylor and Troye in opposing team football jerseys and then have then get it on culminating in Taylor fucking the cum out of Troye and then Taylor shooting his load into Troye's open mouth. This fantastic fuck was so much better than Taylor walking up to Troye at the end of their football game and giving him a pat on the butt!
Other than Colby and Micky, Taylor is the hottest guy when it comes to onscreen sex. You can tell he loves sex! I want to see a 4way with Taylor, Calvin, Micky and Colby where everyone tops and everyone bottoms!!!
Join Colby Knox
Get unlimited access to Colby and Mickey's hottest scenes. New videos every week!
Sign In