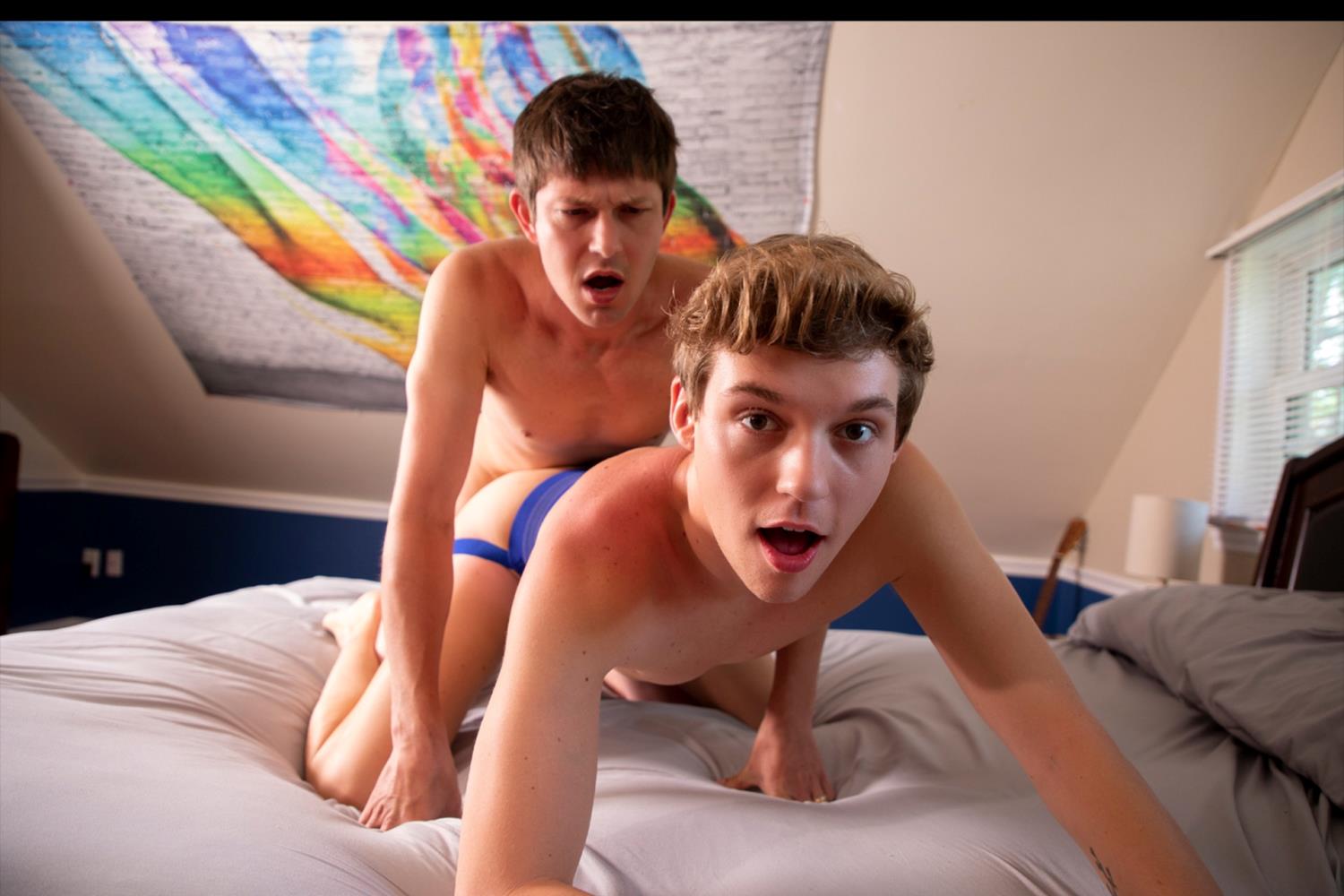 Description
Look at Jack Bailey. Headphones on. Grooving to music. On a bed. In a jockstrap. Oblivious to how his quivering ass might impact residents of the ColbyKnox compound. Mickey Knox sticks his head in the door and is transfixed. Can you blame him? :-) He pulls out his dick, which is already sticking out. After sneaking up to the bed, Mickey takes a taste of Jack's hole. At first, Jack is surprised. However, he relaxes because his backside receives expert oral treatment. "Fuck. That feels so good," Jack moans. Mickey licks, giving each butt cheek a playful slap. "So hot," he observes. "Eat that fucking ass," Jack whispers. Mickey enjoys making a roommate happy. He even plays with Jack's jockstrap. All that booty tasting leads to dessert. "You want my cock," Mickey wonders. "Oh, yes," Jack replies. Mickey stands up, pointing his greased meat to Jack's puckered hole. Once in, Mickey deeply drills down. "Take that fucking cock," he orders. "Yes, sir," Jack whispers. Mickey grabs the strap for leverage, pounding to the balls. "Nice and slow," he says. "I want to feel every inch of you." Jack's eyes flutter when his spot is smashed. "Yes, sir," he whimpers. "Pound that ass." He gets on his side. "Stick it back in," he pleads. Mickey resumes fucking. He and Jack kiss. "I love popping the strap so much," Mickey notes. The camera focuses on Mickey's tool slowly going in, and out, of Jack's hole. "Open my ass up, sir," he begs. Mickey can't gaze enough at his shaft going inside Jack's tender booty. He lifts up a leg to give Mickey all the access required. "I want to ride that dick," Jack insists. After removing his jockstrap he gets on Mickey's rod, facing the camera. Mickey pounds up. "That is so fucking good," Jack moans. He takes control for a bit, taking Mickey's shaft for a spin. "Ride that cock," Mickey instructs. He grabs both of Jack's cheeks, shaking them to his delight. Jack's too. :-) All this time he's been beating his meat. His load shoots out, landing on his hand and balls. "You came so much," Mickey observes. "I want you to come," Jack says. He gets on his stomach and Mickey resumes the fucking. Mickey slams inside of Jack, placing a hand between Jack's shoulder blades. He pulls out, dumping a messy reward all over Jack's back. Mickey eventually gets back inside Jack, nibbling his ear. "You're the best roommate ever," Jack exclaims. "No. You are," Mickey counters. Both are right!
Reviews
Super hot - Jack Bailey is always great - his Gang Bang video is really wonderful also
Mickey peeks in to see twink Jack on his stomach wearing only a jock strap wiggling his hot twink ass to the music to which he is listening! Mickey cannot resist such a temptation, walks into the bedroom and rims and then fucks Jack's hot twink ass! Very hot scene!
Join Colby Knox
Get unlimited access to Colby and Mickey's hottest scenes. New videos every week!
Sign In