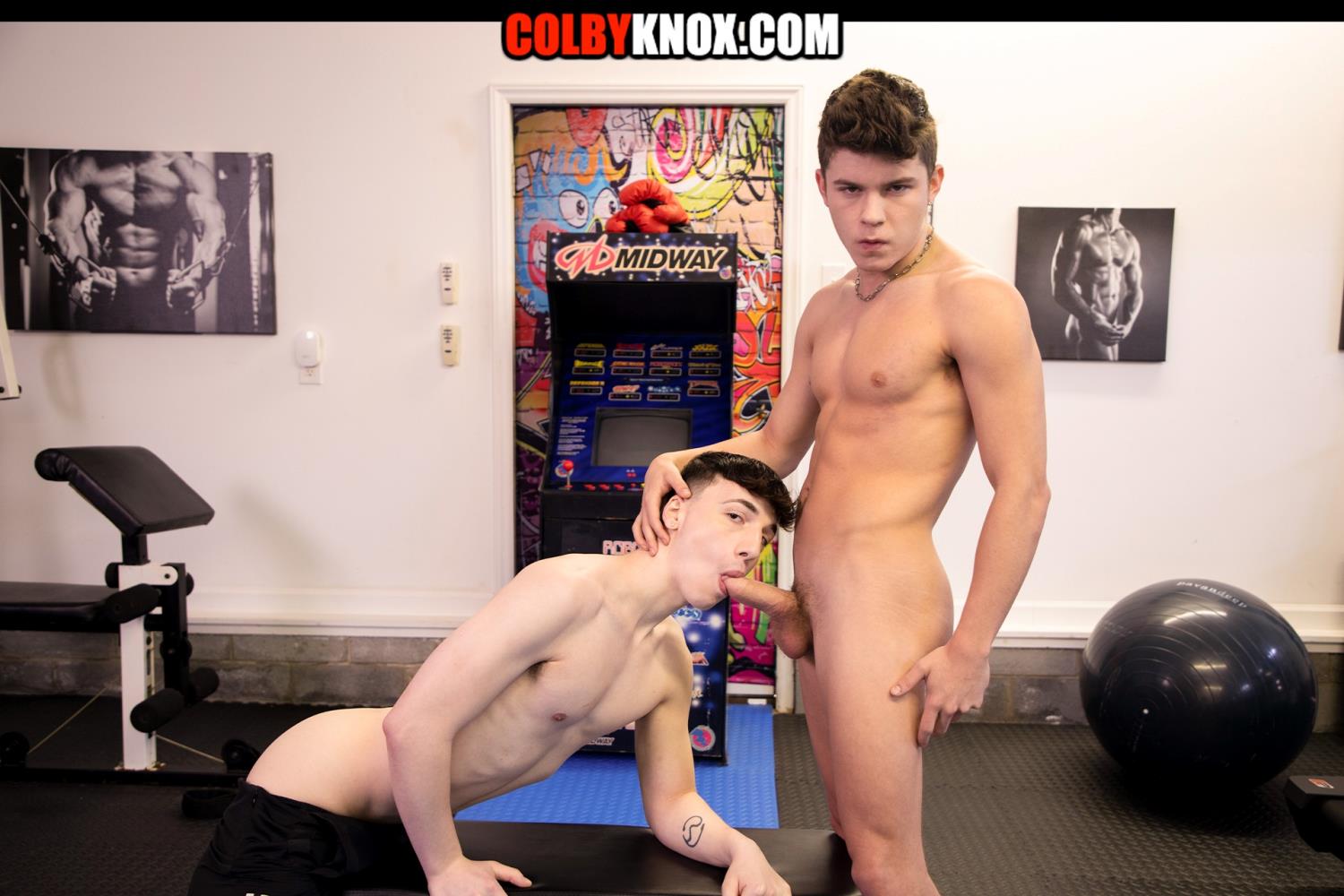 Description
In this week's ColbyKnox video, Mickey Knox gets to watch a special show. He walks to the compound's gym. When he gets to the door he sees, through a window, Drake Von and Troye Jacobs going at it. Instead of interrupting their sex session, Mickey enjoys the show. Troye is on a bench, shorts pulled past his rump, sucking Drake's dong. He's naked, standing up. "Feast on that cock," Drake orders before face fucking Troye. "Your mouth is so fucking warm." Troye gags and gurgles as he tries to swallow everything he can. "Suck that cock like it's a fucking popsicle on a summer day," Drake demands. "You're so dirty." "Fuck," Troye replies. "I love that big dick." He wants his ass eaten and Drake obliges by placing himself behind Troye. "Oh, yeah," he whispers. "Lick that hole. Your tongue feels so fucking good on my hole." Drake loves what he's munching on. "Tastes like a pumpkin pie," he observes. Troye wants his "pie" stuffed. "Get that ass nice and wet for your dick," he moans. "I'll use my spit as lube," Drake explains. He nibbles on Troye's butt cheeks, fingering the slick hole. Troye needs something bigger than a finger. "I want that dick," he says. Drake stands up and works his hefty, and bare, hammer inside. Troye grips the bench, getting used to Drake's size. As for Drake, he puts his hands on Troye's lower back and pummels away. Troye's eyes roll back when a stroke hits his special spot. "It's so fucking big," he whimpers. He wants to ride the meat stick. The hotties move to another bench. Drake gets on his back and Troye straddles him. Once back inside, Drake resumes the pounding. "Fuck that hole," Troye begs. His tool slaps against Drake's stomach. "Fucking that tight hole," Drake notes. The pair move to the treadmill. Troye gets on his back, spreading his sexy legs so Drake can have all the access he needs. He reenters and fucks to the balls. "You dirty boy," Drake says. "Fuck, yeah," Troye replies. "I want to stretch your fucking hole." Drake observes. There's only so much hammering Troye can take. He busts a succulent nut on his chest and stomach. "You made me come so much," Troye says. "Look at all that cum," Drake observes. He didn't miss a stroke as Troye nutted. He spreads Troye's man juice all over his bottom boy's stomach. "Want to come on my ass," Troye wonders. Drake likes the idea so Troye gets on all fours as Drake dumps a load all over Troye's booty. The cum coats Troye's hole; some of it dripping to the balls. Drake uses his bloated head to paint Troye's cake with cum. After giving one of Troye's butt cheeks a smack, Drake leans in for a kiss. "So hot," Troye observes after the smooch. Wonder if Mickey eventually joined in?! :-)
Reviews
Mickey watches what happens when hot twink top Drake works out with hot twink bottom Troye! As expected, hot top Drake gives hot bottom Troye a fucking he will never forget, shooting his huge load on and all around Troye's asshole! Very hot scene!
These two young studs know how to have a good time sucking and fucking but Drake needs to be in a 3 way with Colby as a top. Drake could learn a few tips about passionate sex and that ass needs to be tapped!
This session we watch through Mikey's eyes as he spies two playful twinks fucking in his gym. The passion is great especially as Drake rims Troye's tasty little hole. I enjoy the change of positions and movement from one bench to another. Troye's pits are marvelous with all that great hair. Cum is explosive, but our Mikey somehow manages to only watch. Perhaps he let a great threesome "slip between his fingers."
Join Colby Knox
Get unlimited access to Colby and Mickey's hottest scenes. New videos every week!
Sign In