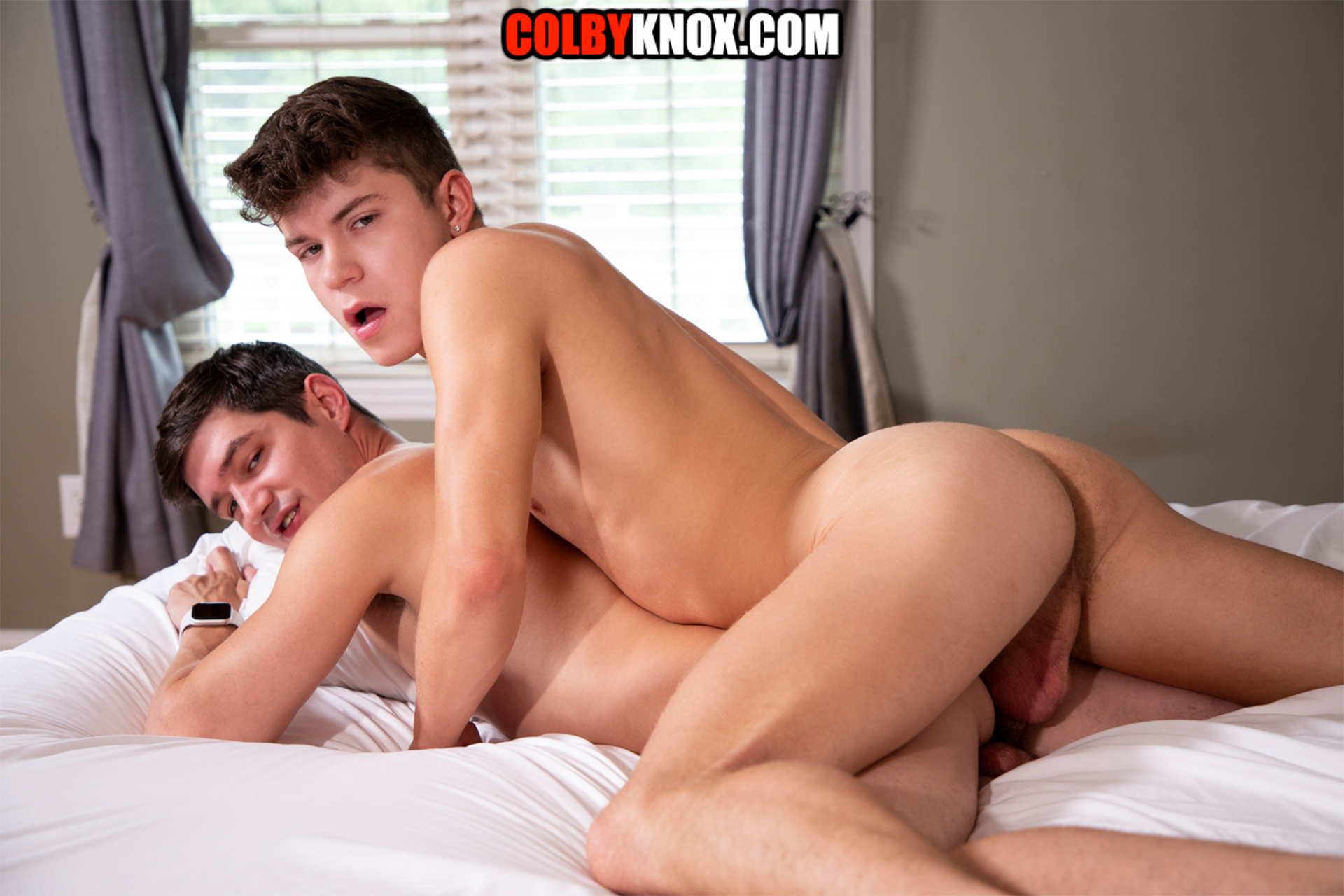 Description
Colby Chambers and Drake Von lounge on the ColbyKnox bed, looking hot and sexy in underwear. Mickey Knox handles the camera, setting up the plot for this week's update, "A little birdie told me that Colby is going to take your big fat cock today," Mickey explains. "How you feeling about that?" Colby turns philosophical. :-) "As a producer with standards, it was the only way for me to actually get my hands on his ass," Colby says. "I guess I'm going to take one for the team today. Grab that sweet ass as he destroys mine." Mickey's man has always been a team player. :-) Drake, who has had a wide grin during this introduction, strokes his tool. The two studs lean to kiss. Colby nibbles on a nipple. His hand is on Drake's crotch. He's the first to get naked. Colby gets eye level with Drake's slab of beef. "It's a beautiful dick," Colby notes. "It's just a little intimidating." "Give it a taste," Drake suggests. Colby does, paying attention to the shaft. "It's just so fucking big," Colby remarks, coming up for air. Drake gets on his back. Colby on top; his boy hole right in Drake's face. "Look at that ass," Drake whispers. He smacks a butt cheek and eats Colby out. As for Colby, he continues to see how much Drake dick he can put in his mouth. "Fuck, yeah," Colby moans. "Lick that ass." He lifts his own sizable rod and puts it in Drake's open mouth. "Suck that cock," Colby mutters. Drake alternates between sucking Colby off and licking his hole. He also gives Colby's round butt cheeks sturdy slaps. "Spank me," Colby orders. "Hard. Fucking spank me." It's time for Colby's red cheeks to be parted. Drake stays on his back as Colby sits on the bare tool. "Fuck, yeah," Drake states. "That ass. Oh, my God. It feels amazing." He has Colby by the thighs, pounding up. Colby is holding on, whispering commands. "Give me that dick," he mumbles. "Fuck me." The camera focuses on Colby's backside getting smashed. Drake grabs Colby's butt cheeks. "Pull those cheeks apart," Colby insists. "Give me that dick." The studs switch things up. Colby gets on his hands and knees. Watch his face when Drake re-enters the tight hole. Colby's eyes widen from the jolt. "Take that fucking dick," Drake orders, smacking Colby's pale butt. "You like that," Drake wonders. "Oh, fuck yeah," Colby cries. "It's so big. It's so fucking big." This just makes Drake drill deeper and harder. Which is what Colby wants. :-) He takes the pounding like a champ, whimpering into the pillow. "Fuck me with that hot ass body," he wails. "Spank me." It's time for Drake to drill deeper. Colby gets on his back. His legs pulled to his chest. Drake puts his shaft back inside, hammering to the balls. "Spread your fucking hole," Drake demands. Colby's toes curl. "Fuck me," he begs. "Pound my ass." Drake picks up the pace. "Take my fucking dick," he orders. "Just like that." Colby handles each stroke. He grits his teeth but doesn't ask for mercy. Do you think Drake would offer any :-) Colby grabs Drake's bountiful booty, caressing those buns and bringing him closer to him. "Fucking deep in you," Drake whispers. Colby beats his stiff dick as his ass is pummeled. "I want to see you explode," Drake explains. Colby explodes with a juicy load that soaks his belly button. "Look at that fucking cum," Drake observes. He continues to pound, stretching Colby's hole. He pulls out, dumping creamy man milk on Colby's bush. "Want to lick it off," Colby wonders. Drake leans down, taking a taste of the sweet cum. After a kiss, Colby smacks Drake's butt. "I'll get that ass one day," he teases. Mickey, who loved seeing his man receive a deep dicking, gets a great shot of Drake's hole. "Jiggly jock booty," Mickey declares.
Reviews
Total top so far in his gay porn career, Drake is not about to give up his virgin ass for now and the foreseeable future. So Colby agrees to bottom for Drake on the rationale that it would be the only way to get his hands on Drake's hot young ass at this time! That works for Drake who gives Colby's ass a pounding much to the delight of camerman and husband Colby! Colby's last words to end this hot scene was his vow to get and fuck Drake's hot virgin ass some day!
I've watched this 4 times and shot my wad every fucking time! 5 stars for sure!! Good job boys.
Join Colby Knox
Get unlimited access to Colby and Mickey's hottest scenes. New videos every week!
Sign In