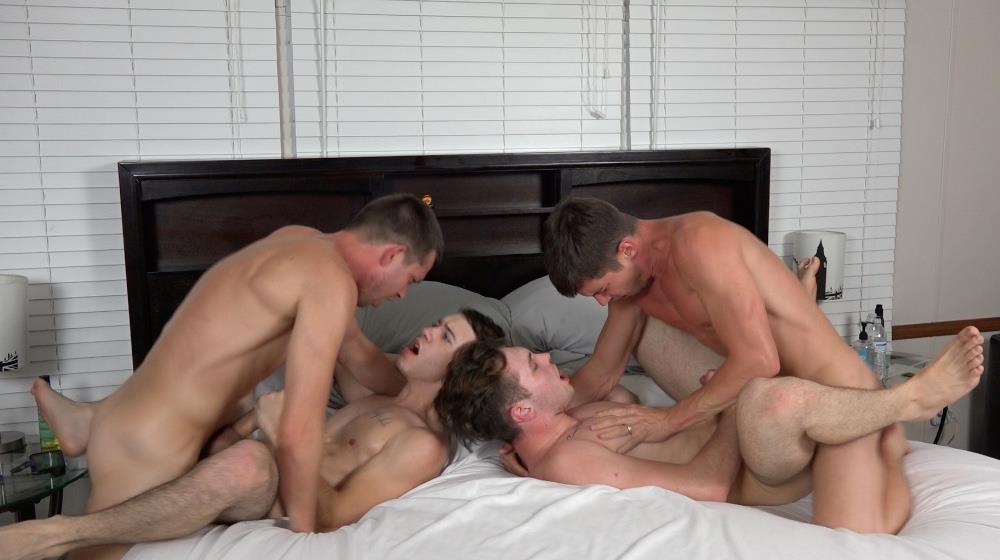 Description
It's a full house tonight in the Colby Knox bedroom as Colby Chambers and Mickey Knox host the very sexy Christian Bay and Zach Taylor for a hot gay porn show. These guys have a bed full of big cocks and sexy asses primed for a night of online webcam fun. Colby starts the night off with some playful tickling and he soon has Christian and Zach doubled over in laughter as they try to squirm out of his reach. Once all four studs are in the bed, Zach gets on his stomach offering his ass up for some playful spanking from the guys. Each of the guys take multiple turns getting some good licks in on his smooth ass and he gets up sporting a cherry red colored ass. Mickey starts the deep throating action by taking Colby's cock in his mouth. The guys move in to a sexy make out session that teams Colby up with Christian and Mickey up with Zach as they kiss and feel the softness of their tongues on their lips. That kicks off a round of hot oral action where the guys begin to pull out their big cocks and they move around the bed to get some amazing head from each other. This culminates into a scene where three of these studs have their mouths stuffed full of cock simultaneously. The hot oral action has Colby's cock rock hard and he gets Mickey on his back and ready to take his cock. After putting his leg over his shoulder, Colby uses his finger to massage in some lube before he rams his thick cock bareback into his man's ass. Mickey rolls his eyes back and moans as he takes every inch of that thick meat deep in his ass. Christian is next to shove his cock deep inside of that freshly opened ass and is quickly slapping his balls against that tight ass. Zach is batting clean-up on that ass and is ready for his turn using that ass. Mickey is living the dream tonight and all three of the guys take turns running a train on his tight ass. The studs spread out over the bed and enjoy solo fucking with each other before shooting their giant loads. Having been used by all three studs, this fuck fest ends with Mickey lying in a pool of cum.
Reviews
Great work, gents. Loved the fun y'all had while filming this. Made the scene even hotter!
All four guys are amazing. I am glad Mickey & Colby keep getting Zach and Christian back to film with them, especially Zach who is a particular cutie.
Join Colby Knox
Get unlimited access to Colby and Mickey's hottest scenes. New videos every week!
Sign In