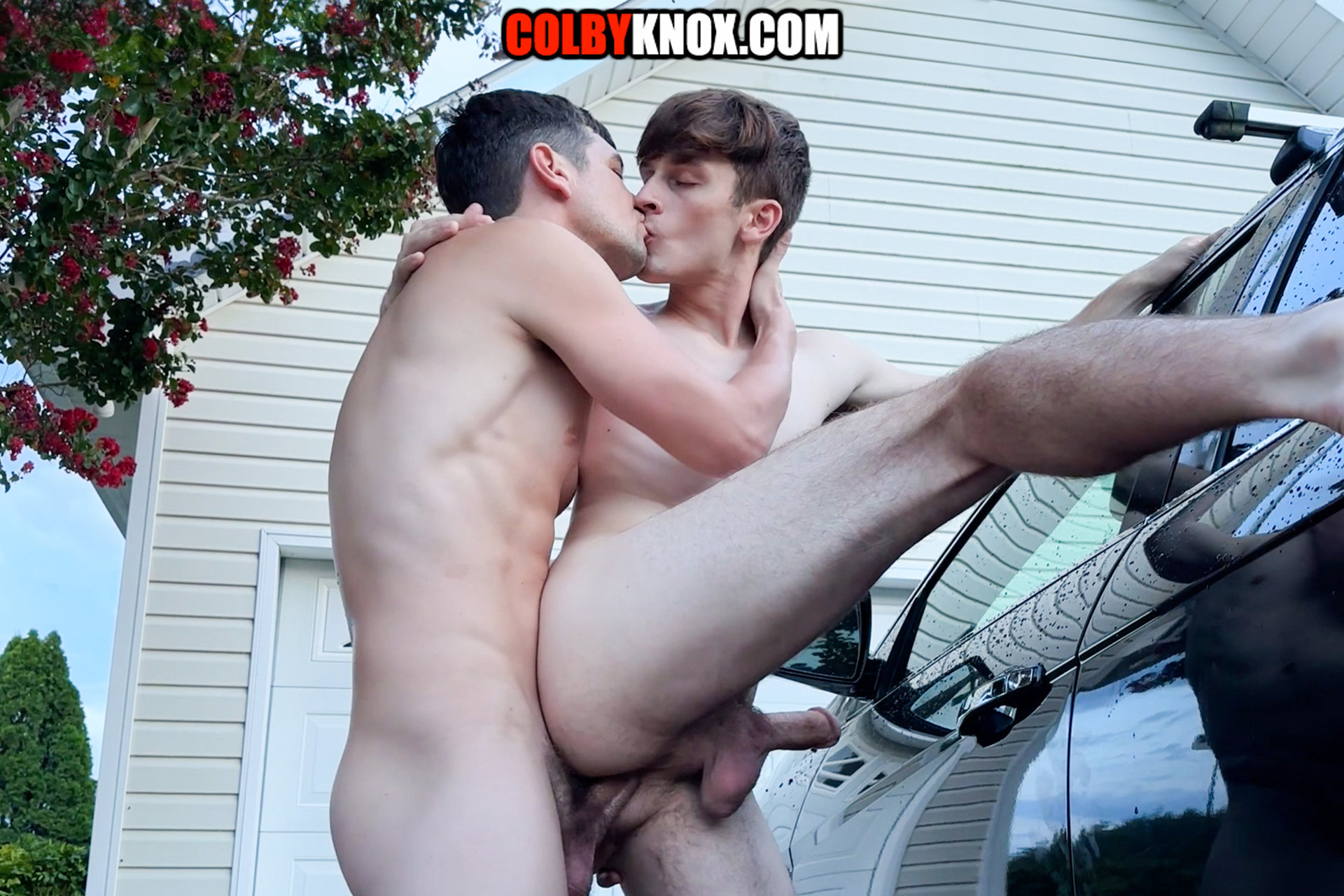 Description
Let's be honest. Sometimes, when you get home, a warm, and sexy, mouth is immediately needed. So much so that waiting to get indoors is close to impossible. That's the dilemma Colby Chambers faces in today's update. He's shirtless, in the driveway, leaning against a car. Tyler Tanner is in front of Colby. On his knees. He pulls down Colby's shorts, swallowing all of his cock. Colby grabs Tyler's throat to make sure that consummate tongue does its job. Tyler handles every thrust; his nose nestles in Colby's bush. A trail of spit acts like a bridge from Tyler's mouth to the tip of Colby's dick. Colby's man, Mickey Knox, is on the sidelines, filming everything. He takes his shirt off, standing next to his boo for a closer look. "Show me that pretty face, boy," he says to Tyler. He looks up. His mouth stuffed with meat. He pulls off Colby's shaft to offer Mickey the same type of oral love. Tyler works his tongue around both of their bloated heads. "Suck my husband's dick," Mickey suggests. Tyler's saliva coats both johnsons. "Ready to spread your cheeks for me," Colby asks Tyler. He gets up and strips. Mickey hands him some lube and Tyler puts it on Colby's stiff prick. He then puts a leg on the car. Colby slowly works his way inside the boy hole. Tyler grabs the roof of the car as Colby pounds with more force. The two studs make out as Tyler's insides are pulverized. "Fuck, yeah," he whispers. His "special spot" is getting rammed because his meat is stiff and ready to pop. "Fuck. That feels so good," he whimpers. Colby covers Tyler's mouth, muffling the boy's moans. "Give me that ass," Colby utters. "Give me that fucking hole." "Fuck me just like that," Tyler replies. He leans into the car window, arching his back. We get a glimpse of Mickey, filming and jerking it. Multitasking at its finest! :-) His camera gets a great angle of his man's tool going in and out of Tyler. To the balls. And that boy hole is leaking! Colby wraps his arms around Tyler's torso, keeping him in place for each thrust. He leaves a load inside of him. Colby pulls out and the rest of his cum coats Tyler's booty opening. Colby moves aside to make room for Mickey. He slides his tool inside; Colby takes over the camera duties. "Stroke that fucking cock, boy," Mickey orders as he fucks. All that fucking gets to Tyler and he shoots a load that hits the car. Mickey keeps pumping and thumping. He pulls out, shooting his man juice on one of Tyler's butt cheeks. Tyler leans down to lick his load off the car. "That's so hot," Colby says, off camera. "Got to clean it up," Tyler jokes. "Car just got washed!"
Reviews
Standing by his car, Colby has his shorts pulled down by 21 year old hot twink Tyler who sucks Colby's big dick being filmed by Mickey! Mickey then whips his own hard cock and Tyler sucks both going one to the other! Colby then fucks the twink, breeds him and then passes him on to Mickey, who uses Colby's cum up Tyler's hot ass as lube! Kudos to Tyler for staying rock hard during both of his fuckings! After twink Tyler shot his own load onto the Colby/Knox car, Tyler licked it all off! Very hot scene!
Another amazing scene. Beautifully filmed as usual and great job by both Colby and Mickey, Master Cocksmen Extraordinaire. Tyler is one lucky boy to get to worship two big cocks at the same time and then experience being fucked by both,one after the other. Outstanding. 10 Stars.
Join Colby Knox
Get unlimited access to Colby and Mickey's hottest scenes. New videos every week!
Sign In