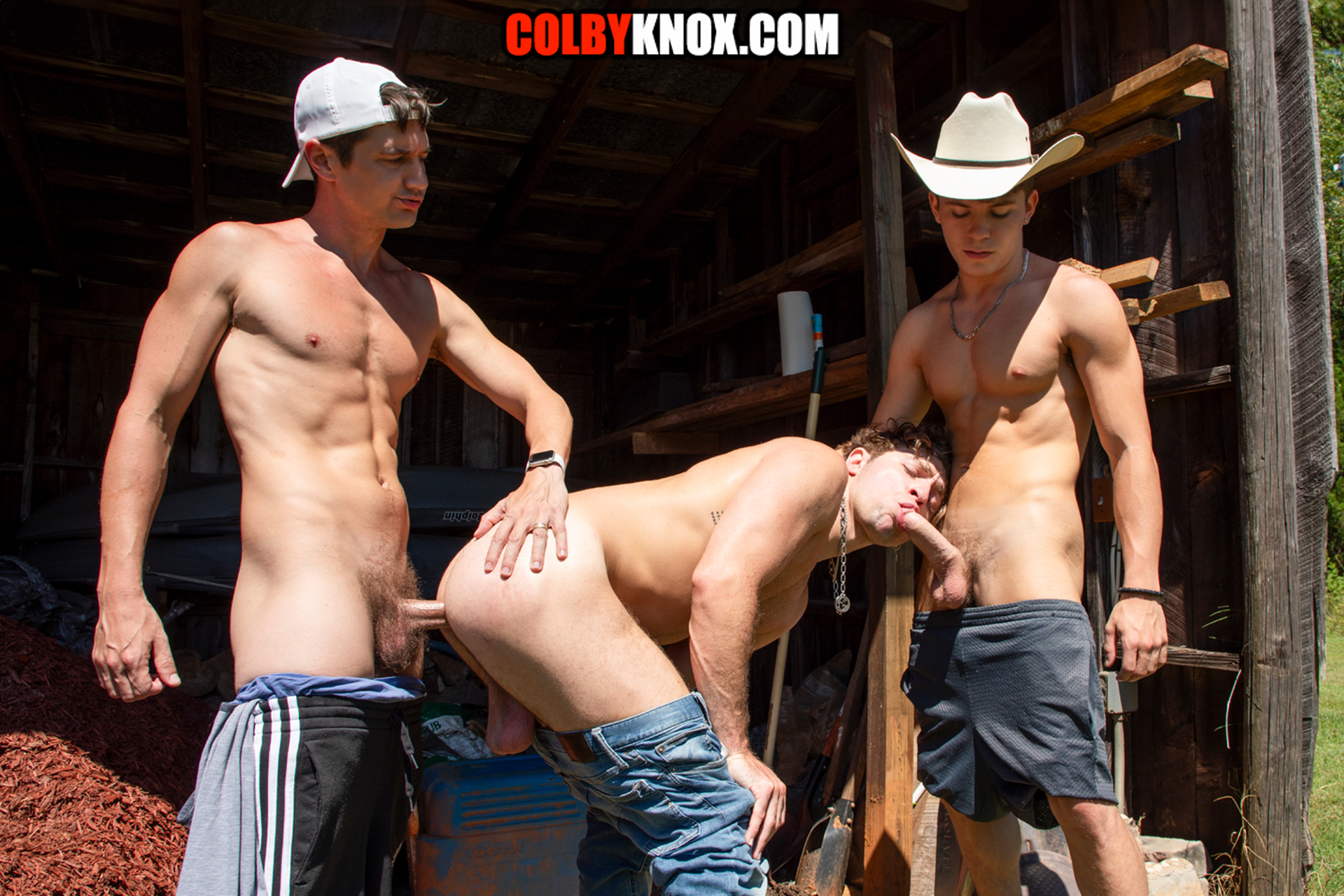 Description
Last time we saw quarterback Drake Von he was blitzing Calvin Bank's cowboy ass. He had so much fun that he describes all the juicy details to a teammate, Colby Chambers. "Dude. This hot fucking cowboy just let me bareback his ass," Drake explains as they pull up to the garage. Colby doesn't believe the tale but Drake insists he's telling the truth and nothing but. "He'll let you come in his ass," Drake says. "He'll suck your dick. You'll get to eat his ass. It was amazing." "He'll let me do it," Colby asks. Drake promises it won't be a problem. "Dude. You can do anything you want to him," Drake guarantees. As Drake continues to explain what he and Calvin did, it's obvious Colby wants to try the same things. They get out of the car and walk to the shed, the scene of Drake and Calvin's first encounter. As Drake talks about the beauty of the cowboy's ass, Colby notes it's been awhile since he lost a load. "I'm going to bust the biggest nut into him," Colby vows. They reach the shed and Calvin is working. Introductions are made. "I told you to bring a friend," Calvin states before he and Colby kiss. Drake isn't left out of the action. He gets a chance to lock lips with the cowboy. "You're going to walk around with your team next," Calvin jokes, remembering a promise Drake made. "I'll bring the whole squad," Drake replies. "He's been talking about you," Colby remarks. He moves behind Calvin, rubbing the cowboy's plump backside. "Have some fun with it," Calvin suggests. Colby hits his knees, worshipping the luscious cake. "Get up in there," Drake urges. Colby's tongue makes Calvin moan. "Tastes good," Calvin asks. Colby allows his tongue to do the talking. "Told you it would," Drake notes. "Hot cowboy ass," Colby remarks. His tongue is deep inside Calvin's hole. He leans over so Colby can go deeper. This gives Drake a chance to smack that ass. Colby stands up; he has a request. "Calvin? Will you suck my dick?" Calvin cheerfully gets on his knees to service it, handing his hat to Drake. He swallows to the base. When he comes up for air, Calvin gobbles Drake's dick. He goes from one rod to the other. "Slobber all over it," Colby coaxes. He face fucks the cowboy. "He fucking loves that," Drake observes. Spit and precum fall from Calvin's mouth. When he comes up for air, Colby gives him a passionate kiss. Both football players force their tools down Calvin's gullet. Colby's shaft is drenched with slobber. "Suck that cock like a fucking cigar," Drake orders when Calvin returns to his meat. Colby's shaft is wet enough for Blake's hole. He picks him up and bends him over. Slowly, but firmly, he works his bare meat inside Calvin. He groans as he locks lips with Drake. "I can't believe you let me fuck you in your ass," Colby whispers. "Fucking raw, too," Drake replies. "I told you, dawg." Calvin moves his booty up and down Colby's shaft. Drake guides Calvin to his tool. Both of the cowboy's holes are used. Drake keeps Calvin's head in place so his tongue can work. As for Colby, he pounds to the balls. "Take it like a fucking man," Colby commands. He notices that when Calvin's throat gags on Drake's dick, Calvin's hole clenches. "He gets so tight," Colby says to Drake. "Gag him." The quarterback doesn't need much encouragement to make Calvin choke on man meat. He comes up for air but Drake doesn't approve. "Don't stop sucking on that fucking dick," Drake orders. Today Calvin's holes must satisfy the two studs. The trio decide to take the fuck session indoors. On the sofa, Calvin pulls his legs to his chest. Drake is at the cowboy's hole. Colby gives directions. For now. :-) "Stick it in him," Colby proposes. Once Drake's inside, he begins to fuck. Calvin holds on. Drake drills down, making sure each stroke is committed to memory. "Fuck me," Calvin implores. Colby, who strokes himself as he watches Calvin's taint hole get broken, leans down to cup Calvin's nuts. "Grab you by these big nuts while my boy fucks you," Colby observes. "You like that?" Calvin just holds on to Colby, whimpering as Drake hammers. "Oh, my God," Calvin moans. "You're so fucking big." It's time for Calvin to show how he rides a bronc. Colby takes a seat and Calvin straddles him. Drake watches the spectacle. "Fuck, yeah," Colby says. "Ride me." "Ride that fucking cock, cowboy," Drake instructs. Calvin goes up and down. "Smash me with that fucking ass," Colby demands. As Calvin rides he leans down, giving Drake's monster oral love. Colby takes over the fucking, pounding up. It's time for Drake to get back inside Calvin's tighter hole. "Bend over for my boy," Colby orders. Calvin nods, getting on his hands and knees (on the sofa). Drake re-enters. Once back inside Drake grabs Calvin's hips, slamming his entire shaft to the hilt. Colby makes sure Calvin's mouth is used also. "Down your throat," Colby advises. "Be a good cowboy." Drake isn't being gentle "Fuck that cowboy butt," Colby says. He gets behind Drake, pushing him into Calvin. But Colby doesn't want the quarterback to have all the fun. "Want me to go again," he wonders. Drake steps aside and Colby pushes his tool back inside Calvin. "Take that dick, cowboy," Colby commands. "Take every fucking bit of that dick." Calvin cries out. Colby creampies his cowboy, leaving a substantial load inside him. "Take that fucking load," Colby says. "Take it deep." "Please keep fucking me, sir," Calvin whimpers. "Don't stop fucking me. Harder. Fuck the come out of me. Please. Please." Calvin shoots out streams of man milk. The camera catches cum bubbling out of Calvin's soaked hole. Drake has been enjoying the show and he wants to bust all over Calvin's butt cheeks. His load first hits the middle of Calvin's back. What remains lands on the top of the cowboy's curvy backside. Drake and Colby are late for practice. So they leave the jizz soaked cowboy. All alone. On the sofa. What are the odds they return? With a few more teammates? :-)
Reviews
Thanks for moving indoors so you could get the lighting right. That's so important. Not much hole display or ass worship in this episode.
Oh, God, more of this! Drake's dirty verbalizing is arousing but could be even dirtier and LOUDER.
Two weeks ago, Drake fucked cowboy Calvin so well that he was invited to come again to top cowboy Calvin and to even bring a friend, which turns out to be this sequel in which Drake returns with Colby to tag team cowboy Calvin's hot ass! And tag team fuck the cowboy is exactly what they did with Colby even shooting his load inside of Calvin for a cream pie, which we get to see slowly seep out! Calvin started his gay porn career years ago as a mostly top teen, but, as we can see, he has become vers as well!
Join Colby Knox
Get unlimited access to Colby and Mickey's hottest scenes. New videos every week!
Sign In