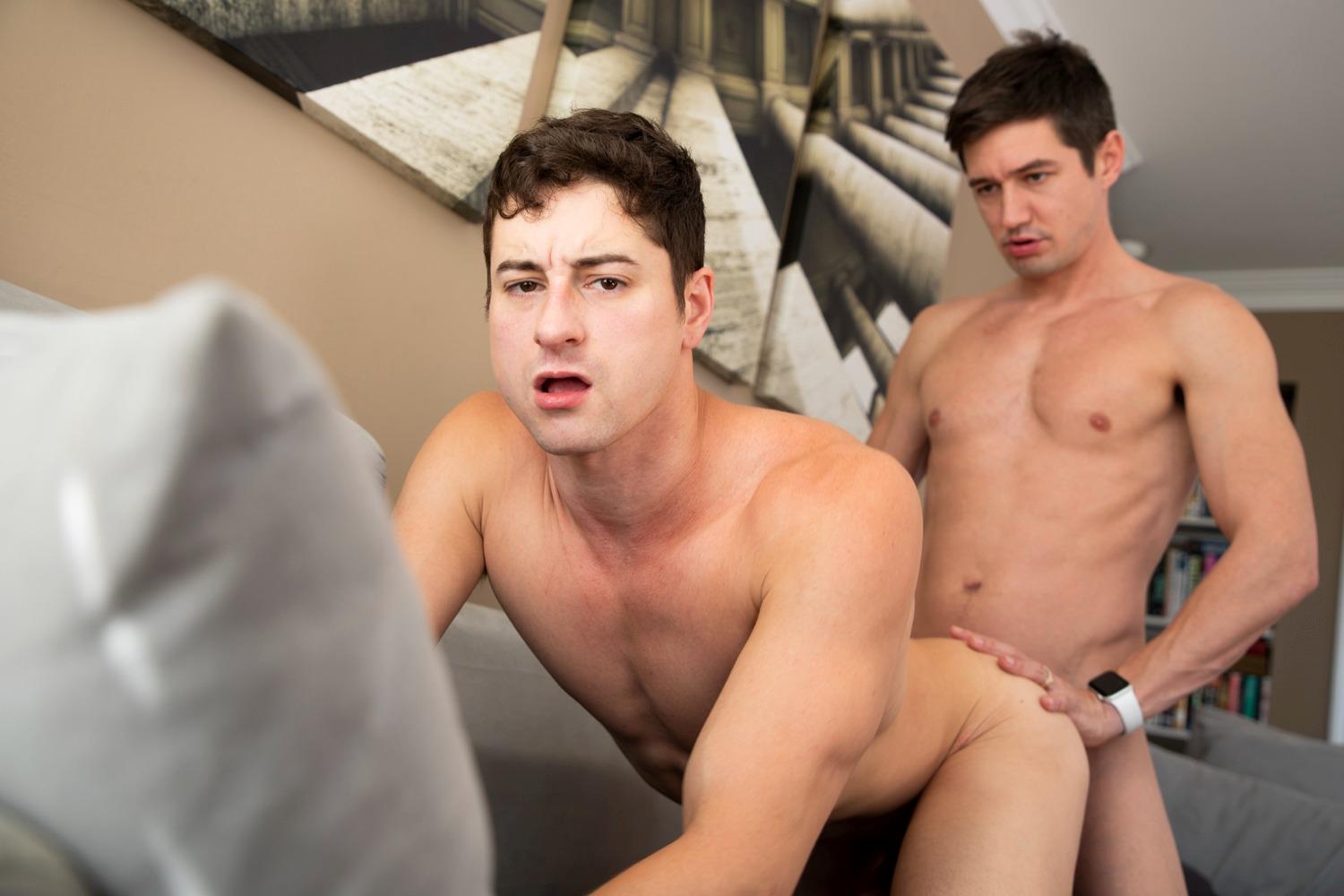 Description
A few weeks ago Taylor Reign had a steamy session with Mickey Knox. Today he gets a chance to romp with Mickey's husband, Colby Chambers. The video starts with the shirtless studs on the couch, making out. Colby pulls off his shorts and Taylor kisses his way down to that thick, and tasty, slab of beef. He gently licks the head before putting the rest in his mouth. As he slurps away, Colby reaches for Taylor's ass. "Yes. Suck my dick," Colby whispers. "Fuck. That feels good. Let me feel those throat muscles." Taylor swallows it all, right to the root. When he comes up for air, Colby wants to play with his booty. Taylor gets on his hands and knees, presenting his backside to Colby. He eats Taylor out, pulling Taylor's dick for good measure. "Fuck, yeah," Taylor moans. Colby gets that hole slick and wet. When it's ready for entry, Colby sits down. Taylor does the same, but his cheeks are parted by Colby's bare tool. Taylor takes his time. Soon, however, he's bouncing up and down. Right to the balls. Colby picks Taylor up, placing him on his back. Now Colby is in control, pounding like a piston. "Fuck yeah, Taylor," Colby whispers. "Oh, fuck," Taylor replies. "Fuck yes, Colby." The fucking is quick and hard; Taylor takes every stroke. That tight ass pushes Colby to the edge. He pulls out and dumps a load on Taylor. Then Colby puts his cock back inside. The pounding restarts. After a few strokes, Taylor reaches his edge. "Oh, fuck. I'm going to cum," he says. He strokes his johnson and soon his stomach is covered with creamy man milk. "Can you handle more," Colby asks. "Fuck, yeah," Taylor says. He returns to his hands and knees. Colby is behind him, leaning in for intense kissing. After nibbling on Taylor's ear and neck, Colby slowly pushes his tool in Taylor's hole. He is gentle at first, massaging Taylor's butt cheek. However, the speed picks up. Colby places a hand on each cheek, hammering to the max. "Oh, fuck yeah," Taylor moans. He leans down, putting his face in the couch. Colby is wrecking that hole. He pops a second load, breeding Taylor. When Colby pulls out, Taylor's hole winks. Cum drips out, landing on his nuts. So? Did you have fun? We hope so!
Reviews
Oh Taylor !!!! Soooo incredibly hot.. Dreams come true. Been waiting for these with the guys for years ! Did not disappoint … Thank you. Loved the back story. Great great scene. WOW ! ?????-Sherry
Rematch of Colby's first gay porn scene when Taylor (then using another stage name) topped Colby. Friends since and even living together for a few years, this is their second gay porn scene together, but this time Colby tops! At 5'11", 150 lbs. and a body mostly hairless and unmarred by any ugly tattoos, has maintained "the look" to do gay porn. Great fuck and fascinating interview thereafter about their ten year friendship. I would suggest not waiting another ten years for their next scene together!
When Taylor claimed Mickey's ass in the first video, I wrote to bring him back to bottom. Unaware of the history between Colby and Taylor, these two clearly has sexual chemistry and makes sex fun and sensual and intense. A great scene to watch as Colby can't keep from cumming because of such a hot ass. If Taylor popped Colby's cherry 10 years ago in the industry, I guess Colby finishes it in this scene. Now I want to see a three way flip where all three get fucked by the other two. Great job guys...you are the best and make the most beautiful, hot, sensual, amazing videos. Keep them coming!
Join Colby Knox
Get unlimited access to Colby and Mickey's hottest scenes. New videos every week!
Sign In