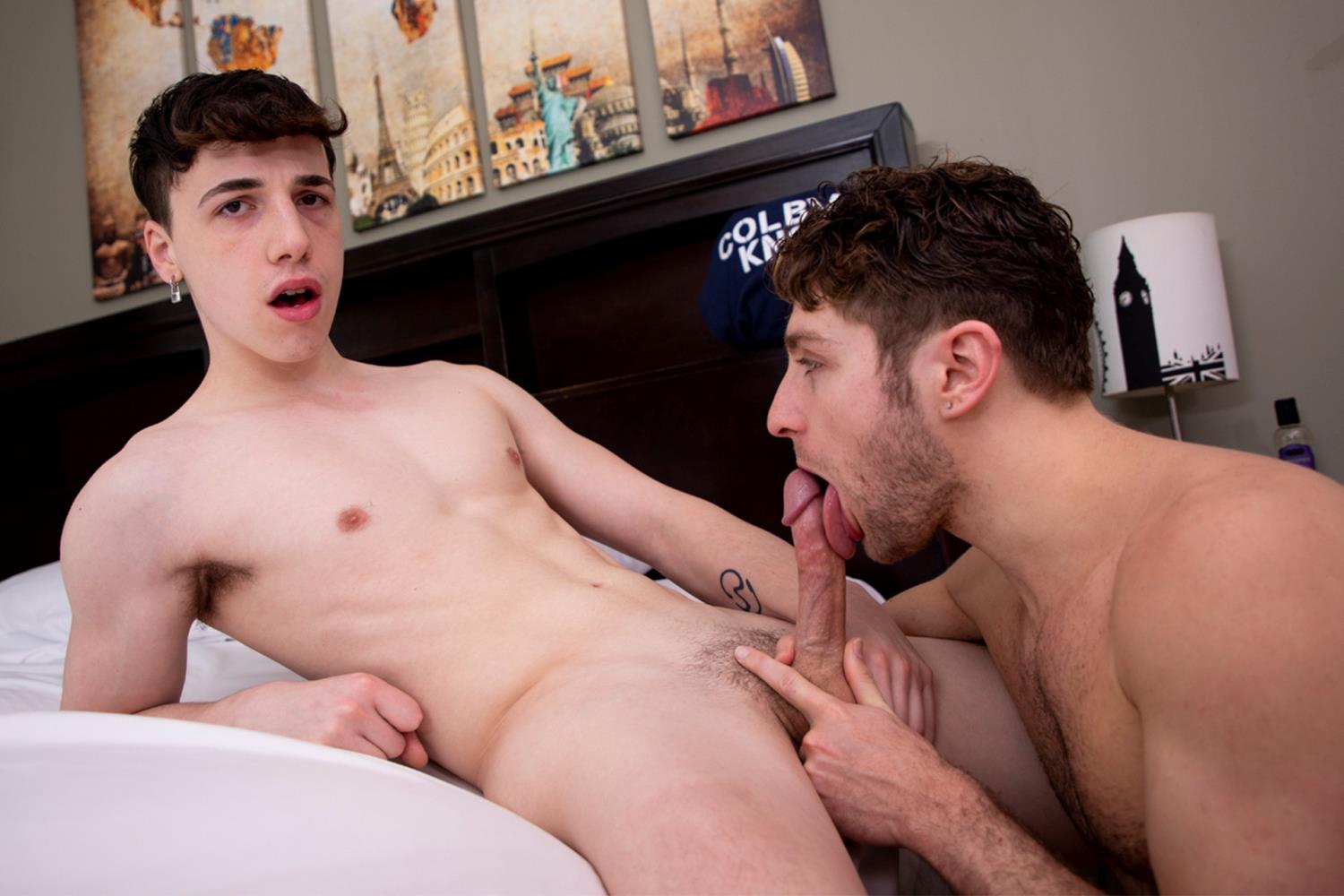 Description
Last time we saw Troye Jacobs in the ColbyKnox studio he was on his hands and knees, promising to please Colby Chambers. In this week's update Troye is back on the bed, making out with stud Calvin Banks. After gentle, and romantic, kissing, Troye pulls out Calvin's rod. It's plump and ready to play. Troye pulls down Calvin's shorts, opening his mouth wide. He can't fit all of Calvin's meat in his mouth, getting about halfway to the pubes. Calvin loves the effort and decides to return the favor by eating Troye's ass. Troye turns around, placing his hands on the bed. Calvin places his face right between Troye's two round mounds of ass flesh. "Fuck," Troye groans, "It's so fucking good." He wants to return to blowing Calvin. He gets on his stomach. "I'm so hard for you," Calvin says. "Swallow it." Troye does his best. As he slobbers up and down the rod, Calvin plays with Troye's ass. He slaps the cheeks and puts lube in Troye's tight hole. "Fuck. Your cock is so good," Troye utters. "Gag on it," Calvin commands as he face fucks Troye. He takes a few deep mouth strokes but comes up for air. "I want you so bad," Troye exclaims. "Suck it. Get it nice and wet," Calvin orders. "Get it nice and wet for your hole." After making sure his tool is covered with Troye's spit, Calvin makes him flip on his stomach. "Spread your cheeks," Calvin says. He fingers Troye, making him squirm and moan. "Fuck, yeah. Lick my hole, please," Troye begs. Calvin eats that hole like it's a last meal. Troye is ready to be stuffed. However, few can handle Calvin's tool without some careful initial steps. "Just the tip," Troye pleads. Calvin puts the engorged tip in, letting Troye get used to the size. He pulls out to eat the hole some more. He goes in a second time, putting more of his meat inside. Calvin pulls out again to munch some more. He goes back for a third time,. Now he shoves everything he has inside of Troye. His eyes close from the shock. He takes a few strokes before Calvin pulls out again to add more spit to the hole. Calvin teases Troye a bit. "Rub that cock on my hole," Troye whispers. When Calvin enters Troye again, he let's Troye do some of the work. He grinds his ass on Calvin's cock, taking a little bit more on each down stroke. "Fuck. That dick feels so good,baby," Troye murmurs. Calvin takes control. He pins Troye's arms behind his back, slowly fucking. "Hold on, baby," Calvin instructs. "Take it." "Oh, fuck me," Troye whimpers. He's getting properly jammed because his own slab of beef sticks straight out. Troye slides to his back. His toes curl each time Calvin pounds down. "My, God. "It's so deep," Troye groans. Calvin fucks harder; this time with his hands on Troye's neck. He stops to eat Troye out again. Calvin stands up to get some more lube. "Play with your hole," he demands. "I don't want to do it all." Troye fingers himself, using two fingers. Those are replaced with Calvin's cock. "Open. Open. Struggle with your hole," Calvin instructs. He leans down, swallowing Troye's tool as he fucks him. Troye pulls his legs to his chest, preparing himself for Calvin's final assault. Calvin fucks fast, pulling most of his dick out before pumping down. Troye explodes. His juice lands on the side of his belly button. Calvin pulls out, letting Troye jerk him off. Calvin nuts. The first stream lands on Calvin's arm. After the two lads calm down they have a "podcast style" interview about the industry. "Veteran" Calvin talks about how the introduction of fan sites has made the gay porn industry more model friendly. "The transition from studio work to studios, along with fan sites, has given the opportunity for the great studios to stick around. And for the other ones, that were always skeezy in the past, to tamper out." Troye agrees that models have many more opportunities. to be in charge of their careers. "So much of my rise [in this industry] was because of fan sites," Troye explains. "Like you said, I can own my own path." Watch the whole interview because Troye and Calvin explain what makes ColbyKnox different. Hope you agree!
Reviews
Both guys are so nice but are also gorgeous. This scene was HOT!! Please keep both guys filming.
One of the hottest scenes I've ever seen.
I've been fans of both since they started gay porn. I remember Calvin as a big dicked 18 year old twink, whose prior job was nurse's aide in a Massachusetts nursing home, who is now a buffed 25 year old stud still with that same huge cock, and I remember Troye's gay porn debut on ColbyKnox, and who is one of my fav twink bottoms. So it was a blast watching their chemistry and mutual want for each other: Troye really wanted Calvin's big cock, and Calvin really wanted Troye's hot twink ass, and they both got what they wanted. Their interview was very interesting as well.
Join Colby Knox
Get unlimited access to Colby and Mickey's hottest scenes. New videos every week!
Sign In