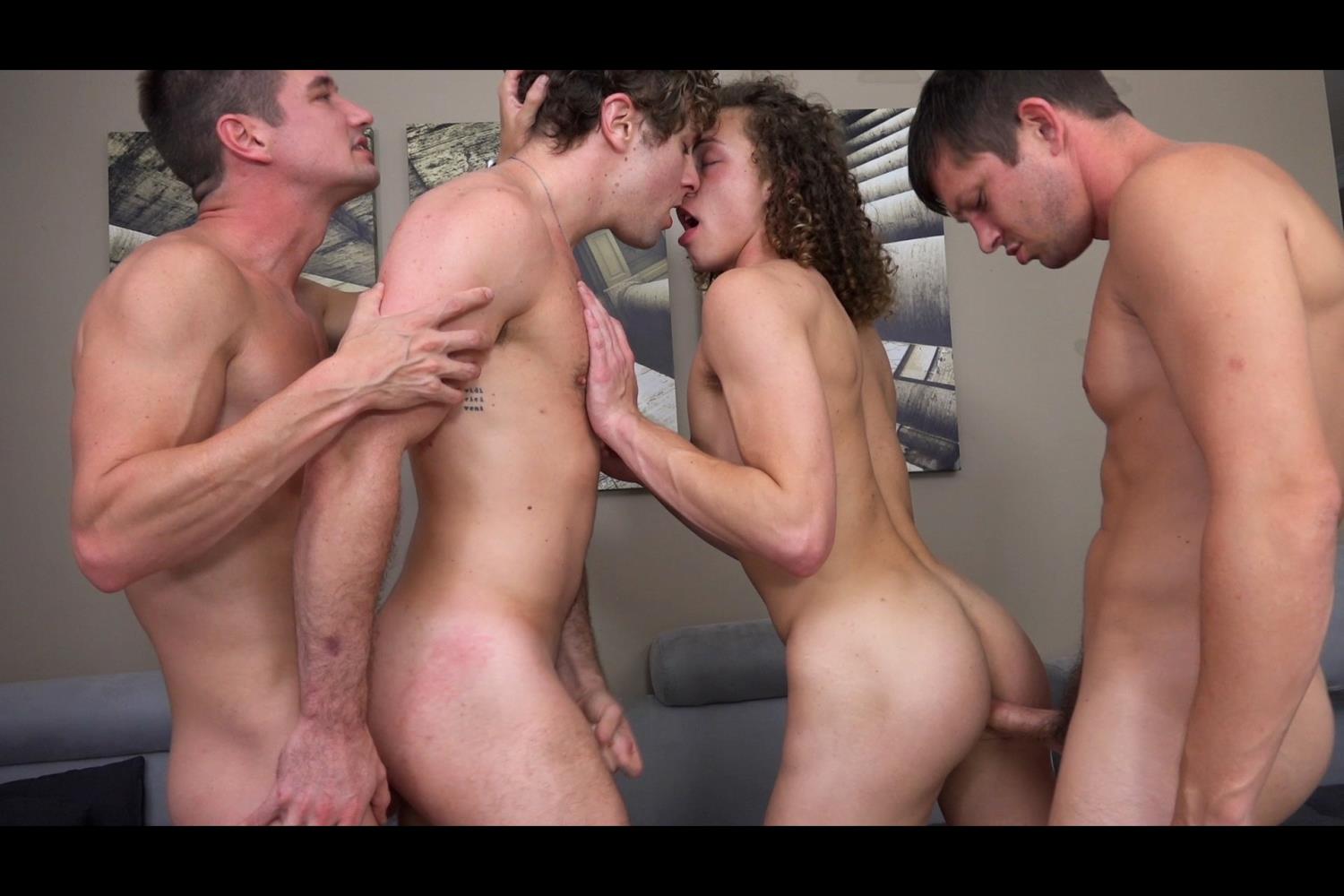 Description
Calvin Banks is a lucky fellow. He's naked, on his stomach, on the ColbyKnox sofa. Surrounding him, also in the buff, are Colby Chambers, Mickey Knox, and Jack Valor. The massage oil is out and Colby, Mickey, and Jack are kneading Calvin's back. Colby pays close attention to Calvin's rump. Mickey, Colby's husband, wants to feel up ass flesh too. "You're getting into my zone," Colby jokes to Mickey. "I'll get a Sharpie and mark it out if I need to." "Oh, my God," Calvin moans. "This is amazing. What if this is what we did for the cam show? What if we did this for about an hour?" Mickey turns his attention to Jack, massaging his back and booty. "You're barely committing to this massage," Colby teases. "What are you doing?" "I'm massaging back here," Mickey says in mock innocence, stroking Jack's cake. "You're massaging the masseur," Colby says. "He has to be relaxed when he massages Calvin," Mickey explains. Colby puts his tongue in Calvin's hole. Mickey puts spit on his raw rod and teases Jack's back door. Jack arches his back; Mickey leans in, planting a kiss on Jack's lips. Colby has to set up the camera but that doesn't keep Jack and Mickey from going at it. When Colby comes back to the couch, Calvin puts spit in his hole. Colby slowly works his bare tool between Calvin's buns. "Goddam. You feel so good," Colby says. As he gives it good to Calvin, Mickey does the same to Jack. Colby leans in to swallow Jack's tool, which has been hard as a stone ever since the show began. Jack and Calvin moan as they are drilled. The husbands slow down the humping speed because those tight holes are working magic. Calvin's eyes roll in the back of his head as his special spot is rammed. Mickey moves so Jack can ride him. Colby does the same for Calvin. The only difference is Calvin's back faces the audience. "Oh, fuck yeah," Jack whispers, going up and down on Mickey's wood. Colby gives Calvin's meaty bottom some slaps. Jack gets on his back. Those sexy legs pulled to his chest. Mickey nibbles on Jack's toes as he fucks him. Calvin stands up. Colby gets behind him, parting his backside with meat. Mickey and Jack decide to do the same. Jack and Calvin lock lips as their holes are wrecked. Colby pulls out so he can stroke Calvin's chest. "I have a thing for pecs," Colby observes. Mickey turns Jack's hole to the screen and we get a perfect shot of Jack getting rammed. Calvin takes over, pushing his buttocks on Colby's cock. Everyone is close to cumming. Colby holds off because Calvin is leaving the next day. "I can come back," Calvin explains. Everyone is edging. Getting as close without popping a nut. Calvin's cake eventually proves too much for Colby. He breeds Calvin; Calvin also cums, jerking juice out of his dick. Calvin licks his fingers clean. We are left with Mickey and Jack. Jack puts his legs in the air and Mickey hammers away. "Oh, that cock is so good," Jack moans. "Fuck me." The pounding is so intense that Jack's legs quiver. "You're going to make me cum," Jack whispers. He does. Cream landing on his inner thighs and rippled stomach. "You're just fucking covered in cum," Mickey observes. His sweat plasters hair to his face. He sits next to Jack, beating off. As Jack tweaks his nipples, Mickey fingers himself. This causes a Mickey explosion, a stream landing on the top of his chest. "That was a fucking show and a half," Mickey says after he calms down. Was a truer sentence ever uttered?
Reviews
What apparently began as a birthday massage for Calvin morphed into Colby topping Calvin and Mickey fucking Jack. Kudos to Jack for staying rock for most of his time taking up his hot ass! Colby fucked the cum out of Calvin as did Mickey out of Jack! Once again the older guys fucked the cum out of the younger dudes!
Join Colby Knox
Get unlimited access to Colby and Mickey's hottest scenes. New videos every week!
Sign In