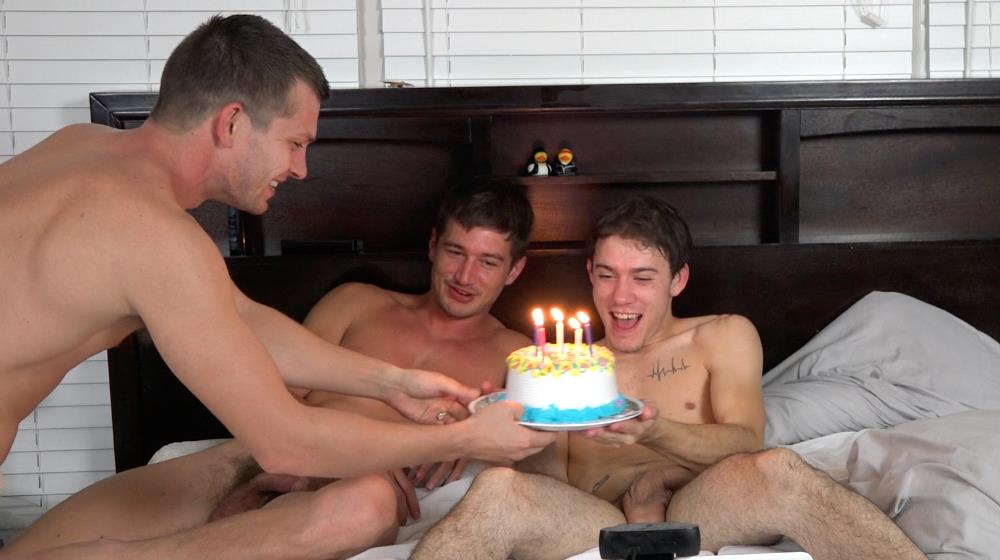 Description
The ColbyKnox house welcomes Zach Taylor to the bedroom for an extra sticky live cam show tonight. Colby Chambers and Mickey Knox are sporting hard cum filled cocks from the start and Zach's ass is just the place to bury them for some sweat filled relief. There must be some real chemistry between these guys as this threesome provides cum shooting action six times over. The action starts off with their sexy young guest on his knees between the two resident lovers. They are admiring his smooth tight ass and begin making out, and playing with his ass. It's not long before Zach is pushed against the mattress and Colby is beginning to slide his long shaft across the crack of his ass. Mickey bends over and begins licking Zach's ass and Colby's cock as the ass teasing continues. Colby greases up his hard throbbing cock and slides it into Zach's tight hole while Mickey is feeding his cock down his throat. Feeding him from both ends, there is little Zach can do other than moan and continue to feel two thick hard cocks filling him from both ends. Colby pulls Zach on to his side as he continues drilling while Mickey takes his perfectly positioned face to start mouth fucking him. Colby is first up with that giant cock spirting out two huge loads before the other guys have their first orgasm. Colby is feeling a little frisky tonight and offers his tight man hole up to Mickey for him to penetrate. Mickey gets in a deep, hard fuck before Zach is ready to get a taste of his ass. Zach lubes up and fucks Mickey from behind, taking no mercy on that tight ass. The cum action continues as Mickey and Zach come through with two huge loads each and together, the three combine for six loads of cum. This ass licking, cock plunging hot gay porn show with three sexy studs shooting six loads is sure to be one of your favorites.
Reviews
As always, this was an amazing CB show. So happy you recorded it for the site! 6 cum shots is an epic feat! Please have Zach back for more fun soon. So hot when Zach fingered Mickey. I don't think Zach will ever forget this birthday! I know I wouldn't.
This is the best 3 way they have done! Never seen anything so hot and fun!
One of the best shows yet.
Join Colby Knox
Get unlimited access to Colby and Mickey's hottest scenes. New videos every week!
Sign In